By continuing you agree to eChinacities's Privacy Policy .
Sign up with Google
Sign up with Facebook
1
You must be a registered user to vote!
You must be a registered user to vote!
3
Q:
Anybody still cares for tits?
I have ONE
new tit ...
Trump-a-Kneecaps-SMIC-Tit
https://www.zerohedge.com/geopolitical/trump-kneecaps-chinese-chip-giant...
As was previewed a couple of weeks ago, the Trump Administration is moving to cut off Semiconduct Manufacturing International Corporation - or SMIC - China's biggest producer of microchips, with wafer fabrication sites all across the mainland, off from US-made supplies. A letter obtained by the FT dated on Friday orders American companies not to send any more products to SMIC.
The administration argued that the products pose an "unacceptable risk" of being diverted to "military end use," according to a copy of the letter seen by the Financial Times. Just like sanctions on Huawei, the move threatens to cut off China's biggest chipmaker from crucial US software and chipmaking equipment. Any companies that do want to export to SMIC will need to secure a special license from the Commerce Department.
"It all depends on how the US implements this. In the worst-case scenario, SMIC is completely cut off, which would severely set back China's ability to produce chips. This would be a tipping point for US-China relations," said Paul Triolo, head of tech policy analysis at consultancy Eurasia Group.
It's clear that the administration's move goes beyond national security, with the goal of knee-capping another Chinese 'national champion'. SMIC, a "national champion" that is crucial to Beijing's aims of achieving chip self-sufficiency, recently oversaw country's biggest domestic IPO in a decade, when it raised $7.6 billion in Shanghai earlier this year.
The administration's sanctions against Huawei have already seriously impacted SMIC. The rules appeared almost explicitly designed to stop SIMC from supplying certain chips to its largest customer, Huawei.
But US chipmakers will also feel some blowback: Qualcomm, which uses SMIC's foundries to fabricate some of its chips, will need to find a new partner, which means the Trump Administration might also rob SIMC of its second-largest customer after Huawei.
On Saturday, SMIC said that it was engaging with the Department of Commerce about the new rules. The company reiterated that it "has no relationship with the Chinese military, and does not manufacture for any military end users or end-uses."
To be sure, Chinese law requires all companies to cooperate with intelligence and military forces if so ordered by Beijing.
51 weeks 23 hours ago in Arts & Entertainment - China
0
You must be a registered user to vote!
You must be a registered user to vote!
2
So, you'll know where do you live ... and reside ...
https://news.yahoo.com/china-accelerates-crackdown-foreign-journalists-1...
China Accelerates Its Crackdown on Foreign Journalists
Excerpt ...
In August, Cheng Lei, an Australian citizen of Chinese descent who worked for the state-owned China Global Television Network (CGTN), was detained by Chinese authorities. No charges were filed, and Cheng simply "disappeared." China's foreign ministry waited until early September to announce that she was suspected of "criminal activity endangering China's national security." Her family and friends still do not know her whereabouts, and it is unclear if she has any legal representation.
Early this month, a Los Angeles Times reporter was detained by Chinese police in Inner Mongolia while investigating the central government's push to teach Mongolian children key curriculums in Mandarin rather than Mongolian. Many parents and students have been protesting that effort, which they view as Beijing's latest attempt to erase their cultural identity. The Times reporter said plainclothes men "took her to a police station, where she was interrogated and separated from her belongings, despite identifying herself as an accredited journalist. She was not allowed to call the U.S. Embassy; one officer grabbed her throat with both hands and pushed her into a cell."
Xi seems to believe that China is now wealthy, powerful, and resourceful enough that it no longer needs the prestige that foreign media outlets once lent it; state media can tell the stories he wants told both at home and abroad. Since Xi doesn't see foreign journalists as useful to his own strategic objectives, Chinese authorities have intensified their attacks on foreign journalists. If any informed observer had any remaining doubts about the true nature of the Chinese regime, this crackdown should have dispelled them.
1
You must be a registered user to vote!
You must be a registered user to vote!
1
Tits Daily is my go-to source for news.
0
You must be a registered user to vote!
You must be a registered user to vote!
1
Trump-a tested positive ...
"Please, don't fcuk around ... 'cause ...
https://www.zerohedge.com/geopolitical/nuclear-doomsday-planes-launch-tr...
Nuclear Doomsday Planes Take Flight As Trump Contracts COVID
Fri, 10/02/2020 - 14:24
President Trump and First Lady Melania Trump tested positive for COVID-19 on Friday morning. Around the time the news broke, planespotters on social media reported two Boeing E-6B Mercury planes flying on either side of the US mainland's coasts.
The Pentagon uses the E-6B as airborne nuclear mission-control, commanding a fleet of the Navy's Ohio class nuclear-powered submarines, armed with nuclear ballistic missiles, in US waters and or around the world.
"There was speculation the airborne command posts were deployed as a warning to any of America's enemies after news broke of Trump's positive test for the novel coronavirus," Fox News said.
Fox News continued, "while military planes generally turn off their transponders in order to avoid being tracked, the two E-6Bs in the air early Friday morning had left theirs on, with the assumption being that their crews want to be seen."
Tim Hogan, an American open-source intelligence analyst, tweeted:
There's an E-6B Mercury off the east coast near DC. I looked because I would expect them to pop up if he tests positive. It's a message to the small group of adversaries with SLBMs and ICBMs.
Hogan said the E6-Bs have the "ability to order the killing of everyone on earth if someone attacks the US with nukes in a first strike. It can talk to our missile subs underwater even if DC is gone."
The Navy has 16 of these planes, and it's not uncommon for two to be flying at the same. However, the timing of Friday's flights is noteworthy.
And maybe NBC's Ben Collins is right ...
He's back ... and the message is:
After Returning To White House, Trump Implores Americans Not To Let COVID-19 "Dominate Your Life"
https://www.zerohedge.com/political/how-dare-he-recover
Hallelujahs echoed across the Blue Media late last week when the news broke that Donald Trump tested positive for coronavirus.
For four years the president had foiled every ambuscade set along his path by a morally-inflamed, predatory Resistance, and each time he beep-beeped his way around the trap. But, now, with a little help from a pitiless universe, they had him! A gazillion tiny, viral assassins were stealing through his bloodstream like so many microscopic jihadis, primping him for an agonizing death: his alveoli withering, red corpuscles robbed of their vital O2, pink foam issuing from his nostrils, toes and fingers turning blue-green — and most deliciously of all, he'd remain conscious of his imminent defeat, of the life (which he'd never deserved in the first place) draining by degrees from his wicked, orange, bloated, supine carcass...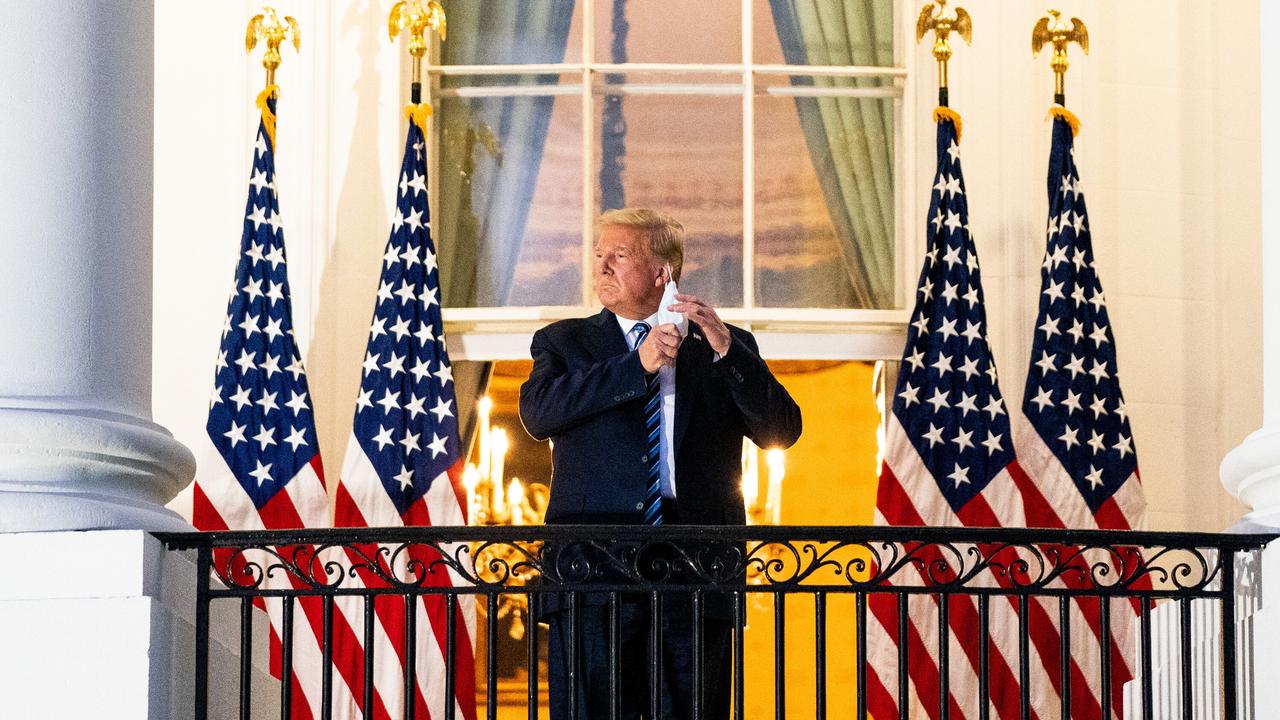 Except… wait a minute… what the hell…? How could it be! Late Sunday he somehow arose from his bed-of-death, ordered pizza (with meat!) for a thousand imps and demons camped outside Walter Reed Hospital, and walked under his own power (!) into a limousine to take a ride around the block and wave at his unholy minions! The cheek of this man!
CNN had a whack attack. Brian Stelter was beside himself, hinting that sinister forces had punked the network, and all the other righteous Resistance cadres, and that Mr. Trump could be endangering every federal employee down to the enlisted men posted overseas by venturing from his sickroom. The New York Times went farther afield (of course), declaring that "the murky and shifting narrative of his illness was rewritten again with grim new details." Nicely put by an outfit that has come to specialize in shifting narratives!
And indeed, the new Resistance narrative demands to know just exactly when did the president start to feel ill? Did he, perhaps on-purpose, haul his ailing, hulking, scheming Golem ass into the Cleveland debate venue with the hope of infecting his rival, delicate Ol' White Joe Biden? Did he recklessly put at risk the White House staff, dignitaries and luminaries coming and going, their family members, associates, underlings, servants, children? Did he threaten the global order, world peace, the fate of humanity?
So now, a keening wail of lamentation rings out across the land at Mr. Trump's possible, dastardly recovery. How dare he! — to paraphrase Saint Greta Thunberg. 209,000 other Americans died, and not him! What vile and unholy devices got him out of a sure death sentence? No doubt Democratic Party astrologasters and consulting augurers will be searching for clues among the orbiting planets and the spilled organs of sacrificed chickens in the days to come. Perhaps Rep. Adam Schiff (D-CA) can snare a few of the president's attending physicians into his House Intel Committee and rev up another impeachment for going against doctors' orders. Wouldn't that be a delectable counter to the looming confirmation process for Ruth Bader Ginsburg's replacement next door in the Senate this month?
Over his dead body, Senate Minority Leader Chuck Schumer is hinting — a tantalizing prospect, with Covid-19 on the loose. It was Chuck who memorably told Rachel Maddow of MSNBC in 2017 that the Deep State "has six ways from [sic] Sunday at getting back at you." By my count, they're well over their allotted six by now. Not only did they all fail, but the seditionists behind them are liable to wind up behind bars before this is all over, perhaps even a few of Senator Schumer's colleagues.
Anyway, Majority Leader McConnell isn't buying Mr. Schumer's sob story. "The Senate's floor schedule will not interrupt the thorough, fair and historically supported confirmation process," McConnell said on Saturday. The hearings are pegged to begin on October 12. Prediction: they will run three days, tops, and the nominee will sail through. No doubt Senator Schumer and company will be combing the legislative rules thickets with their Lawfare bush-beaters in search of some recondite, magic by-law that might prevent the deal from going down. Or else Chuck will threaten to shoot a puppy on the floor of the Senate if the Amy Coney Barrett hearing proceeds.
[President Trump's discharge from, Walter Reed] was loaded to the brim with portentous metaphor, mainly, that Mr. Trump has overcome yet another adversity, specifically one that the Resistance has been using to scare the public into compliance with economy-wrecking rules. As the president re-enters something like normal life in the days ahead, perhaps the rest of America will rethink the abnormalities of 2020. Perhaps they will notice the Democratic Party's investment in the Covid-19 lockdown narrative, and what it has done to their livelihoods, their families, and their futures. Maybe watching Mr. Trump get through this, they will see a way out of the woods.
I was like ... "Where's my 'tits'
thread?"
'We Will Not Be Deterred' - Trudeau Responds After Beijing Directly Threatens "Health & Safety" Of 300,000 Canadians In Hong Kong
Clearly, Beijing believes that if it pushes hard enough, Ottawa might fold. Otherwise, Ambassador Cong Peiwu probably wouldn't have said what he said on Thursday.
Americans probably forget sometimes that President Trump isn't the only world leader currently picking fights with Beijing. Canadian Prime Minister Justin Trudeau has continued to criticize Beijing's human rights abuses (issues like mass detention in Xinjiang, the new 'national security law' crackdown in Hong Kong - all issues that President Trump has drawn attention to), as a feud that started with Canada's detention of Huawei CFO Meng Wanzhou (the daughter of the company's celebrity founder) has escalated to the point where the lives of two Canadian businessmen now hang in the balance.
Late this week, diplomatic tensions between Ottawa and Beijing flared as China's ambassador to Canada delivered a direct threat to Prime Minister Justin Trudeau, openly threatening to unlawfully target innocent Canadian citizens if Canada continues to accept refugees from Hong Kong.
Readers may remember that the UK has led the charge to accept dissidents who no longer feel safe - or, in many cases, are being directly targeted and harassed - formally suspending its extradition treaty to allow them safe and secure residency.
Canada's Conservative Party Leader Erin O'Toole called the ambassador's comments a "barely veiled threat" that was "unbecoming of his office" as envoy to Canada. Trudeau responded on Friday, insisting that Canada wouldn't be deterred by Beijing's threats, as he vowed to keep pressuring the superpower to ease its myriad human rights abuses.
Beijing lambasted the British for once again meddling in China's domestic affairs, but Britain is too big of a geopolitical power to try and bully. The same cannot be said for Canada, whose PM has retaliated against what was an effective state-sanctioned kidnapping of two Canadian citizens with nothing but words and denunciations.
Clearly, Beijing believes that if it pushes hard enough, Ottawa might fold. Otherwise, Ambassador Cong Peiwu probably wouldn't have said what he said on Thursday.
To wit, the "wolf warrior" diplomat told reporters - according to Canada's Globe and Mail - that Beijing finds it unacceptable that Canada recently accepted two pro-democracy dissidents from Hong Kong as refugees. And that if Ottawa accepts any more, Beijing will start targeting Canadian citizens in Hong Kong.
"We strongly urge the Canadian side not to grant so-called political asylum to those violent criminals in Hong Kong, because it is interference in China's domestic affairs, and certainly it will embolden those violent criminals," he said.
Cong added that accepting more dissidents could jeopardize the "health and safety" of 300,000 Canadians living in Hong Kong, and presumably others living in the mainland (if there are any left following the arrest and prosecution of Michael Kovrig and Michael Spavor.
Cong also took umbrage at a call from nearly 60 MPs and senators to shelter more dissidents fleeing Beijing's new national security law criminalizing even pedestrian forms of dissent. Cong denounced the political refugees as "violent criminals" and even hinted that the 300,000 Canadians living in Hong Kong could face persecution if Ottawa doesn't desist.
Comment first
this time ...
bustersdad 1 hour ago
Any American still in China at this point deserves to get arrested for being stupid....
https://www.zerohedge.com/geopolitical/chinas-blunt-message-americans-co...
In "Blunt Message" China Warns It Might Detain Americans If US Prosecutes PLA-Linked Academics
Sat, 10/17/2020 - 17:20
After federal agents this summer moved to detain and charge multiple visiting Chinese academics for their undisclosed links to the People's Liberation Army while at US research universities or laboratories (often involving outright deception to federal agencies), Beijing has escalated things with its own unprecedented warning.
A WSJ exclusive published Saturday cites several sources to say Chinese government officials are threatening to arrest American nationals working or residing in China in response to the DOJ prosecutions of Chinese military-linked researchers. The report cites a series of warnings communicated via "multiple channels" since the summer, including directly to the US Embassy in Beijing.
Recall too that after a developing tit-for-tat, last month the Trump administration announced that it is "blocking" many students from China from obtaining visas to America, specifically graduate students focusing on research in scientific and medical fields over fears they could steal sensitive research, especially related to coronavirus data or the search for a vaccine.
And there was also the mid-July diplomatic fiasco involving Chinese national Tang Juan, a University of California-Davis researcher previously admitted on a J-1 visa, who was alleged to have hid out in the Chinese consulate in San Francisco after being sought by the FBI for lying about her PLA affiliation. She was taken into custody and charged later that month, along with a handful of others, including a visiting scholar at a Texas research institution.
And three weeks ago a Chinese scientist accused of stealing trade secrets from a leading American researcher at the University of Virginia had all charges dropped against him after a court concluded he had authorization to access the information in question. But there's now been monthly instances of the DOJ rounding up Chinese academics under such suspicions.
It now appears Beijing too is ready to go 'gloves off' as the WSJ details:
The Chinese message, the people said, has been blunt: The U.S. should drop prosecutions of the Chinese scholars in American courts, or Americans in China might find themselves in violation of Chinese law.
Though the threats up until now have not been detailed to the public, the warnings via diplomatic backchannels began this summer, according to the report, which characterized the communications as a "blunt message".
"China started issuing the warning this summer after the U.S. began arresting a series of Chinese scientists... the people said," the report adds.
Though both sides, including the US State Department, are keeping mum over the potential retaliatory move Beijing is said to be mulling, the US last month did issue a travel advisory telling Americans that given deteriorating Sino-US relations on multiple fronts, especially the Hong Kong national security law issue and a growing blacklist related to Chinese tech firms, they must remain hyper aware when traveling of the possibility for the Chinese government to detain other countries' citizens "to gain bargaining leverage over foreign governments."
However, Beijing has claimed that this is precisely what the United States and Western governments are doing in the first place, offering as a foremost example the case of Huawei executive Meng Wanzhou, which has marred Canada's diplomatic ties with China. Beijing has said the US was clearly an "accomplice" in her continued detention.
0
You must be a registered user to vote!
You must be a registered user to vote!
1
Beijing Readying "Retaliation List" After US Names 6 More Chinese Outlets As Foreign Missions
State media responds: "The US has gone too far."
On Wednesday the US State Department designated six more Chinese media outlets as "agents of China's government," forcing them to have to register officially as foreign missions if they want to keep operating on US soil under the Foreign Missions Act. This brings the total number of Chinese media outlets considered "foreign missions" or essentially agents of a foreign power to 15.
"We simply want to ensure that American people, consumers of information, can differentiate between news written by a free press and propaganda distributed by the Chinese Communist Party itself," Pompeo said. "Not the same thing," he bluntly concluded.
On Wednesday the US State Department designated six more Chinese media outlets as "agents of China's government," forcing them to have to register officially as foreign missions if they want to keep operating on US soil under the Foreign Missions Act. This brings the total number of Chinese media outlets considered "foreign missions" or essentially agents of a foreign power to 15.
"We simply want to ensure that American people, consumers of information, can differentiate between news written by a free press and propaganda distributed by the Chinese Communist Party itself," Pompeo said. "Not the same thing," he bluntly concluded.
The State Department has now added the following six outlets:
Pursuant to authorities under the Foreign Missions Act, the State Department is issuing today a new determination that designates the U.S. operations of Yicai Global, Jiefang Daily, Xinmin Evening News, Social Sciences in China Press, Beijing Review, and Economic Daily as foreign missions. These six entities all meet the definition of a foreign mission under the Foreign Missions Act in that they are "substantially owned or effectively controlled" by a foreign government.
We are good! e-Tities isn't not on the list ... No worries!
Know the answer ?