X
Verify email
Your verification code has been sent to:
Didn`t receive your code? Resend code
By continuing you agree to eChinacities's Privacy Policy .
Sign up with Google
Sign up with Facebook
Posts: 3044
0
You must be a registered user to vote!
You must be a registered user to vote!
0
Q:
China never ceases to amaze me......
For me, life in China is a continuous succession of surprising activities never expected. You see them at anyplace, any time. And in marketing tricks to attract customers, anything that works will be used. The example shown below, if done in southern USA (at least), will require a SWAT team to keep the peace. But it was fun to watch, eventhough there was no photographer from eChinacities to document the event.
Have you ever seen anything similar here ?. Will you participate ?. I chose not to since it was not really bra removal as claimed, but unhook the bra only. I was there watching for one hour, and no man won the prize, one lady did beat everyone, she unhooked every bra within 21 seconds to win the prize.
Indeed, a bra is a paradox among paradoxes. It fits a woman so snugly and supports her bosom so well, yet for some men remains so impossibly difficult to remove. It may perhaps be the number one reason why quick-thinking but clumsy-fingered men never score.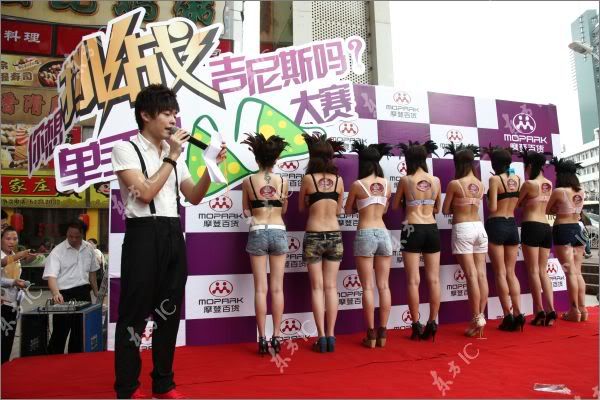 Looking to permanently ameliorate this pesky situation is a shopping mall in China that just launched a bra-removing contest. Read on and pay attention, fellow nerds!
Our story begins at the Guangzhou mall in Guangzhou city, China. Earlier this month, officials at the shopping center staged a bra-removing contest in which participants were charged with removing eight bras in under 60 seconds. Whoever could manage the task was awarded with a 1,000 yuan ($146.50) voucher to spend as he or she chose.
During the contest, eight scantily clad ladies sporting a bra, face mask, and short-shorts stood in line on stage as competitors rushed by them quickly removing their bras. The catch was that that they had to do it with only one hand.
According to the Mumbai Mirror news agency, most crowd members clapped and cheered in jubilation. However, one uptight fart complained: "This must have been the brain wave of a dirty old man. Why would anyone want to take part in such a degrading spectacle?"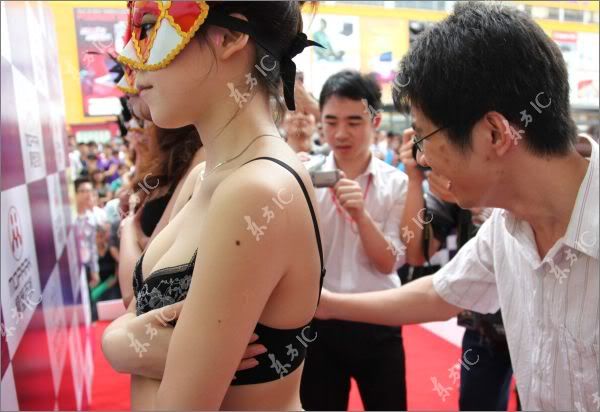 The irony is that it was in fact a woman who came out on top by undoing all eight bras in just 21 seconds. During an interview with Fox Chicago, she said, "I didn't expect to win; maybe it was because I get so much practice in my everyday life."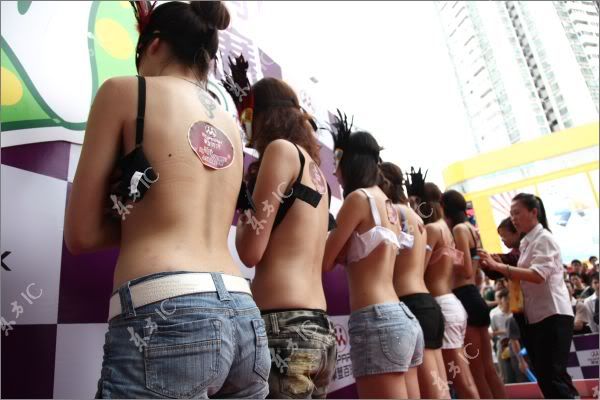 Remember fellas—practice makes perfect. So go buy a bra, put it on IN PRIVATE and get to undoing it over and over and over again. It's embarrassing, but it may be your last chance to master the art of quickly undoing a bra—lest you're cast out of the world of male-to-female copulation forever!
What will they think of next ?
Diaper removal for babies....or shoe removers for tied shoes...unhook those shoes. Another one that they may do or can come up with is tie removers.
OMG this is too funny. I mastered the art of the one handed bra removal in high school.
Almost all of them in China are hooks. I could win this.
0
You must be a registered user to vote!
You must be a registered user to vote!
0
I'd use my mouth. This is just basically snapping your fingers.And I was just in Guangzhou with nothing to do.
That's disgusting like they would even want your drooly mouth all over their backs....
10 years 51 weeks ago
Report Abuse
probably yes, yours no,,,,,, ya think these women would notice? dumb enough to stand there and let someone unhook their bras in public.
10 years 51 weeks ago
Report Abuse
I think it's great that a woman won. How could a man possibly be better at something like this? I agree, this is just one of those TIC things, and I doubt it would ever happen back home. The guy with the microphone looks cute.
disagree with jnusb.... women do that everyday.. but they do it with 2 hands...
men are expert in removing with one hand.... very quick... before the girl could figure out and react .. she is fully naked... its fun.. only doubt is that we also do it when the girl is facing us... not while standing like in the pics above...
0
You must be a registered user to vote!
You must be a registered user to vote!
0
I prefer Sports Bras, and the girls who wear them !!
lol,,, I think you just came up w/ a brand new industry.
Padded Sports Bras for Chinese girls !
even though personally I am a Big Fan of the Itty-bitty Titty Committee...
10 years 51 weeks ago
Report Abuse
you must kiss the front while taking of the bra, that is not the way to do it. or slide it down to her waist .
Know the answer ?