By continuing you agree to eChinacities's Privacy Policy .
Sign up with Google
Sign up with Facebook
Posts: 5931
1
You must be a registered user to vote!
You must be a registered user to vote!
0
Q:
Is the foot on your neck getting heavier, actually yes?
4 weeks 1 day ago in Business & Jobs - China
Answers (6)
Comments (14)
0
You must be a registered user to vote!
You must be a registered user to vote!
0
If it doesn't stink, it isn't so bad ...
... the Foot ...
Maybe not ... short Rmb ... I didn't look at the charts, but all other options suck more, i.e. USD, EUR, Yen ... except-o BULLION, Gold und Silver in coins or smaller bars will do you well ... in any crisis.
The best option at the moment, I won't tell you AGAIN, but I am trading BTC and other cryptos like a champ ...
Read BB-she article just now ... I don't think China-man feels the foot. 1.4 Billion nation can sustain itself within, IMO. No need for West or any laowai ... I also read around 2014 or 15 ... some Chinese plan about how China will/should turn inwards (year 2020-2030 plan) and the whole country will become self-sustainable. Math is on Chinese side ....
0
You must be a registered user to vote!
You must be a registered user to vote!
0
OT:
https://www.zerohedge.com/geopolitical/beijing-threatens-counterattack-i...
Beijing Threatens "Counterattack" If White House Report On COVID Origins Blames Wuhan Lab Leak
WEDNESDAY, AUG 25, 2021 - 09:40 AM
Back in May, President Biden gave the intelligence community 90 days to produce a report on the likely origins of SARS-CoV-2, and the president promised to share the findings with the public, no matter how inflammatory.
Well, the 90-day window is nearly up, and it looks like the intelligence community has made good on its promise. Case in point: the first details of the report have been leaked to the Washington Post, which reported on Wednesday that the ultimate finding is "inconclusive".
This means the administration couldn't find enough evidence to support both of the leading theories: That the virus hopped from an animal to a human, or that the virus leaked from the Wuhan Institute of Virology. While the notion that COVID leaked from a lab was once hyper-sensitive (indeed, Zero Hedge was banned from Twitter for daring to suggest that the WIV played a role in infecting the world with COVID), it's now reportedly become the leading scenario in the eyes of the intelligence community (though they seem unwilling to publicly admit this).
WaPo says the Intelligence community will seek to de-classify the report in the coming days, meaning it will likely dominate the news cycle later in the week.
.. more...
0
You must be a registered user to vote!
You must be a registered user to vote!
0
All started early this (EU) AM ... Cofid virus origins preview ...
https://www.zerohedge.com/markets/samples-early-wuhan-covid-patients-had...
Early COVID Patient Samples From Wuhan Had Genetically Modified Virus Similar To Canadian Lab's: Report
WEDNESDAY, AUG 25, 2021 - 05:40 PM
Samples from early Wuhan COVID-19 patients show the presence of genetically modified Henipah virus, an American scientist has found.
Henipah was one of the two types of viruses sent to China by Chinese-born scientists from a Canadian laboratory at the center of a controversy over the firing of the scientists and collaboration with Chinese military researchers. It is not clear whether the virus found in the Chinese samples is related to the virus samples sent by the Canadian lab, which were shipped in late March 2019.
The evidence was first found by Dr. Steven Quay, a Seattle-based physician-scientist and former faculty member at the Stanford University School of Medicine, who looked at early COVID-19 samples uploaded by scientists at the Wuhan Institute of Virology shortly after China informed the World Health Organization about the SARS-CoV-2 outbreak.
What they found, he says, are the results of what could likely be contamination from different experiments in the lab making their way into the samples, as well as evidence of Henipah virus.
"We found genetic manipulation of the Nipah virus, which is more lethal than Ebola." Nipah is a type of Henipah virus.
https://www.zerohedge.com/covid-19/us-intel-agency-has-moderate-confiden...
US Intel Agency Has "Moderate" Confidence Covid Escaped From Wuhan Lab: Origins Report
An unclassified version of the US intelligence community's coronavirus origins report includes an assessment from one agency which has "moderate confidence" that Covid-19 emerged from a Chinese government lab in Wuhan, while four other agencies assessed with "low confidence" that the virus has a natural origin. The rest of the US intelligence community (which was awfully confident Donald Trump was working with Russia) declined to commit one way or another.
According to the Washington Examiner's Jerry Dunleavy:
The one unnamed spy agency leaning toward the Wuhan lab theory with moderate confidence said COVID-19's emergence probably involved experimentation, animal handling, or sampling from the Wuhan Institute of Virology, according to an unclassified report from the Office of the Director of National Intelligence. The four unnamed spy agencies, and the NIC, with low confidence in the natural origin hypothesis assessed that the initial infection was most likely from an animal infected with either COVID-19 or a close progenitor virus, with those analysts giving weight to China's alleged lack of foreknowledge and the numerous vectors of potential natural exposure.
That said, US officials say a lack of cooperation from China has hampered efforts to get down to the truth. As Bloomberg notes, "China's government was also uncertain about the virus's origins, which was a reason Beijing didn't cooperate."
The report also concludes that the virus was not engineered as a biological weapon, and most agencies assessed that it was not genetically engineered.
As we noted two days ago, Beijing threatened a "counterattack" if the report blamed China for the leak.
On Wednesday, with the Biden Administration report set to be released in a matter of days, a senior Chinese bureaucrat warned during a press conference that Beijing would "retaliate" if the intelligence report fingers a lab leak from the WHO.
"We will continue to cooperate with international organizations like the WHO in their research and in their search for the origins," said Fu Cong, director-general of the Foreign Ministry's Arms Control Department. "But we do not accept baseless and unfounded accusations that are politically motivated. And if they want to baselessly accuse China, so they better be prepared to accept the counterattack from China."
It wasn't clear just how Beijing would retaliate: some speculated it could do so by sending even deadlier virus variants, or by intentionally closing down shipping ports.
After details of the report leaked on Wednesday, groups of scientists, activists and politicians said the inconclusive report demonstrated the need for further probes, according to the Washington Post.
"It is good they did that review, but I don't think we should all move on just because it was inconclusive," said Anita Cicero, deputy director of the Johns Hopkins Center for Health Security. "I'm actually disturbed that much of the scientific and public health community seems complacent to make their best guesses and move on without getting to the root cause of the pandemic."
Foot?
Why Did The USA Hand Afghanistan To China?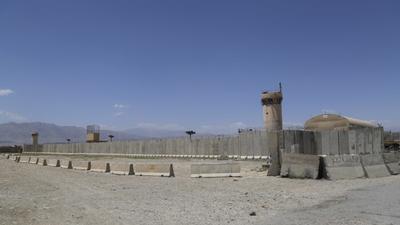 "The Chinese aren't our enemies, folks."
SUN SEP 12, AT 12:30 AM
"China is considering deploying military personnel and economic development officials to Bagram airfield, perhaps the single-most prominent symbol of the 20-year U.S. military presence in Afghanistan.
"The Chinese military is currently conducting a feasibility study about the effect of sending workers, soldiers and other staff related to its foreign economic investment program known as the Belt and Road Initiative in the coming years to Bagram, according to a source briefed on the study by Chinese military officials, who spoke to U.S. News on the condition of anonymity."
As Moon Unit Zappa used to say, "Gag me with a spoon!"
https://news.yahoo.com/chinese-students-hit-us-visa-012246505.html
Chinese students hit by US visa rejections amid tension
Tue, September 14, 2021, 3:22 AM
After a semester online, Wang Ziwei looked forward to meeting classmates who are returning to campus at Washington University in St. Louis. But the 23-year-old finance student said the U.S. revoked his student visa on security grounds.
Wang is among at least 500 students the Chinese government says have been rejected under a policy issued by then-President Donald Trump to block Beijing from obtaining U.S. technology with possible military uses. Students argue it is applied too broadly and fume at what they say is an accusation they are spies.
The policy blocks visas for people who are affiliated with the ruling Communist Party's military wing, the People's Liberation Army, or universities deemed by Washington to be part of military modernization efforts.
U.S. officials say they believe thousands of Chinese students and researchers participate in programs that encourage them to transfer medical, computer and other sensitive information to China.
Washington cites Beijing's strategy of "civil-military fusion," which it says treats private companies and universities as assets to develop Chinese military technology.
"Joint research institutions, academia and private firms are all being exploited to build the PLA's future military systems — often without their knowledge or consent," the State Department said in a 2020 report.
... future Chinese English teachers ...
Know the answer ?