By continuing you agree to eChinacities's Privacy Policy .
Sign up with Google
Sign up with Facebook
1
You must be a registered user to vote!
You must be a registered user to vote!
1
Q:
Have you ever heard for Evergrande in China?
... beside Co.'s name being a Chino English ... term ..
This is a stark reflection of yer (English teachers .. !
) successfull work in China ...
Chinese 'Lehman Brothers' ... in USA in 2008 in short ...
. Had a post about it removed few days ago ...
Disgruntled investors and RE buyers stormed Evergrande HQ in Shenzhen with riot police guarding the Co.'s entrance few days ago and photo of Chinese RE buyer with caption: "I lost everything ...".
First article about it came out of Zero a week ago and Chinese replied: "Everything is cool&dandy ... in Evergrande", butT ... when Zero sounds an alarm, you listen!
How Evergrande Became Too Big To Fail And Why Beijing Will Have To Bail It Out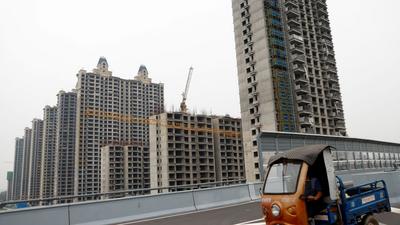 The chance that Evergrande won't be able to pay interest due in the third quarter is 99.99%, estimated by a banker whose employer has billions of yuan of exposure to the company.
TUE SEP 21, AT 4:00 AM
https://www.zerohedge.com/markets/hong-kong-stocks-crash-futures-slide-m...
https://www.zerohedge.com/markets/enraged-evergrande-investors-go-full-p...
https://www.zerohedge.com/markets/former-lehman-trader-chinas-lehman-moment
One can get more sources about Evergrande affair through the any of the search engines ...
4 weeks 4 days ago in Business & Jobs - China
Answers (9)
Comments (30)
1
You must be a registered user to vote!
You must be a registered user to vote!
1
I saw a story this morning about another property development company - Sinic,they just halted trading after their stocks dropped 80 something percent.
Seems like this could be a mess unfolding.
0
You must be a registered user to vote!
You must be a registered user to vote!
1
https://finance.yahoo.com/news/heres-the-biggest-risk-from-the-evergrand...
Here's the biggest risk from the Evergrande crisis, says Goldman Sachs
The biggest fear investors should have with the crisis gripping overly indebted Chinese real estate developer Evergrande is global contagion, argues Goldman Sachs.
"The danger is precisely the contagion effect, should a default occur without clear 'ring-fencing' of spillovers to other parts of the real economy or financial sector. Events over the past week suggest risks of inching toward that direction," said Goldman Sachs Hui Shan in a research note on Monday.
Shan points out that she is already seeing signs of "contagion" — a word that skyrocketed into financial media lexicon during the Great Financial Crisis when the liquidation of Lehman Brothers pressured all asset markets globally — related to Evergrande.
"Equities and bonds issued by other developers with high leverage have sold off. Protests at Evergrande offices across China may cause reluctance among potential homebuyers more broadly. Financing pressure faced by property developers has contributed to failed land auctions in a number of cities," said Shan.
An initial whiff of contagion blew through U.S. markets to kick off this week's trading.
By early afternoon trading, all major stock indices were at session lows. The Dow Jones Industrial Average plunged more than 800 points. The CBOE Volatility Index (VIX) spiked to levels not seen since May.
U.S. companies with outsized China exposure such as Apple and Tesla sold off hard, and were some of the most actively trafficked ticker pages on the Yahoo Finance platform. The concerns around Evergrande also triggered a nearly 10% sell-off in bitcoin (usually seen as a safe-haven play during bouts of stock market volatility), which spread to shares of crypto mining tech seller Nvidia.
"When something like this occurs, it is hard to get your arms around what it is and what contagion means. Think back to that stuff during the European or Asian financial crises," said Baird strategist Michael Antonelli on Yahoo Finance Live.
Goldman's Shan outlined several potential scenarios for China's economic growth from the troubles at Evergrande, all of which will only stoke fears of contagion to global asset markets.
Explains Shan, "In the first scenario, the total negative impact would depress the level of output by 1.4% of GDP, with the direct impact playing the most important role. In the second scenario, the total negative impact increases to 2.5% of GDP. In the third scenario, the total negative impact is as large as 4.1% of GDP, with the financial conditions channel contributing the most to the total impact, highlighting the importance of the financial spillover effect on the economy in this most bearish scenario. Note that this is a partial equilibrium exercise which does not take into consideration potential monetary and fiscal policy easing in response to the property market declines."
1
You must be a registered user to vote!
You must be a registered user to vote!
2
https://www.zerohedge.com/news/2021-09-21/face-dr-fuld-manchu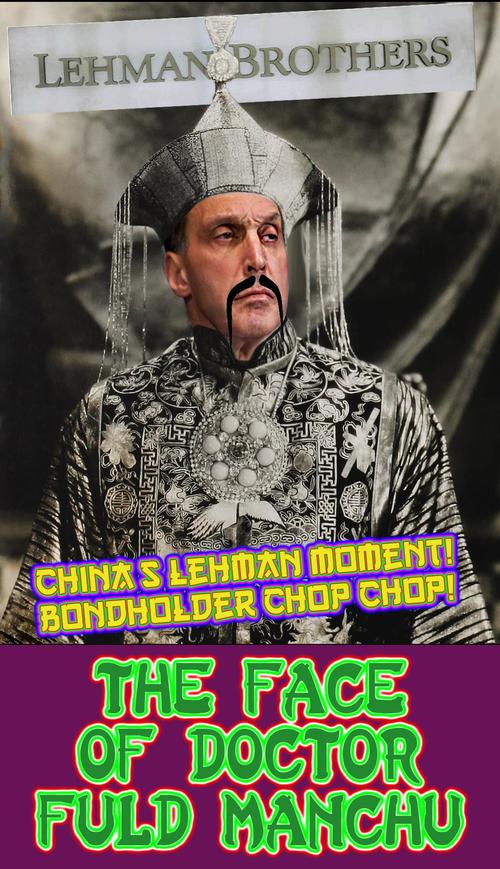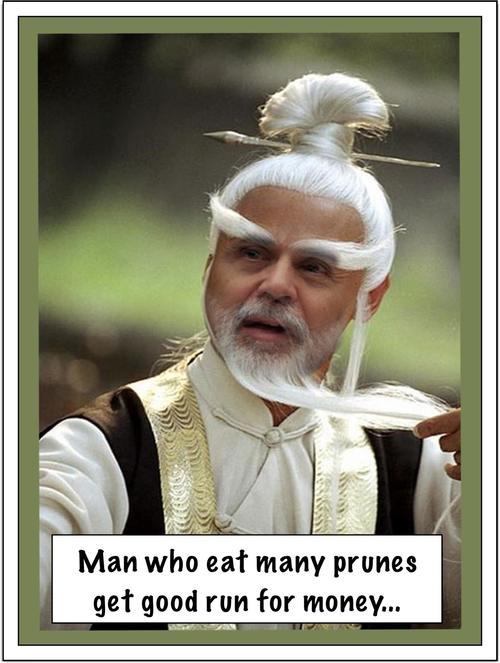 OP's comment:
Everyone seems to misunderstand exactly what is meant by Lehman Moment. And it hasn't really happened yet. Lehman Moment is when a systemically important debtor and those invested in or on that debtor, are told to go fly a kite. It does not happen often these days. But Hank Paulson did it to Lehman. Not because he hates Bailouts. But because he hated Lehman. On the other hand, we could well be entering China's Minsky Moment when the herd suddenly realises the market has topped. You better believe Evergrande is now the talk of the town. People nervously looking at the exits.
There are lots of kites in China. And the PBOC is now playing a game of Chinese chicken with Evergrande and it's creditors. And if you think you've seen a bank run, think about 1.5 billion Chinese depositors running…That is a CCP nitemare scenario. Anyone think they will stand by and do nothing? The question is can they control it? And then there is the billionaire bank run scenario as well. They are feeling trapped now. Who wants to be Alibaba'd.
1
You must be a registered user to vote!
You must be a registered user to vote!
1
Evergrande Rocked By WSJ Report China "Making Preparations For Its Demise"; EV Unit Stops Paying Staff, Suppliers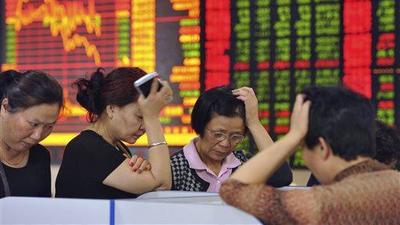 "...local-level government agencies and state-owned enterprises have been instructed to step in only at the last minute should Evergrande fail to manage its affairs in an orderly fashion."
THU SEP 23, AT 3:13 PM
1
You must be a registered user to vote!
You must be a registered user to vote!
1
It amazes me how enterprises set their names to challenge somehow the very nature of the things and change the rules of the Universe, turn upside down physics and its laws and make their becoming and thriving through the same nature and environment as though they were not of this world nor created by humans. The moment they call themselves Titanic, Evergrande and something in this trend, they end up epic drama, with humans as death and in growing numbers or financial collapse. It is as though a curse it were about.
Now, this Evergrande, makes me wonder what was that to be that grande that it couldn't hold it up and fell off? Someone must have chopped it off, otherwise, it can't be pictured how did the Evergrande got it so shorter and short to the point where it cannot be found, anylonger...or any larger..nor evergrande. Here it is, short and never anymore.
0
You must be a registered user to vote!
You must be a registered user to vote!
1
"We Face Huge Pressure" - China's Developer Cash Crunch Spreads To Sunac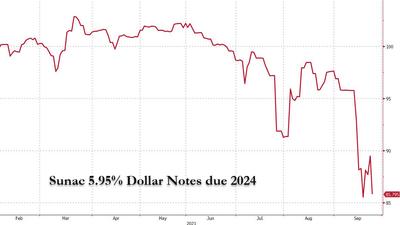 Sunac has become the latest Chinese developer to run into liquidity issues, underscoring the challenging environment for the industry as the nation's property slowdown deepens.
MON SEP 27, AT 5:00 AM
1
You must be a registered user to vote!
You must be a registered user to vote!
1
My take is that the CCP is looking to redistribute the social wealth back to the common folks.
Couple years ago there was a wave of financial audit on movie production companies registered in Erdos of Inner Mongolia, which are basically money laundary tools for the rich, that led to a wide spread closure of this type of companies.
Then Jack Ma was like, banks in China are backward. The government was like, stop being too full of yourself.
Then, Zhao Wei, a household name actress-turned investor, was sactioned for money speculation.
As for Evergrande, its owner cooperated with Jia Yue-Ting, the man behind Farady Future electric cars, who ran away to the US after endebting tens of thousands of small investors and many suppliers to his original internet conglomerate in Beijing.
Then you got the poverty alleviation compaign nation wide.
Crackdown on real estate industry and training school business, which are money-draining machines for families and one of the reasons for declining birth rate, etc etc..
It's gonna hurt many many people. But like they say in English, No pain, no gain.
In Chinese we say, short pain is much better than long pain.
0
You must be a registered user to vote!
You must be a registered user to vote!
0
https://news.yahoo.com/nothing-left-live-evergrande-meeting-174442622.html
'I have nothing left to live for': Evergrande meeting descends into chaos as investor pulls knife and threatens to kill herself
A compilation video that shows desperate investors confronting Evergrande staff amid the company's financial issues has gone viral on Chinese social media platform Weibo.
The confrontation: The 10-minute-long video was published on Sept. 29 to Weibo by local news site Xing Tai Shen Bian Shi, who did not specify when and where the videos were taken, according to Insider.
... more ...
0
You must be a registered user to vote!
You must be a registered user to vote!
0
"It's A Disastrous Day" - All Hell Breaks Loose In China's Bond Markets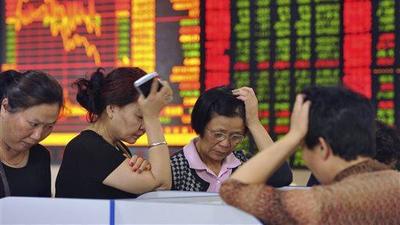 "Evergrande's contagion risk is now spreading across other issuers and sectors"
MON OCT 11, AT 7:05 PM
In the aftermath of our viral post ""Catastrophic" Property Sales Mean China's Worst Case Scenario Is Now In Play", China property firms bonds were hit with another wrecking ball on Monday as Evergrande was set to miss its third round of (offshore) bond payments in as many weeks and rival Modern Land became the latest scrambling to delay deadlines.
Having already suffered the fastest drop on record, Chinese junk bond markets - where property developer issuers dominate - were routed once again as fears about fast-spreading contagion in the $5 trillion sector, which drives a sizable chunk of the Chinese economy, continued to savage sentiment. Meanwhile, China Evergrande Group's offshore bondholders still had not received interest payment by a Monday deadline Asia time, Reuters reported citing sources.
But while Evergrande's default is now just semantics, and one week after Fantasia shocked bondholders with a surprise announcement it too would stuff creditors just weeks after it had said its liquidity was fine, which sent its bond plunging from par to 74 cents in seconds...
Know the answer ?