By continuing you agree to eChinacities's Privacy Policy .
Sign up with Google
Sign up with Facebook
Posts: 4424
2
You must be a registered user to vote!
You must be a registered user to vote!
1
Q:
HK,,, wow,,, I mean what do we say?
say anything? I guess a lot of us here don't really feel comfortable saying anything at all,,,,,, I'll just say 'wow,,,,, w o w....
https://www.foxnews.com/world/hong-kong-protests-smash-legislature-build...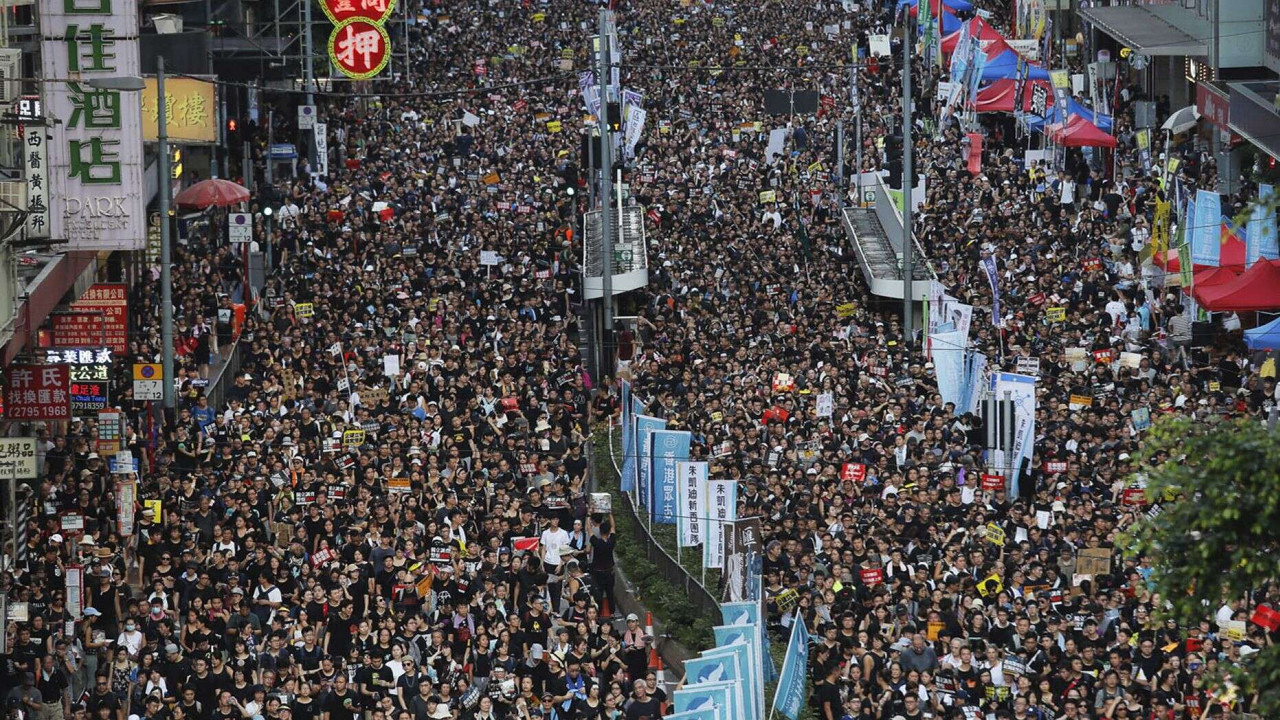 3
You must be a registered user to vote!
You must be a registered user to vote!
1
How do you explain to your kids that you sold their freedom, prosperity and opportunity for the future before they ever become adults? How do you tell someone that life will get worse with more control instead of better but it's for your own good. Pissed off does not even begin to explain the feeling.
Answers (51 - 60 of 60)
Comments (108)
1
You must be a registered user to vote!
You must be a registered user to vote!
1
https://www.zerohedge.com/geopolitical/hong-kong-police-officier-shot-ar...
Violent Showdown Imminent As HK Police Besiege Student 'Rioters', Threaten Live Bullets Sun, 11/17/2019 - 14:31

Update:

The battle over student protester-occupied Polytechnic University grew more violent over the weekend and grabbed headlines Sunday after a police officer was wounded by an arrow and a riot control vehicle attempting to disperse what HK authorities have labelled 'rioters' was set aflame by dozens of Molotov cocktails.

Chinese state media has now labeled the student protesters "terrorists" and has urged police to deploy live fire given the students themselves are in possession of deadly weapons. After a night of mayhem into the early hours of Monday (local time), it appears a violent showdown is imminent, as Reuters reports police now consider 'live fire' an option:
Hong Kong police threatened on Monday (Nov 18) to use live bullets if "rioters" used lethal weapons and committed other acts of violence, after the latest flare up during five months of anti-government protests in the Chinese ruled city.
The police statement followed fresh clashes outside a university in the center of Hong Kong where protesters were hunkered down behind makeshift shields and hurled petrol bombs at police in a standoff blocking a vital tunnel link.
It looks the situation inside the university and in the surrounding Hum Hom neighborhood is spiraling out of control, escalating by the hour.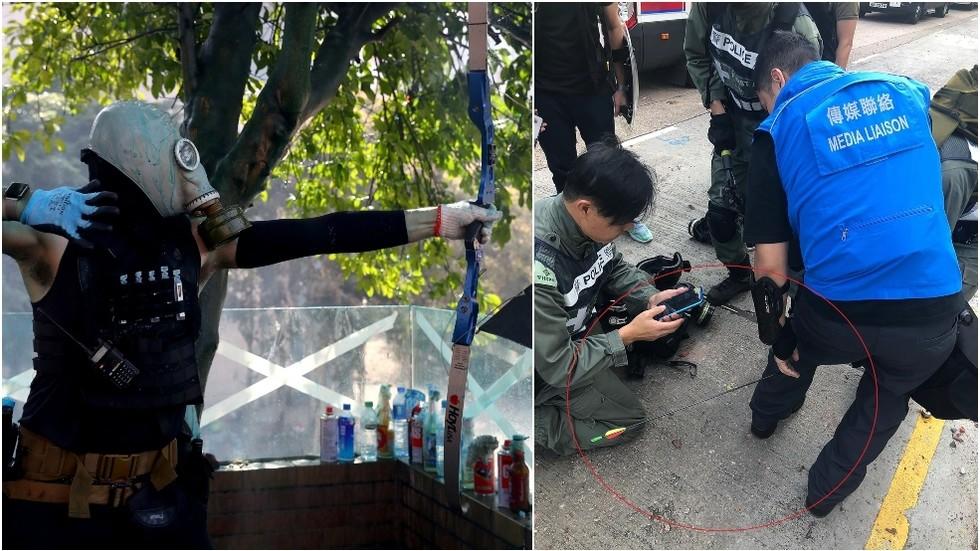 A police officer was shot with an arrow Sunday.

At each, students raided sports equipment storehouses and could be seen setting up makeshift petrol bomb factories on sports fields.
Given the escalation in tactics, including deadly weapons such as bows and arrows, HK police have now designated the students occupying the university as "rioters".
more ...
https://www.zerohedge.com/geopolitical/last-100-polyu-protesters-resist-...
Last 100 'PolyU' Protesters Resist Hong Kong Police As Dozens Stage Daring EscapeTue, 11/19/2019 - 06:00
It's like something out of a movie.
After a three-day standoff, roughly 100 students remain trapped inside the campus of Hong Kong's Polytechnic University. For more than a day, police have had the campus surrounded, and have warned protesters that there's only one way out - in handcuffs.
Despite a potential 10-year prison sentence (laws against rioting, which are being applied to the protesters, carry heavy penalties), some 600 students have already walked off campus into the waiting arms of police. Some surrendered because they were in ill-health after hypothermia set in. Of the 600 who left, 400 were above the age of 18 and were immediately arrested, while the 200 minors were stopped, then sent home. They could still face charges pending further investigation, the NYT reported.
The battle over PolyU, which raged all weekend, will be remembered as one of the more intense incidents since the start of the protests. Students hurled hundreds of petrol bombs at police, and police spent hundreds of cannisters of tear gas and thousands of rubber bullets.
Outside the campus, a group of parents continued their vigil, awaiting news from their children while holding up signs that read: "Son, come out safely!" and "Save the kids, don't kill our children."
Elsewhere in Hong Kong, the city started to recover from a week of non-stop pro-democracy demonstrations. Some of the damage from those petrol bombs included burnt out cars.
Meanwhile, in video that appears to have been taken late Monday, a group of demonstrators staged a daring getaway when they climbed down off a bridge using ropes and sped away on motorbikes.
... more ...
0
You must be a registered user to vote!
You must be a registered user to vote!
0
Snakes on a Plane!
ooops,,, I meant...
Snakes in a Drain!
https://huffington-global.com/hong-kong-student-sees-snakes-as-campus-ho...
Hong Kong student sees snakes as campus holdouts risk sewer escapesNovember 20, 2019 Huffington News Huffington News
Hong Kong student sees snakes as campus holdouts risk sewer escapes
HONG KONG (Reuters) – Some Hong Kong anti-government protesters trapped inside a Hong Kong university tried to flee through the sewers, where one student said she saw snakes, an escape route firemen ruled out on Wednesday by blocking the trapdoor into the system.
>>>>>>>>>>>>>>
One beast I personally cannot deal with... the sneaky Snake!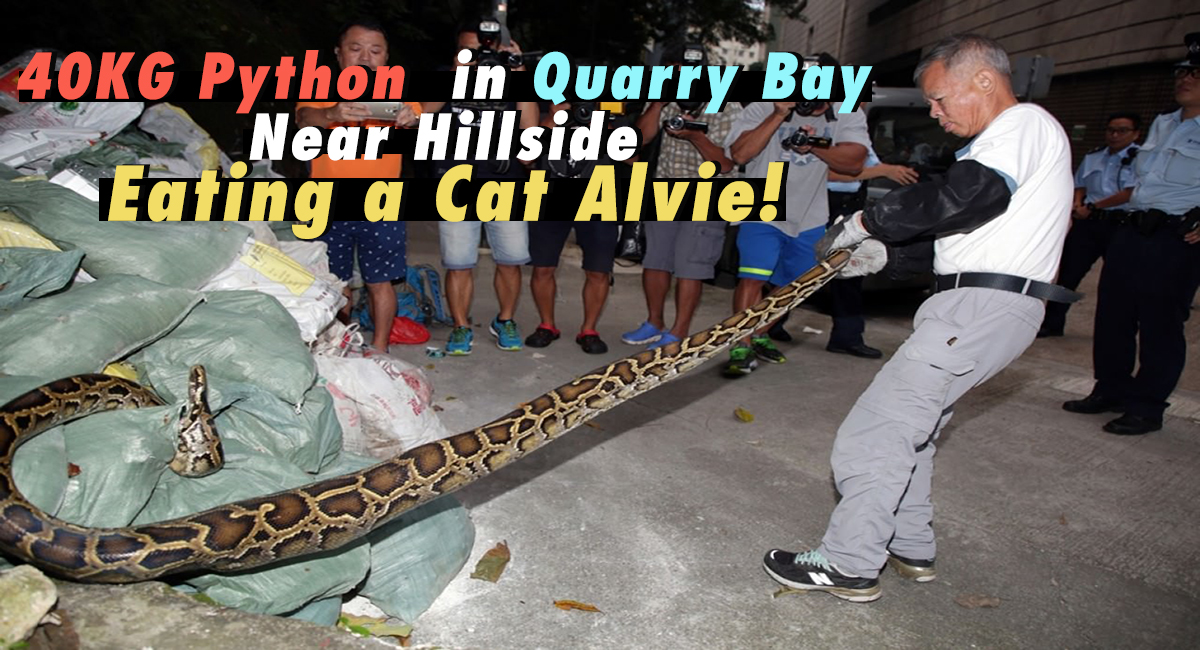 Western-sponsored-protests Chinese mantra ...
https://www.zerohedge.com/political/shackled-blindfolded-and-hooded-ex-h...
"Shackled, Blindfolded and Hooded:" Ex-Hong Kong Consulate Worker Tortured By Chinese Agents
Simon Cheng, a Hong Kong citizen who worked for the British Consulate-General Hong Kong, was arrested and tortured by Chinese agents for 15 days in August for his alleged involvement in supporting pro-democracy protests in Hong Kong, reported BBC News. Cheng told BBC he was "shackled, blindfolded, and hooded" and was beat into submission.
Chinese agents accused him of sparking political unrest in Hong Kong that has since led to the economic and social collapse of the city.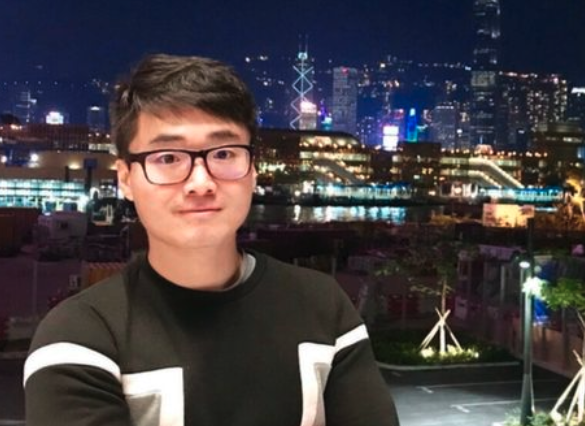 "They said I'm a state enemy and I'm a traitor, and also they asked whether the consulate instructed me to mingle with the protest", he told the BBC, adding that "They wanted to know what role the U.K. had in the Hong Kong protests – they asked what support, money, and equipment we were giving to the protesters.
"I told them I want to make it 100% clear, the U.K. didn't assign resources or help with the protests."
Foreign Secretary Dominic Raab released a statement that his office, the British Consulate-General Hong Kong, was "shocked and appalled by the mistreatment" Cheng experienced during the 15-day detainment, which he was tortured. "I have made clear we expect the Chinese authorities to investigate and hold those responsible to account," Raab said.
Hong Kong lawmakers have said Cheng's arrest is a prime example of the abuse of the legal system in China and why Hong Kongers have been protesting over the last five months to prevent the city from passing an extradition bill to China.
"Beijing is throwing down further signs of disrespect for the rule of law and taking a vindictive attitude toward Hong Kong citizens, particularly those with links to foreign countries," Willy Lam, an adjunct professor at the Chinese University of Hong Kong's Centre for China Studies, who spoke with Bloomberg. "This might resonate very badly, poison the atmosphere and prevent a peaceful and rational solution to the confrontation between the protesters and the SAR government."
Cheng said secret agents identified him as the "mastermind behind the protests," which allegations he rejected; agents also threatened him with long-term jail time, causing him to consider suicide.
Raab said, "I summoned the Chinese Ambassador to express our outrage at the brutal and disgraceful treatment of Cheng, in violation of China's international obligations."
Cheng told BBC that it's too dangerous for him and his fiancee to return to Hong Kong or mainland China. He fears for his safety and is seeking a new life in the UK.
0
You must be a registered user to vote!
You must be a registered user to vote!
0
... Oppsy daisy ...
https://www.zerohedge.com/geopolitical/us-relations-china-were-just-dest...
US Relations With China Were Just Destroyed, And Nothing Will Ever Be The Same Again
Wed, 11/20/2019 - 15:35
Our relationship with China just went from bad to worse, and most Americans don't even realize that we just witnessed one of the most critical foreign policy decisions of this century. The U.S. Senate just unanimously passed the "Hong Kong Human Rights and Democracy Act of 2019", and the Chinese are absolutely seething with anger. Violent protests have been rocking Hong Kong for months, and the Chinese have repeatedly accused the United States of being behind the protests. Whether that is true or not, the U.S. Senate has openly sided with the protesters by passing this bill, and there is no turning back now.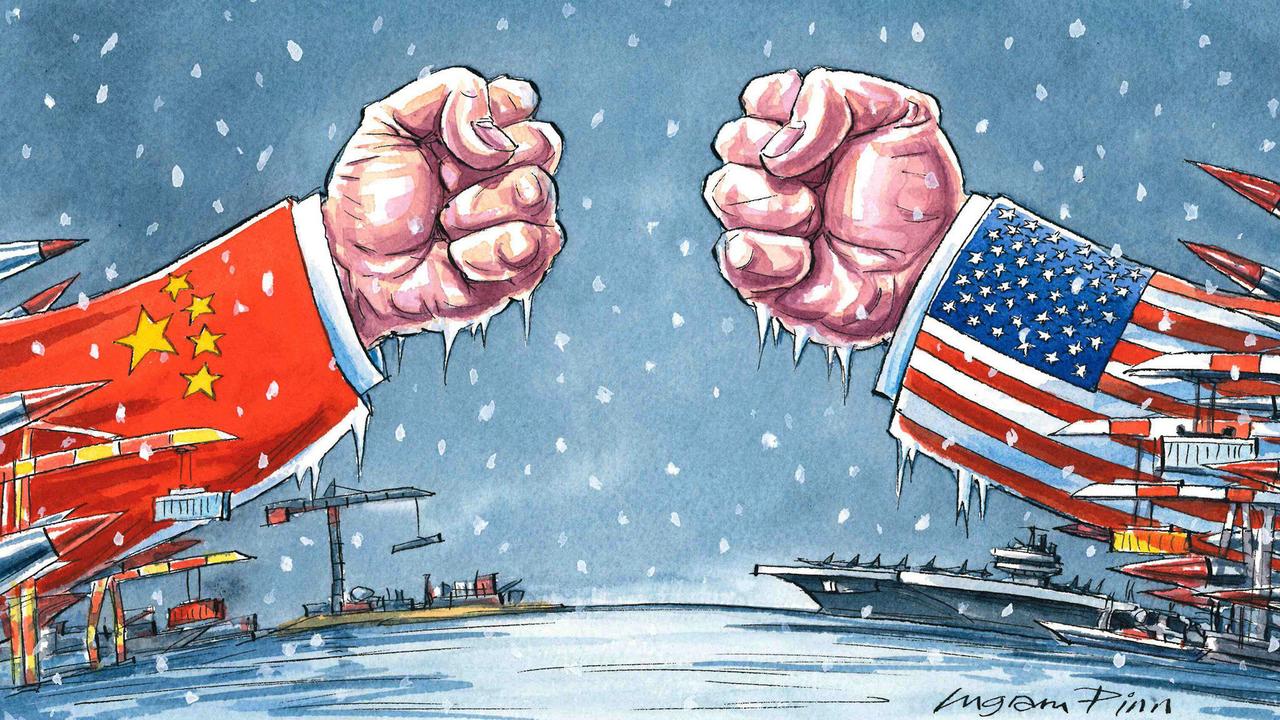 The protesters in Hong Kong have been waving American flags, singing our national anthem and they have made it exceedingly clear that they want independence from China. And all of us should certainly be able to understand why they would want that, because China is a deeply tyrannical regime. But to the Chinese government, this move by the U.S. Senate is essentially an assault on China itself. They are going to argue that the U.S. is inciting a revolution in Hong Kong, and after what the Senate has just done it will be very difficult to claim that is not true.
The Chinese take matters of internal security very seriously, and the status of Hong Kong is one of those issues that they are super sensitive about. China will never, ever compromise when it comes to Hong Kong, and if the U.S. keeps pushing this issue it could literally take us to the brink of a military conflict.
And you can forget about a comprehensive trade agreement ever happening. Even if a Democrat is elected in 2020, that Democrat is going to back what the Senate just did. That is why it was such a major deal that this bill passed by unanimous consent. It sent a message to the Chinese that Republicans and Democrats are united on this issue and that the next election is not going to change anything.
For a long time I have been warning that U.S. relations with China would greatly deteriorate, and this is the biggest blow that we have seen yet.
The U.S. and China are now enemies, and ultimately that is going to result in a tremendous amount of pain for the entire planet.
more ...
0
You must be a registered user to vote!
You must be a registered user to vote!
0
https://www.zerohedge.com/geopolitical/hong-kong-election-pro-democracy-...
Pro-democracy candidates are scoring overwhelming victories amid the city's first district council elections since anti-government protests erupted earlier this year, according to SCMP.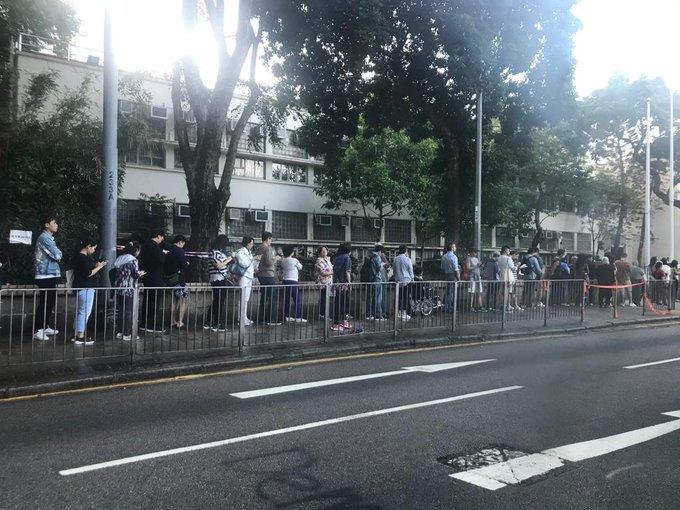 Lines at 7am for Hong Kong district elections (via @mnandita)
According to SCMP, 140 of the first 160 seats declared have gone to pro-democracy candidates. There are a total of 452 seats, of which nearly 69% remain undeclared as of this report.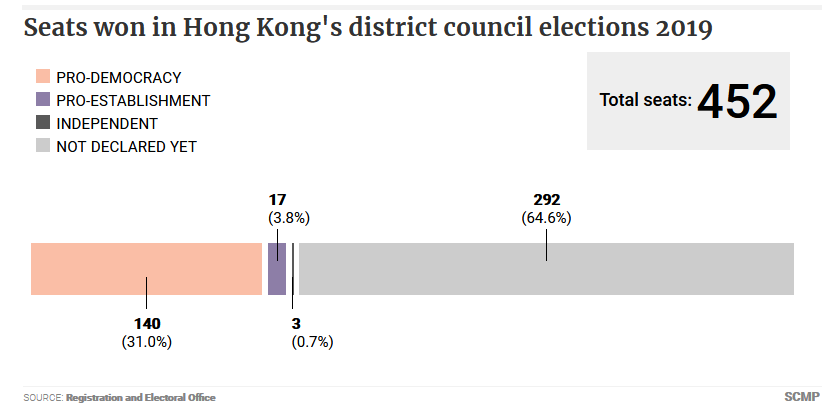 The wins come amid a record number of Hong Kongers turning out to cast ballots, according to Bloomberg.
More than 2.94 million people, or roughly 71.2% of the financial hub's electorate, had voted, according to Barnabas Fung, chairman of election affairs committee. The previous highest turnout was 1.47 million in 2015. Residents faced unusually long lines at polling stations across the city as they came out to vote in the election.
The vote unfolded peacefully despite concerns it could be delayed or disrupted by violence following unrest in the leadup. More than 6,000 complaints relating to the election were received, Fung said. Logistical issues including the long lines at the polling stations topped the list, he added. Results are expected early Monday. -Bloomberg
"There's so many people it's brought tears to my eyes," said Ng Siu-hong, who represents the city's Central and Western District. "It's good for me but more importantly good for democracy."
https://www.zerohedge.com/political/hong-kong-plunges-post-election-chao...
Hong Kong Plunges Into Post-Election Chaos; Pro-Democracy Protesters Thank Trump For Signing Bill
Sun, 12/01/2019 - 14:00
After nearly two weeks of relative calm in Hong Kong surrounding the pro-democracy camp's landslide victory in last week's elections, tens of thousands of protesters took to the streets in renewed anti-government demonstrations on Sunday.
As the day turned to evening, things rapidly devolved into all too familiar stand-offs with the police amid rioting and vandalism, resulting in the deployment of tear gas, rubber bullets and other crowd-control measures, according to SCMP.
And while the protests have been largely peaceful - with many families bringing children as they marched down the waterfront promenade, packs of radicals began hurling smoke bombs and bricks at police, smashing restaurants and shops in Whampoa, and vandalizing the local railway station. A gasoline bomb was thrown at a police van at one point.
Defiant demonstrators said the massive turnout for the Sunday procession – titled "Do not forget why we started" – demonstrated their determination not just to savour the electoral victory, but also to keep up the protests, which will enter their seventh month next week, until all their demands were met.
"We want to let the younger protesters know that they are not alone," said KC, a 35-year old man who joined the demonstration with his son, who is in Primary Six.
"We cannot pretend and act as if everything is normal just because the pro-democracy camp has scored a victory in the district council elections." -SCMP
Protesters have maintained five demands - the first one of which has been satisfied after Hong Kong leadership withdrew a controversial extradition bill that sparked the protests. The other demands have not been satisfied; an independent inquiry into police's use of force, retracting the riot label for the events of June 12, amnesty for arrested protesters and implementation of universal suffrage (via SCMP).
At the Tsim Sha Tsui march, tensions soon flared when crowds deviated from the approved 1.2km route and flooded the streets.
Police raised the blue flag warning protesters they were taking part in an illegal assembly by doing so.
Rounds of tear gas and other projectiles, including pepper balls, were fired at the packed crowd, whose number included the elderly and young people. The crowd control measures were targeted at both ends of Salisbury Road shortly before 5pm. -SCMP
Meanwhile, hundreds of protesters marched to the US consulate waving American flags to show 'gratitude' for US support, after President Trump signed a Human Rights bill into law designed to show solidarity with the pro-democracy movement.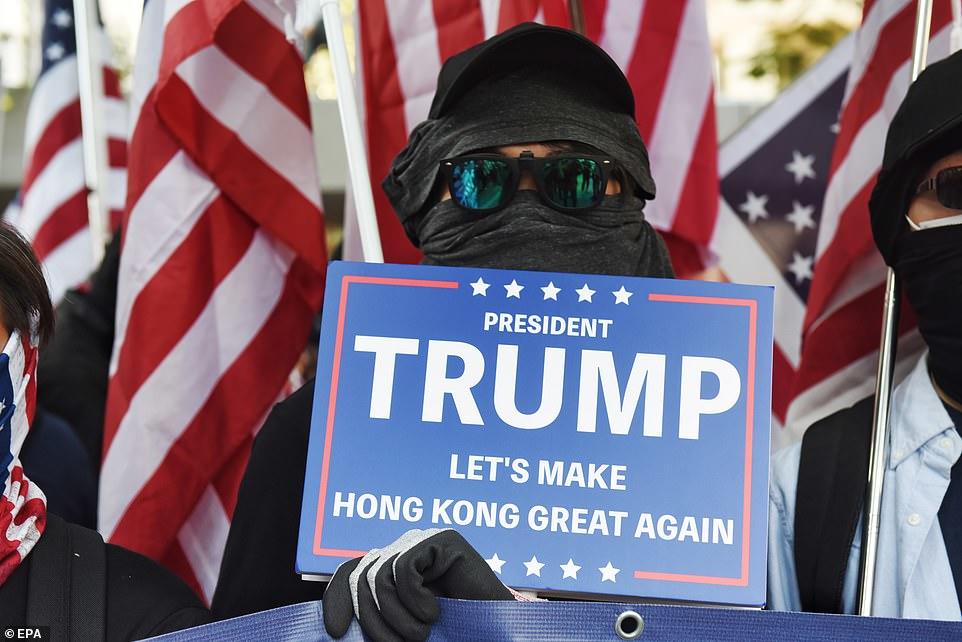 "The Hong Kong Human Rights and Democracy Act of 2019 reaffirms and amends the U.S.-Hong Kong Policy Act of 1992, detailing U.S. policy toward Hong Kong and ordering an assessment of the political developments there, among other things," according to the WSJ.
... more ...
0
You must be a registered user to vote!
You must be a registered user to vote!
0
https://www.reuters.com/article/us-hongkong-protests/thousands-of-protes...
WORLD NEWS
DECEMBER 8, 2019 / 3:43 AM / UPDATED 39 MINUTES AGO
Thousands of protesters throng streets of Hong Kong as government urges calm
HONG KONG (Reuters) - Thousands of black-clad protesters from all walks of life thronged the streets of Hong Kong on Sunday in a sign of broad support for anti-government demonstrations that have roiled the Chinese-ruled city for six months.
A proester holds a banner as he attends a Human Rights Day march, organised by the Civil Human Right Front, in Hong Kong, China December 8, 2019. Picture taken with a long exposure. REUTERS/Danish Siddiqui
With chants of, "Fight for freedom, stand with Hong Kong," anti-government activists, young and old, marched from Victoria Park in the bustling shopping district of Causeway Bay to Chater Road near the heart of the financial district.
Authorities gave the green light to Civil Human Rights Front (CHRF) - organizer of largely peaceful million-strong marches in June - to hold the rally, the first time the group has been granted permission for a protest since Aug. 18.
"I will fight for freedom until I die because I am a Hong Konger," said June, a 40-year-old mother dressed in black seated on the grass in Victoria Park. "Today is about standing with Hong Kong, and the international community."The former British colony is governed under a "One Country, Two Systems" formula that guarantees freedoms not allowed in mainland China, but many fear Beijing is tightening the screws on the city and increasingly meddling in its affairs.
Beijing denies meddling, has condemned the unrest and blamed foreign governments, including the United States and former colonial power Britain, of interfering in the country's internal affairs.
Echoes of "five demands, not one less" echoed through the streets, referring to protesters' calls for universal suffrage in choosing the city's leader, among other demands.
Police said earlier on Sunday they had arrested 11 people, aged 20 to 63 and seized weapons including army knives, firecrackers, 105 bullets and a semi-automatic pistol, the first seizure of a handgun in six months of protests.
Roads that would normally be jammed with traffic on a Sunday near the heart of the city were empty, as a snaking crowd that included young families, students, professionals and the elderly clogged the streets of the Asian financial hub.
The violence in six months of demonstrations has escalated as protesters have torched vehicles and buildings, hurled petrol bombs at police, dropped debris from bridges onto traffic below and vandalized shopping malls, while police have responded with tear, gas, water cannon and, at times, live fire.
The large turnout on Sunday signaled still broad support for the anti-government demonstrations despite the escalating unrest in a city where violence is rare.
The protest comes two weeks after democratic candidates secured almost 90% of 452 district council seats in local elections that saw a record turnout, posing a fresh conundrum for Beijing and piling pressure on Hong Kong's leader Carrie Lam.
The protests intensified in June over a now-shelved extradition bill that would have allowed people to be sent to mainland China for trial, but have now evolved into broader calls for democracy, among other demands.
In a statement on Saturday, the government appealed for calm and said it has "learned its lesson and will humbly listen to and accept criticism."
Hong Kong's new police commissioner, Chris Tang, said his force would take a flexible approach to demonstrations, using "both the hard and soft approach."
The former British colony has been rocked by more than 900 demonstrations, processions and public meetings since June, with many ending in violent confrontations between protesters and police, who have responded at times with tear gas and rubber bullets.
Demonstrators are angry at what they perceive are more curbs on freedoms promised to Hong Kong when the then British colony returned to Chinese rule in 1997.
The chairman and president of the American Chamber of Commerce (AmCham) in Hong Kong were separately denied entry to the neighboring Chinese-ruled city of Macau on Saturday after being detained by immigration officials.
Slideshow (20 Images)
Hong Kong has enjoyed relative calm since local elections on Nov. 24 delivered an overwhelming victory to pro-democracy candidates.
Nearly 6,000 people have been arrested in the protests since June, more than 30% aged between 21 and 25.
1
You must be a registered user to vote!
You must be a registered user to vote!
0
Merry Christmas HK style ...
https://www.zerohedge.com/geopolitical/hong-kong-malls-rocked-third-day-...
Hong Kong Malls Rocked By Third Day Of Protests As Lam Blames "Rioters" For "Ruining" Christmas
Thu, 12/26/2019 - 11:21
Hong Kong police are moving to shut down an important source of funding for the city's pro-Democracy movement that has kept protesters on the front lines out of bondage. The crackdown has led to doubts about the future of the protest movement, since organizers' ability to match funds, food and shelter with "professional" protesters who require all of those things to remain on the front lines, has been critical to the movement's longevity.
But on the streets, a dedicated core of demonstrators continue to disrupt daily life in Hong Kong's centers of industry and commerce.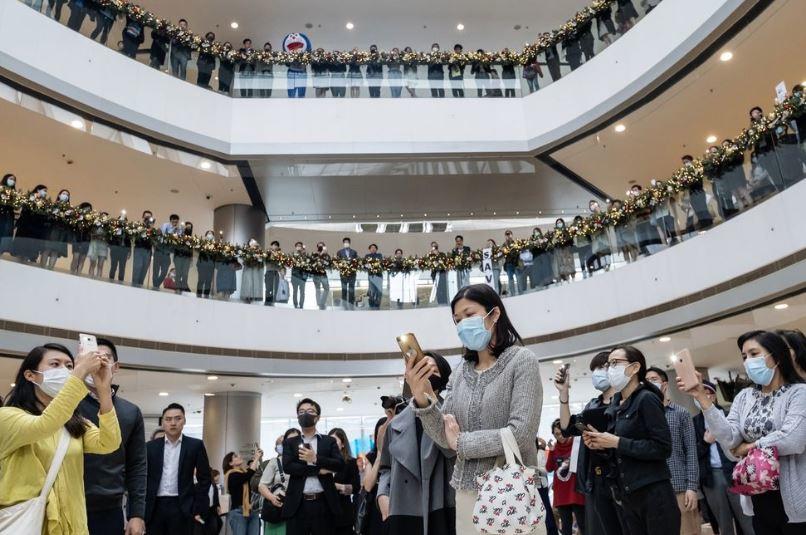 Bloomberg reports that crowds of protesters flooded the city's shopping malls on Thursday for the Boxing Day holiday in a third-straight day of protests.
Bloomberg reports that crowds of protesters flooded the city's shopping malls on Thursday for the Boxing Day holiday in a third-straight day of protests.
Pro-democracy protesters gathered in the afternoon of Boxing Day at shopping centers. Dozens of black-clad demonstrators were roaming around at Sogo department store in Causeway Bay chanting slogans while riot police stopped and searched people in Mong Kok and Tsim Sha Tsui, according to Radio Television Hong Kong. The protesters are hoping to attract attention to their cause by forcing malls and stores to close.
According to Reuters, the number of protesters who turned out on Thursday was lower than the previous two days.
In a reflection of the reason for the Christmas holiday season, protesters have been gathering at malls and shopping centers for the past few days, forcing numerous confrontations with police. Hundreds of protesters dressed in the traditional all-black uniform of the pro-democracy movement flooded the malls and shopping centers on Christmas Eve and Christmas Day. Some wore antlers in what appeared to be an ironic commentary.
Bloomberg blamed the unrest for capping off an "abysmal" six-month stretch for Hong Kong retailers, who have suffered through a double-digit drop in sales as the protests have scared off the tourists and visitors from the mainland.
Protests are expected to continue into the New Year, with no end in sight (unless Carrie Lam's government bends to their five demands, which doesn't seem likely). Lam has reportedly said she would resign if Beijing would allow it, but it seems President Xi is insistent that Lam clean up the mess she helped create.
For her part, Lam mostly whined about how the protesters "ruined" her holiday. But after the year she has had, we couldn't think of anything more appropriate.
"Many members of the public and tourists coming to Hong Kong were naturally disappointed that their Christmas Eve celebrations have been ruined by a group of reckless and selfish rioters," Lam said in a Facebook post on Christmas Day.
In a separate statement on Thursday, the government criticized "unprecedented violence" and vandalism committed by some protesters, and insisted that defending human rights remained a top priority.
Protesters, meanwhile, accused the police of unnecessary violence and brutality, and for conducting body searches without any legal cause. Police accused the protesters of "vandalism" and tried to disperse them using pepper spray and batons, as well as water cannons once the protesters had been forced out of the malls and back into the streets. Protesters blocked several roads in central Hong Kong, and have also been blamed for destroying a bank branch. Petrol bombs were thrown, and more than 100 people have been arrested already.
Unlike in mainland China, Christmas is celebrated as a public holiday, even though just 12% of the population identifies as Christian. Still, the influence of the city's British colonial heritage is being celebrated now more than ever.
According to CNN, one protester was hospitalized with moderate injuries after falling several feet after a failed attempt at running from the cops.
Hong Kong Watch, a UK-based non- governmental organization, accused the force of committing "truly outrageous police brutality" on Christmas Eve.
If previous protest movements have shown us anything, it's that the youth of Hong Kong won't be easily pacified.
The movement began in June in response to the government's attempt to fast-track an extradition bill that would have opened up Hong Kongers (and anybody just passing through) to prosecution in mainland courts. The bill was eventually scrapped, but the government was slow to act, and by the time the bill was abandoned, the movement had morphed into a broader pro-democracy coalition with a list of demands that Beijing would seemingly never accept.
0
You must be a registered user to vote!
You must be a registered user to vote!
2
Some HK mob firedthe univercities,ruined public property and killed innocent people by cruel means just because they say different views.i saw western countries only publish Chinese police have no alternative against mods will.If the police dont do that,mods will kill more innocent people and fired the univercities.
Know the answer ?
A:
Going to HK would be the best bet I reckon, especially if you were loo
A:
Going to HK would be the best bet I reckon, especially if you were looking for a church wedding. Chinese weddings are pretty grim IMO - you go to a barren govt dept with souless officials and navigate red tape so some guy can give you a red stamp and a marriage book. You get expensive pictures taken of you both posing in places you'd never go to in everyday life that is somehow supposed to represent your wedding, then a while later it's off to a restaurant where a game show host kind of guy makes sure it's as tacky as possible while the guests eat as fast as they can so they can leave as soon as they finish eating and gave you money. Hell, I'd go to Thailand or the Philippines and get married in Paradise. --
Stiggs
There are
1 user
and
77 guests
online.