By continuing you agree to eChinacities's Privacy Policy .
Sign up with Google
Sign up with Facebook
0
You must be a registered user to vote!
You must be a registered user to vote!
1
Q:
HK's Heart ...
https://news.yahoo.com/hk-media-tycoon-jimmy-lai-002213129.html
Hong Kong tycoon Jimmy Lai arrested under security law, bearing out 'worst fears'
August 10, 2020
HONG KONG (Reuters) - Hong Kong media tycoon Jimmy Lai became the highest-profile person arrested under a new national security law on Monday, detained over suspected collusion with foreign forces as around 200 police searched the offices of his Apple Daily newspaper.
Mainland-born Lai, who was smuggled into Hong Kong on a fishing boat when he was a penniless 12-year-old, has been one of the most prominent democracy activists in the Chinese-ruled city and an ardent critic of Beijing.
His arrest comes amid Beijing's crackdown against pro-democracy opposition in the city and further stokes concerns about media and other freedoms promised to the former British colony when it returned to China in 1997. China imposed the sweeping new security law on Hong Kong on June 30, drawing condemnation from Western countries.
The arrest "bears out the worst fears that Hong Kong's National Security Law would be used to suppress critical pro-democracy opinion and restrict press freedom", said Steven Butler, the Committee to Protect Journalists' Asia programme coordinator.
Ryan Law, chief editor of Apple Daily, a staunch anti-government and pro-democracy tabloid that also does investigative work, told Reuters the paper would not intimidated.
"Business as usual," he said.
The security law punishes anything China considers subversion, secession, terrorism and collusion with foreign forces with up to life in prison. Critics say it crushes freedoms, while supporters say it will bring stability after prolonged pro-democracy protests last year.
Lai, 71, had been a frequent visitor to Washington, where he has met officials, including Secretary of State Mike Pompeo, to rally support for Hong Kong democracy, prompting Beijing to label him a "traitor".
Hong Kong police said they had arrested "at least" nine men, aged between 23 and 72, without naming them, adding that further arrests were possible.
Suspected offences included "collusion with a foreign country/external elements to endanger national security, conspiracy to defraud" and others, the police said.
Apple Daily, which posted on its Facebook page a livestream of police officers roaming through its newsroom and rifling through files, reported that Lai had been taken from his home early on Monday.
The live feed showed staff being asked to show identity documents. Some executive offices were sealed off with red cordons. The police later wheeled in stacks of empty plastic containers.
Lai himself was brought back to the office later, initially in handcuffs.
"We can't worry that much, we can only go with the flow," Lai said, before being escorted into a police vehicle.
Police said around 200 officers entered the premises with a court warrant. The law allows police to search premises without one "under exceptional circumstances", and also allows documents, equipment and financial assets to be seized.
The search was finished by mid-afternoon, and police said they had collected 25 boxes of evidence.
Apple Daily reported that one of Lai's sons, Ian, had also been arrested at his home and later showed his restaurant, Cafe Seasons, being raided by police.
Shares in Lai's media company Next Digital <0282.HK>, which publishes Apple Daily, plunged 16.7% before rebounding to trade 344% higher as online pro-democracy forums called on investors to buy shares as a show of support.
'THIRD-WORLD'
An Apple Daily source said that other senior executives in the company were among those targeted and they were hiring lawyers. Executive Director Cheung Kim-hung was seen escorted by police out of the building.
"We see this as straight harassment," the source said, adding that Lai was arrested on suspicion of sedition, criminal fraud and colluding with foreign forces.
In a statement, Next Media Trade Union called the search "an extremely rare and serious incident in Hong Kong history", with a "catastrophic" impact.
It said journalists "will continue to guard their posts until the last minute".
Hong Kong Journalists Association chairman Chris Yeung said the search was akin to "third-world" press freedom suppression.
In major cases in Hong Kong, the central government in Beijing can claim jurisdiction. The legislation allows agents to take suspects across the border for trials in Communist Party-controlled courts.
Apple Daily executive Chan Pui-man said the newspaper will be published on Tuesday.
"Even if Apple Daily publish a pile of blank paper tomorrow, we would go and buy a copy," prominent young activist Joshua Wong said on Twitter.
'NOT INTIMIDATED'
In a Reuters interview in May, Lai pledged to stay in Hong Kong and continue to fight for democracy.
Before Monday, 15 people, including teenagers, had been arrested under the new law, which has seen activists disbanding their organisations or fleeing the city.
The United States on Friday imposed sanctions on Hong Kong leader Carrie Lam and other officials, drawing mockery and condemnation from Beijing.
The arrest reflects that Hong Kong "wasn't intimidated" by sanctions, Global Times editor Hu Xijin said in a tweet. Global Times is published by China's official Communist Party newspaper People's Daily.
1
You must be a registered user to vote!
You must be a registered user to vote!
0
Rest in Peace Hong Kong, it was a good long run but it's over.
Taiwan will get all the trusts and holding companies and investment money that leaves Hong Kong, making it more important to the west and complicating China's agenda. Sometimes unintended consequences really bite you in the ass.
Answers (11)
Comments (6)
0
You must be a registered user to vote!
You must be a registered user to vote!
1
https://www.msn.com/en-us/finance/companies/jimmy-lai-e2-80-99s-next-dig...
Bloomberg
Jimmy Lai's Next Digital Soars +344% After Arrest, Police Raid
(Bloomberg) -- Social media posts urged investors to buy shares of Hong Kong media tycoon Jimmy Lai's company, following his arrest and police raid of his flagship newspaper.
After falling as much as 17% in morning trade to hit a fresh record low, shares of Next Digital Ltd. soared 344% to HK$0.40 in the afternoon, reaching the highest since June 2019. Lai is chairman and his Apple Daily newspaper is Next Digital's highest-profile business.
While it wasn't entirely clear what drove the surge, a Facebook post by a self-described financial writer that includes a screenshot showing a purchase record of 1.22 million Next Digital shares has more than 5,000 likes and 300 shares. People in the comment section shared the screenshot to show support for the company. A post on LIHKG, where Hong Kong protesters last year coordinated activity, shared the Facebook item while some top pages on the forum included posts calling for people to buy Next Digital's stock or not sell.
"Definitely it's not institutional investors buying the stock," said Steven Leung, a UOB Kay Hian (Hong Kong) Ltd. executive director. "I see many orders were placed via Futunn, a large portal for retail stock investors. Many could be speculating that the company will be sold," but Leung expressed doubt about that. "I don't understand why there are so many speculative trades."
Other local Hong Kong media stocks also rose sharply Monday afternoon. They included One Media Group Ltd. After not trading Monday morning, its shares jumped as much as 48% to HK$0.24. One Media is a direct translation of Next Digital's name in Chinese.
https://www.bbc.com/news/world-asia-china-53746867
https://news.yahoo.com/agnes-chow-hong-kong-activist-064617859.html
Agnes Chow: Hong Kong activist hailed as the 'real Mulan'
She's just 23 but has already been on the protest frontlines multiple times
Agnes Chow, a 23-year-old pro-democracy activist in Hong Kong, has got a new nickname.
Her supporters have started calling her "the real Mulan" - in reference to the legendary Chinese heroine who fought to save her family and country.
Ms Chow was one of a handful of activists and media figures arrested this week under a controversial new security law imposed by Beijing. She was detained on a charge of "colluding with foreign forces" - if convicted, she could face up to life in jail.
She's now been released on bail, but her arrest prompted an outpouring of support, with many tweeting the hashtag #FreeAgnes.
But for much of last year, Hong Kong protesters calling for democratic reforms were engaged in increasingly violent clashes with riot police, who were accused of using excessive force.
Pro-Beijing groups accused the protesters of attacking police and anti-protest Hong Kongers.
During one burst of unrest, Ms Liu shared a Weibo post from the government-run Beijing newspaper People's Daily that read, in Chinese: "I also support Hong Kong police. You can beat me up now."
Pro-democracy protesters quickly began slamming Ms Liu, accusing her of supporting police brutality.
The movie soon became a political symbol - with Chinese citizens voicing their support for Ms Liu and Hong Kong pro-democracy supporters calling for a boycott.
Earlier this week, Ms Chow was arrested in a national security operation that saw other prominent figures like media mogul Jimmy Lai detained.
It was later revealed that Ms Chow was arrested for "colluding with foreign forces" under the new national security law.
"I would say that it's very obvious that the regime and the government are using the national security law to suppress political dissidents," said told reporters after being bailed.
Many had feared ahead of the passing of the law that it would be used to punish protesters and reduce the city's autonomy.
Under the new law, inciting hatred of China's central government and Hong Kong's regional government is illegal.
It criminalises any act of secession, subversion, terrorism and collusion with foreign or external forces.
Ms Chow later said in a statement on Facebook that her latest arrest had been the most "terrifying" one so far.
"Arrested four times, this is the most terrifying. But even in the police station, I can still hear from my lawyers the love and concern everyone has for me," she said.
"The road [ahead] is tough. Take care of yourselves.".
0
You must be a registered user to vote!
You must be a registered user to vote!
0
https://theconversation.com/killing-the-chicken-to-scare-the-monkey-what...
'Killing the chicken to scare the monkey': what Jimmy Lai's arrest means for Hong Kong's independent media
Excerpt ... Lai's status as an influential media owner and prominent pro-democracy activist has positioned him in Beijing's crosshairs. He has been the target of extraordinary vitriol from mainland state media and was arrested by Hong Kong police in February and April on charges of participating in an illegal assembly.
Lai's case is undoubtedly intended to serve as a warning — "killing the chicken to scare the monkey," to borrow a Chinese saying — and an inducement for the city's journalists to self-censor, lest they fall foul of the new law.
For instance, an editorial calling for Hong Kong's constitutionally guaranteed autonomy to be preserved could be interpreted by a zealous prosecutor as inciting secession under articles 20 and 21 of the law.
An uncertain future for independent media
Although self-censorship has long been a concern, Hong Kong has traditionally enjoyed a vibrant free press. In 2002, Reporters Without Borders ranked it 18th in its inaugural World Press Freedom Index.
However, by 2020, the city had plunged to 80th. (China, meanwhile, ranked 177th of 180 countries.) The application of the national security law in Hong Kong will no doubt see the territory's ranking tumble even further.
Over the years, much of Hong Kong's media has been bought up by China-owned or -affiliated entities, some of which are ultimately controlled Beijing's Liaison Office in Hong Kong. More than half of Hong Kong's media owners are now members of political bodies on the mainland.
The public broadcaster Radio Television Hong Kong has remained editorially independent, but it is under review again, having recently fallen foul of the local regulator for criticising the police handling of pro-democracy protests in a manner that was
"irresponsible, and could be regarded as a hate speech with the effect of inciting hatred against the police."
International media still operate in Hong Kong relatively unrestrained, but visa refusals for foreign journalists suggest this is changing.
In recent years, Financial Times editor Victor Mallet's visa renewal was denied after he chaired a discussion with a pro-independence politician, and New York Times reporter Chris Buckley's Hong Kong work permit was denied, without any specific reason, months after he was also kicked out of China.
The Times has moved some of its former China- and Hong Kong-based reporters to South Korea and Taiwan in response. However, foreign journalists who engage in critical reporting on China and Hong Kong could be in breach of the national security law regardless of where they are based, as the law applies extraterritorially and to non-Chinese citizens as well as nationals.
Apple Daily's days appear to be numbered. Similar fates could befall other outspoken independent media, like the crowd-funded Hong Kong Free Press, which launched in 2015 amid rising concerns over declining press freedoms in the city. This was around the same time the South China Morning Post, Hong Kong's venerable English-language daily, was acquired by the mainland conglomerate Alibaba.
Speaking for the party's will China's constitution purports to preserve freedom of expression. It has never met the promise of its terms. In 2016, President Xi Jinping told the country's press,
" all news media run by the party must work to speak for the party's will and its propositions and protect the party's authority and unity".
The guarantees of free speech and a free press under Hong Kong's Basic Law are now on the same trajectory.
It is unlikely the media in Hong Kong will be nationalised to the extent it is on the mainland. Instead, Beijing is deploying a combination of acquisition, co-optation and intimidation to obtain its compliant silence.
BoJo Tit ...
https://news.yahoo.com/china-threatens-retaliate-against-uk-113538267.html
China threatens to retaliate against the UK for hosting 'anti-China forces' after Boris Johnson welcomed a pro-democracy activist who fled Hong Kong to escape arrest
*China is warning the UK government to not host a pro-democracy activist who fled Hong Kong last week.
*Sunny Cheung was expected to be arrested in Hong Kong before he fled to Britain.
*He is now in the UK where he plans to rally support for pro-democracy movement in Hong Kong.
*Activists in Hong Kong have been rounded up by police as part of a new security law imposed on the former British colony by China.
*Boris Johnson's government has offered all Hong Kong citizens the chance to live in Britain.
*However, China's ambassador to the UK said hosting Cheung was tantamount to supporting "anti-China" forces.
China has warned the United Kingdom not to host a pro-democracy activist who fled Hong Kong last week to avoid arrest, warning that it would retaliate if Boris Johnson's government supported "anti-China" forces.
Twenty-four-year old Sunny Cheung fled to Britain last week after police in Hong Kong rounded up three young activists and seven others as part of a new security law imposed on the former British colony by Beijing, The Times of London reported.
Cheung, a former employee of Britain's consulate in the semiautonomous region, and a prominent student activist fled to the UK to rally support for Hong Kong's pro-democracy movement in the UK. He was expected to face court for his role in a June vigil for victims of the 1989 Tiananmen Square massacre if he had stayed in Hong Kong. Cheung joined Nathan Law Kwun-Chung, another student activist who fled from Hong Kong to the UK last month.
.. more ...
1
You must be a registered user to vote!
You must be a registered user to vote!
0
Rest in Peace Hong Kong, it was a good long run but it's over.
Taiwan will get all the trusts and holding companies and investment money that leaves Hong Kong, making it more important to the west and complicating China's agenda. Sometimes unintended consequences really bite you in the ass.
0
You must be a registered user to vote!
You must be a registered user to vote!
0
US Suspends Extradition & Tax Treaties With Hong Kong As It's "No Longer Sufficiently Autonomous"
Pompeo: "The Chinese Communist Party chose to crush the freedoms and autonomy of the people of Hong Kong."
Perhaps much belatedly, but hugely significant following Australia, Canada, New Zealand, Germany, France and Britain doing the same, the US on Wednesday formally halted its extradition treaty with Hong Kong in protest of Beijing's previously imposed national security law and amid soaring tensions with China more broadly.
The US State Department announced that it's part of a total of three US bilateral agreements with Hong Kong being permanently dropped.
"These agreements covered the surrender of fugitive offenders, the transfer of sentenced persons, and reciprocal tax exemptions on income derived from the international operation of ships," State Department spokeswoman Morgan Ortagus said.
In characteristic fashion Secretary of State Mike Pompeo released a more bellicose statement via Twitter, underscoring that it's because "The Chinese Communist Party chose to crush the freedoms and autonomy of the people of Hong Kong."
The move is pursuant to President Donald Trump's July 14 executive order, the statements added, which deemed Hong Kong "no longer sufficiently autonomous to justify differential treatment in relation to the People's Republic of China" due to the sweeping new law that has effectively stifled organized street protests and dissent.
Already multiple arrests have been made for mere social media posts, which can potentially bring severe lengthy prison sentences under the law, and a number of high profile young activists have fled, fearing imprisonment for past statements and continued pro-independence activism, which the law can easily interpret as "terrorism".
Less than two weeks ago the US administration slapped economic sanctions on Hong Kong chief executive Carrie Lam along with ten other top officials seen as integral to the mainland's efforts at cracking down on dissent in the semi-autonomous city state.
Fine read ...
https://nationalinterest.org/feature/china-struggling-'one-country'-has-two-visions-future-167399
China Is Struggling With 'One Country' That Has Two Visions of the Future
Beijing's inability to rule wisely, honor its legal obligations, and deliver stability and order, which would be seen as a serious failure, would justify pressure being heaped upon Chinese and Hong Kong officials.
by John Lee
How should the United States respond to China's ever more flagrant violations of its binding treaty obligations under the Sino-British Joint Declaration on Hong Kong? Doing nothing, or worse, guaranteeing that democracy and individual freedom will be preserved in what is a Chinese administrative territory and then failing to deliver, would be an enormous blow against the United States' standing and credibility.
Additionally, making the policy dilemma more fraught is the affection with which Americans have for Hong Kong and its people, the corollary being that there is a deep aversion to any approach that involves cutting losses and abandoning Hongkongers to whatever fate Beijing has in store for them. In this sense, and while Hong Kong is just one piece on the chessboard, there is little national appetite for treating it as a pawn to be sacrificed in the pursuit of a greater strategic purpose.
To the extent possible, specific measures responding to Beijing's moves should be aligned with broader strategic plans to compete with China on U.S. terms. All the while, the impacts on Hongkongers must be kept in mind.
The United States must find ways to compel China to reconsider, slow down and possibly even reverse the erosion of the territory's liberal institutions. Fortunately, options are available because Beijing has greatly underestimated Hong Kong's continued importance to the mainland economy. Or perhaps it has deliberately underplayed this importance hoping the United States and others will believe countermeasures to be hopeless. Regardless, and despite the fact that Hong Kong's GDP is only about one-thirtieth the size of the mainland, it remains the third most important international financial center in the world after New York and London.
Significantly, the financial center of Hong Kong confers essential and unique advantages for China which Shanghai cannot replicate due to the lack of trust in mainland Chinese institutions and policies. Hong Kong remains the gateway for capital flows out of China and international flows into China. Through listing on the Hong Kong Stock Exchange—holding stock worth around US$ 5 trillion—the issuing of bonds in various currencies, or the raising of private equity, going through Hong Kong is the primary way Chinese firms access international capital markets. On the flip side, about 60 percent of foreign direct investment into China goes via Hong Kong. International companies seeking to enter the mainland economy do so through locating head offices in Hong Kong to secure an acceptable level of legal and regulatory protection from arbitrary Chinese rules. It is estimated that U.S. multinationals operate up to fourteen hundred offices in Hong Kong. Almost all of these are to oversee operations in the mainland.
Furthermore, Hong Kong is essential to Chinese hopes of a greater internationalization of the Renminbi (RMB). The RMB is only used in about 2 percent of global transactions. Even when it comes to China's international dealings, well over 90 percent of Chinese foreign payments are settled in currencies other than the RMB with about 80 percent settled in U.S. dollars. This reliance on foreign currencies is costly given the higher transaction costs. It also exposes China to far more exchange rate risk than Beijing is comfortable with and effectively outsources the management of such risks to the United States.
This is where Hong Kong comes in to serve as the primary offshore RMB hub, with only places such as London, Singapore, and Taiwan being niche players for RMB transactions. Indeed, in the more than twenty bilateral currency swap agreements China has signed providing liquidity to support trade in RMB, about 90 percent of these RMB transactions are settled through Hong Kong.
Bear in mind that Hong Kong's financial and economic role is essential to Xi Jinping's flagship plans such as the Belt and Road Initiative (BRI) and Made in China 2025 (MIC 2025) blueprint to upgrade its entire economy. For example, Hong Kong is central to the Guangdong-Hong Kong-Macao Greater Bay Area which links directly with the BRI's China Indochina Peninsula Economic Corridor.
More than this, Beijing is heavily relying on Hong Kong as an established hub to organize and arrange finance for Chinese and foreign firms to fund the BRI, evidenced by the establishment of the Infrastructure Financing Facilitation Office (IFFO) in 2016. The IFFO brings together commercial banks, project owners, asset owners, sovereign wealth and pension funds, professional services firms, and external financial institutions to facilitate and package financing for BRI projects.
... more ...
Dr. John Lee is a senior fellow at the Hudson Institute and United States Studies Centre in Sydney where he is an adjunct professor. From 2016–2018, he served as senior national security adviser to the Australian Foreign Minister.
https://nationalinterest.org/feature/china-struggling-'one-country'-has-two-visions-future-167399
https://www.scmp.com/news/hong-kong/law-and-crime/article/3098859/two-ho...
Hong Kong protests: opposition lawmakers among 16 arrested over incidents in Yuen Long and Tuen Mun
*Democratic Party pair Lam Cheuk-ting and Ted Hui taken into custody on Wednesday morning
Lam was injured in violence at Yuen Long MTR station on July 21 when mob attacked passengers with steel rods and rattan canes
Police arrested 16 people on Wednesday over last year's anti-government protests, including the Democratic Party's Lam Cheuk-ting over his involvement in the infamous Yuen Long attack even though the opposition lawmaker said he was a victim during the violence that ensued.
A police source said Lam and 12 others, aged between 26 and 48, were detained on suspicion of rioting during the incident on July 21 last year, when a group of men in white shirts attacked protesters and passengers with steel rods and rattan canes inside the town's MTR station.
Lam was injured during the attack, and subsequently needed 18 stitches for a mouth wound.
The lawmaker was also arrested over another incident in Tuen Mun Park on July 6 last year, as were fellow Democratic Party legislator Ted Hui Chi-fung and two others, a man and a woman.
All four, aged between 27 and 43, were detained on suspicion of unlawful assembly, criminal damage, perverting the course of justice, and accessing a computer with dishonest intent.
Opposition activists, including Lam, have been vehemently critical of the police over the events in Yuen Long, dubbed the "721 incident". They have accused the force of failing to respond to the violence quickly enough, and suggested the force colluded with the attackers.
So far, police have arrested 43 people, some with links to triads, for their alleged roles in the attack on those returning from a protest in Sheung Wan earlier that day. Seven of them have been charged with rioting.
According to a video provided by the Democratic Party capturing the scenes of Lam's arrest on Wednesday morning, police told him he was being taken into custody over allegations of rioting, participating in an unlawful assembly inside the station, and, along with Hui, perverting the course of justice for allegedly deleting digital files from a man's phone outside Tuen Mun Police Station on July 6 without his consent.
"Hong Kong has become such a ridiculous place," Lam is heard telling the police before they searched his house. "Rogue cops have become the authorities' tools to suppress dissidents, and now they even blur the lines of right and wrong, and maliciously accuse the victim as defendant."
Democratic Party chairman, Wu Chi-wai, accused police of taking "revenge", and in a statement, the party accused the government of using its power to crush dissent, instead of trying to heal the rift.
"We can see from the whole incident that it was obvious the government was trying to swear black is white and subvert the truth," Wu said.
On the Yuen Long episode, police have consistently denied any suggestions of collusion with the attackers, pointing out that they were occupied with handling other cases during a busy night of protests elsewhere in the city.
Instead, police supporters have accused Lam of "causing the trouble", and in a Cable TV interview late last year, Senior Superintendent Kong Wing-cheung said "there was a group of people leading protesters to Yuen Long to cause trouble".
Earlier this year, Lam and seven other injured people sued the police chief over the injuries they sustained in the attack, demanding a total of HK$2.7 million (US$350,000) in compensation.
On Wednesday, Lam and Hui were also arrested over a rally held in Tuen Mun Park, where residents protested against what they said was the nuisance caused by mostly women from mainland China.
The women, who would sing in the park, also danced provocatively with their middle-aged male followers in public, their critics claimed.
Defending the duo, Wu said the two lawmakers had been present at the rally only to help resolve any disputes.
https://multimedia.scmp.com/infographics/news/hong-kong/article/3088009/...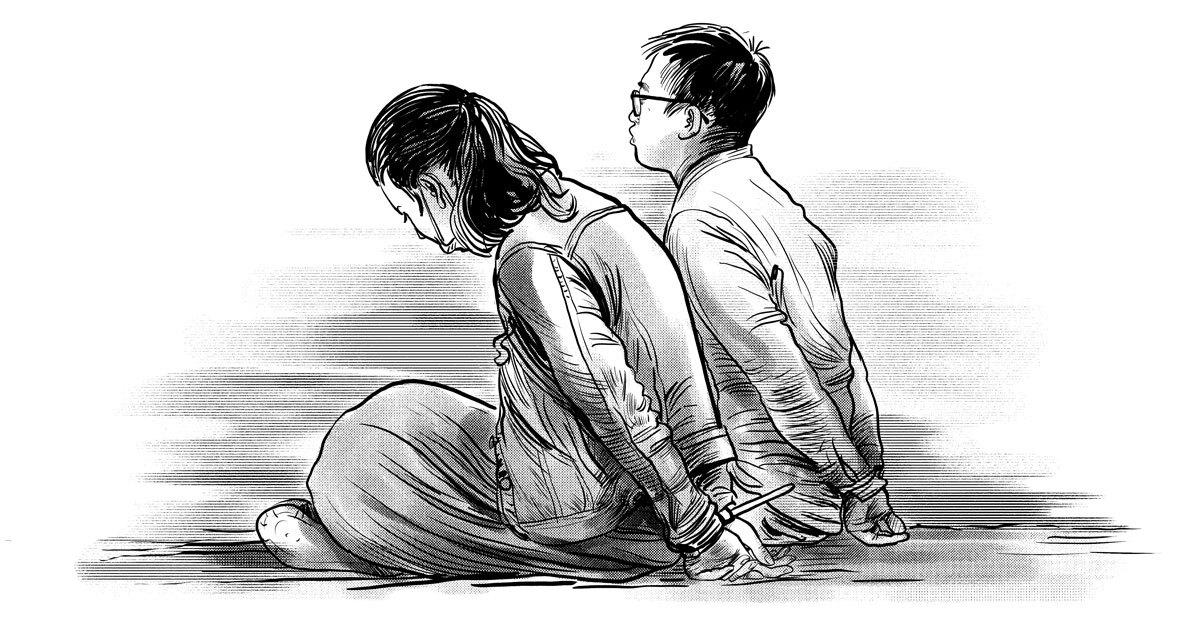 Arrested Hong Kong protesters: how the numbers look one year on
Hong Kong police made 8,981 arrests between June 9, 2019, and May 29, 2020, in connection with the protests. Among those arrested, 1,707 were under 18 years of age, including 1,602 secondary students and eight primary school pupils. Another 5,640 arrestees were aged between 18 and 30 years old. Here is where they stand.
As of May 29, 2020, 1,749 people have been charged with taking part in a riot, unlawful assembly, wounding, assault occasioning actual bodily harm or other offences.
*FACING PROSECUTION ...1,547 of those arrested await trial
*UNDER INVESTIGATION ... 5,724 people are on bail pending further investigation or pending further investigation after refusing bail
*The oldest person arrested was 84 years old
*The youngest arrested was 11 years old
*Of the 8,981 arrested, 2,340 are female
*RELEASED ... 1,439 released unconditionally but could still face investigation
*15 released at discretion of police.
... I cannot copy and paste this one ... SCMP has an incredible c&p protection on the website.
However, get Vnp and see the beauty of VISUAL STORY by Adolfo Arranz ...
OT:
Do you know ... how to emphasize the distinction .. ?
https://news.yahoo.com/taiwan-passports-emphasize-distinction-china-0955...
https://www.theguardian.com/world/2020/sep/03/taiwan-demotes-republic-of...
New Taiwan passports to emphasize distinction with China
TAIPEI, Taiwan (AP) — Taiwan plans to issue new passports emphasizing its independent identity and downgrading connections with China.
The foreign ministry on Wednesday released images of the new document that features "Taiwan" in large capital letters on its cover and minimizes the English wording "Republic of China," the island's official name according to its constitution.
... more ..
I love this title on Travel blog ...:
https://www.forbes.com/sites/timlai/2020/09/02/taiwans-new-passport-cove...
Taiwan's New Passport Cover Ensures Others Won't Confuse It With China
LMAO ...
0
You must be a registered user to vote!
You must be a registered user to vote!
0
https://news.yahoo.com/hong-kong-police-criticised-over-092054576.html
Hong Kong police criticised over rough arrest of 12-year-old girl during protests
September 7, 2020
Screengrabs from a video of a 12-year-old girl being tackled by Hong Kong police
Hong Kong police tackled a 12-year old girl to the ground and arrested her on Sunday amid a protests against delayed parliamentary elections.
A video widely shared online shows riot police pushing the youngster to the ground as she tried to dash away. She was later charged for allegedly violating coronavirus social distancing rules, police said.
But her mother told local media: "She was just trying to buy art supplies with her brother."
The video has sparked outrage online, gathering over a million views on Twitter. On the local Reddit-like forum LIHKG, one commenter criticised the police for being "loud and impolite" as if a "mad dog chasing after people who run."
In a statement on Facebook, the police said the girl was running in a "suspicious manner" that required officers to chase and subdue her with the use of "minimum force".
The arrest came amid demonstrations against delayed parliamentary elections, with hundreds of protesters facing off against thousands of riot police.
Around 290 people were arrested in the biggest single-day sweep since early July, in one of the largest demonstrations since a draconian national security law was imposed by Beijing on the territory.
The new law, introduced July 1, criminalises acts deemed as secession, subversion, terrrorism and foreign collusion, making them punishable by life imprisonment.
Protest slogans and songs are banned, and books deemed politically sensitive have been pulled from public library shelves.
During the protests, activists were arrested for a range of alleged infractions, including chanting anti-government protest slogans, engaging in unlawful assembly, misconduct in a public place, and failing to produce identification.
Before the protest, activist Tam Tak-chi, 47, was arrested on suspicion of "uttering seditious words," police said.
Screengrabs from a video of a 12-year-old girl being tackled by Hong Kong police
Pro-democracy activist Joshua Wong appeared nearby the starting point of the march early in the afternoon, but it is unclear if he managed to join it due to the heavy police presence.
"We hope the world can never forget September 6 should be election day. And now Beijing delayed and even cancelled the elections, which is totally unreasonable," he said.
Clashes erupted on multiple occasions as police fired rounds of pepper balls while protesters hurled water bottles and an umbrella towards them.
The 2020 Hong Kong Legislative Council election was originally scheduled for September 6, until it was postponed for a year by the government, citing coronavirus concerns.
Activists have criticised the Hong Kong authorities for using the pandemic to delay an election it appeared poised to lose, especially as the decision to suspend polls came after several pro-democracy opposition candidates were barred from running.
"The government took away our voting rights," Ms Wu, 23, a clerk, told the Telegraph.
In recent months Hong Kong authorities have engaged in a wider, chilling crackdown on dissent, which has included the mass arrest of leading pro-democracy activists. Several have fled overseas, including to Britain.
The government has also arrested journalists, academics and politicians.
Know the answer ?
A:
I have once been asked, on the former chats, back in the 2000 "are you
A:
I have once been asked, on the former chats, back in the 2000 "are you male or female?"I have answered: "I'm not male nor female, I am an e-mail"What about you? --
PulSartre