By continuing you agree to eChinacities's Privacy Policy .
Sign up with Google
Sign up with Facebook
0
You must be a registered user to vote!
You must be a registered user to vote!
0
Q:
Is it cold in Alaska? ... asking for a friend ...
US Sanctions 24 China & Hong Kong Officials Hours Before "Frosty" Alaska Summit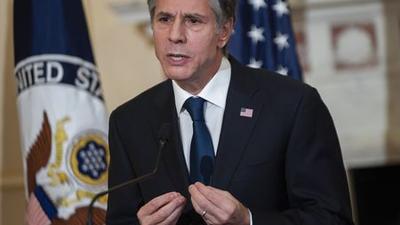 Each side has "low expectations" as Thursday's tense meeting kicks off...
In a move likely to sabotage any potential (however unlikely) diplomatic breakthrough with China, on the eve of the much anticipated Alaska talks which kick off Thursday between delegations headed by Secretary of State Antony Blinken and China's two top diplomats, the Biden administration slapped sanctions on 24 Chinese and Hong Kong officials.
This in response to Beijing's voting through the sweeping Hong Kong election overhaul which effectively ensures the city is run only by pro-mainland "patriots". But more symbolically it's a clear message the US delegation is about to play hardball when it sits down with the Chinese side in Anchorage over a period of two days:
The step reflects Washington's "deep concern" about the erosion of Hong Kong's autonomy following changes to its election system endorsed by China's ceremonial legislature last week, Secretary of State Antony Blinken said in a statement Wednesday.
Foreign financial institutions that deal with the 24 officials would be subject to U.S. sanctions, the State Department said.
Schengen Zone "Make-Chinese-Wall-Visible, again!" notice ... EU To Sanction China For First Time in 3 Decades Over Uighur 'Genocide'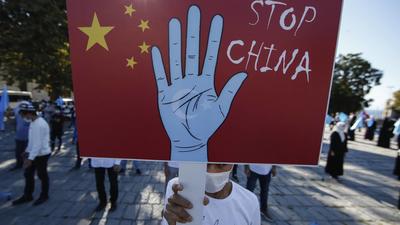 Beijing quickly slammed the sanctions preparations as "confrontational"... "We ask the EU side to think twice."
US pressure and spiraling relations with Beijing, lately focused heavily on human rights-related complaints and the crackdown particularly on China's ethnic Muslim community which the Trump administration had previously dubbed "genocide", are now for the first time manifesting in a very definitive way in Europe.
"The European Union agreed on Wednesday to blacklist Chinese officials for human rights abuses, two diplomats said, the first sanctions against Beijing since an EU arms embargo in 1989 following the Tiananmen Square crackdown," Reuters reports.
These first EU sanctions in over three decades stem from widespread reports of 'systematic' human rights abuses in the northwest Xinjiang region, where millions of Muslim Uighurs are said to be confined to Communist 'reeducation' and labor camps.
EU slaps sanctions on 4 Chinese officials over Uyghur abuses
https://news.yahoo.com/eu-slaps-sanctions-4-chinese-115844966.html
19 weeks 4 days ago in Arts & Entertainment - China
1
You must be a registered user to vote!
You must be a registered user to vote!
0
yeah,,, I thought Allyaskey was a weird choice too,,, and I used to live there! I guess it's just DC trying every once and awhile to remind folks where that State is, and that it is indeed part of the US..... haha
how many know our little ol' places....? PR, Guam, USVI, Northern Marianas, Am Somoa, Baker Island, Midway, etc.....
Answers (11)
Comments (28)
0
You must be a registered user to vote!
You must be a registered user to vote!
0
https://www.zerohedge.com/geopolitical/dont-lecture-us-alaska-summit-ope...
"Don't Lecture Us": Alaska Summit Opens With Dueling Barbs & Epic Anti-US Tirade
As predicted things are icier than ever by the end of day one of the Alaska summit in which for the first time in the Biden administration high-level in-person talks were held between China and the US, including Secretary of State Antony Blinken, China's top diplomat, Yang Jiechi, as well as State Councilor Wang Yi. By the close tomorrow it promises to border on comic shitshow levels given the public haranguing that's already taken place.
US national security adviser Jake Sullivan reportedly began the talks by telling his Chinese counterparts that "We do not seek conflict, but we welcome stiff competition, and we will always stand up for our principles, for our people, and for our friends" — noting that on the agenda for the summit is China's crackdowns in Xinjiang province, Hong Kong and Taiwan, as well as state-sponsored cyber attacks and "economic coercion" of allies. "Each of these actions threaten the rules-based order that maintains global stability," Sullivan underscored. He added that the "alternative" is a winner-take-all world that would be inevitably more "violent and unstable".
As many commentators have been pointing out given the increased obviousness, there's no daylight whatsoever between Trump's prior China policies so heavily criticized by the Democrats and the hard-line on Beijing now clearly being pursued by Biden. For example, Bloomberg writes, "Coming into the meeting, it was increasingly clear that despite Biden's criticism of former President Donald Trump, he's unlikely to make major changes to his predecessor's hard-line approach to China. On human rights in Xinjiang , on Hong Kong's and even on tariffs, Trump-era policies remain in place."
Chinese Communist Party foreign affairs chief Yang Jiechi wasn't impressed, going on an epic tirade filled with a litany of American "abuses" meant to answer every one of Washington's recent criticisms of Beijing and then some. He ran with Blinken and Sullivan's "human rights" theme and turned it around, seeking to call out Washington 'hypocrisy' on every point, even down to treatment of Black Americans (which presumably was Yang's intended parallel to ethnic Uighurs).
Here's a recap of his introductory remarks:
...Yang hit back, accusing the United States of using its military might and financial supremacy to pressure countries and of abusing national security to threaten the future of international trade.
He said Xinjiang, Hong Kong and Taiwan were all inseparable parts of Chinese territory and China firmly opposed US interference in its internal affairs.
Yang said human rights in the United States were at a low point with Black Americans being "slaughtered" and added that the United States should handle its own affairs and China its own.
Yang said it was necessary to abandon a "Cold War mentality," and confrontation and added:
"The way we see the relationship with the United States is as President Xi Jinping has said, that is we hope to see no confrontation, no conflict, mutual respect and win-win cooperation with the United States."
So there was at least a brief positive included by the end of his intro. Yang had further fired back at Washington's charges that in reality "the US is the champion of cyberattacks".
And as predicted it was the Biden administration's last minute sanctions a mere hours before the Chinese delegation was due to touch down in Anchorage which ensured there would be sparks from the very start. Wednesday evening new sanctions were slapped on 24 Chinese and Hong Kong officials over the anti-democratic crackdown and election overhaul of last week. State Councilor Wang Yi had lashed out in remarks from Alaska saying the new sanctions are "not the way to welcome guests".
Unfazed, Secretary of State Antony Blinken batted down the litany of Chinese counter-complaints, quipping that US-China talks "should be filled with lecture". Yang, however, asserted that the United States "doesn't speak to China from a position of strength" while also somewhat dramatically positing that it's "impossible to strangle the Chinese people".
Ultimately, no one expected too much to come out of these talks, with China's ambassador to the United States Cui Tiankai earlier posting a statement to the web saying as much: "Naturally, we don't expect one round of dialogue will resolve all the issues between China and the U.S. and we don't hold overly high hopes," according to the Chinese embassy in Washington's website.
"My wish is that this can be a start and that the two sides can begin a dialogue process that is candid, constructive and realistic," Cui said. "If we can achieve that, I think this exchange will be successful."
But at this point on day-one... "constructive" is looking like it already went out the window.
1
You must be a registered user to vote!
You must be a registered user to vote!
0
yeah,,, I thought Allyaskey was a weird choice too,,, and I used to live there! I guess it's just DC trying every once and awhile to remind folks where that State is, and that it is indeed part of the US..... haha
how many know our little ol' places....? PR, Guam, USVI, Northern Marianas, Am Somoa, Baker Island, Midway, etc.....
1
You must be a registered user to vote!
You must be a registered user to vote!
0
When is the end of summit in Alaska? ... anybody ... knows?
Anti-Chinese Propaganda Reaches All-Time High

By PHILBUTLER
If I were China, I'd abandon Earth for a friendlier planet in another corner of the galaxy.
Have you read the news from Google lately? The rulers of the internet just don't have anything good to say about the Chinese. And I mean nothing at all. Isn't it strange to anyone else? I mean, how can anyone in the west hope to have cordial political relations with a country so implausibly hated?
China has built the world's biggest navy now, and CNN is seeding the American airwaves with fear over what Beijing is going to do with it. Heavens to Murgatroyd, what if they do the same thing America does with her navy? Another news headline reads, "Chinese Hacking Spree Hit an 'Astronomical' Number of Victims." On this one, White House press secretary Jen Psaki (yes, her again) which means the Biden administration is already getting set to try and put the squeeze on the Chinese from Washington.
And if hacking and gigantic naval armadas against the American faithful were not enough, now the New York Times tells us those pesky Orientals are subjecting people to anal swabs! Don't laugh. The world's most famous newspaper is reporting that foreign governments are up in arms because some travelers to China get tickled at the wrong end in a move to contain the coronavirus. The US State Department has lodged an official complaint, and the Japanese are whining because their citizens are experiencing post-trauma over the swabbing test. God forbid if a New York lawyer gets hold of a swab victim from America!
In other news, China is now teaching masculinity to boy citizens in a move to ensure nothing but tough guys roam there. No, I am not kidding. NBC even dug up a young boy who was so shaken by being called "too girly", to infuriate California ultra-liberals over another country daring to address gender roles in such a way. I guess. Why is this even a story? But, the answer is simple. Anything that makes "them" undesirable, makes "it" okay for the rudderless American idealists out there. What about letting "them" make their minds up about gender, equality, and stop pressuring the world to conform to the liberal order's extremes? Ah, that's another story.
China's winning the digital currency race. China is leading the brain-computer fusion race. China's carbon emissions will go through the roof unless "we" do something. China needs a baby boom (yeah, really) or they will die out. Beijing has a plan to take over the world post-pandemic (New York Times). And the US Senate has approved a bill to tighten controls on China-funded Confucius Institutes on US university campuses. I could go on, and on, and on, and on, but you get it. The hardest thing to find these days is a positive story about the Chinese. And the bad press has taken a toll.
Unsurprisingly, a new Pew Research Center survey shows "Americans' opinions of China have soured in recent years." Cue the bubble-brained blonde Atlanta newscaster with both hands beside her head cooing "No, say it isn't so!" In this report, about 4% of the respondents had some positive response on China, most of those being about the country's long traditions and culture. As you might expect, people who said they follow the news on China were twice as likely to say something bad about the country.
Finally, even when the good news about China or Russia does appear in the western press (3 pages into Google News), there's always the sub-plot, the insinuation that these countries are not as good as western nations. Take a Yahoo! Finance report on Russia, China, and India filling the void for COVID-19 vaccines for poorer countries. The story makes the life-saving drugs a political football and sits the WHO and western authorities in judgment to, as the story puts it tells us the WHO is going to bring the Russians and the Chinese up to snuff with stringent global regulatory standards. Oh, and I forgot to mention that the United States State Department is now applauding Germany's plan to patrol the South China Sea this year! This, from Stars & Stripes, the US military magazine, makes me realize that the line between western media and military propaganda no longer exists.
Just to be different, I think it's important that I report here that China is now Europe's leading trading partner supplanting the United States. China's Generation Z is emerging as the most economically advantaged and empowered generation in Asia, and most of the world. And China's Tianwen-1 Mars mission is already sending back fantastic images and data from the red planet. I'll bet not one of my colleagues in America bothered to search down 14 pages in Google News to find this good China story. But you read it here on NEO.
Yes, China can fly to Mars. No, the Chinese are not some banana republic. And yes, our media is brainwashing Americans to keep us scared, angry, and pretty stupid.
Hey, maybe the Chinese are planning to leave Earth for friendlier pastures!
0
You must be a registered user to vote!
You must be a registered user to vote!
0
End of summit arrived ...
rather quickly ...
Biden "Proud" As "Theatrical" Alaska Summit Ends In 'No Breakthroughs' With China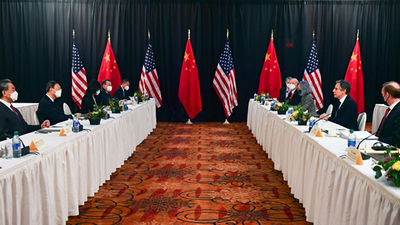 Chinese delegation reportedly stormed out of the hotel in Anchorage without an expected media statement...
During China's Foreign Ministry press briefing on Friday, spokesman Zhao Lijian put blame squarely on the United States for the somewhat chaotic and "fiery" and "confrontational" talks in Alaska, which is the first time the Biden administration has conducted a face-to-face meeting with Beijing officials. It was essentially a failure by all accounts. Yet Biden said he was "proud" of the US diplomatic team's performance under Blinken.
The Alaska summit ended somewhat on a quieter and anti-climactic note (compared to the opening war of words the day prior) Friday as the Chinese delegation reportedly stormed out of the hotel in Anchorage, according to CNBC, without giving any comments to the press, with only the US side saying there were "very candid" conversations in talks that were "tough and direct" over many hours, particularly related to issued involving Iran and North Korea. But for all the hype regarding the "diplomacy" of the Biden presidency, the US didn't announce any level of breakthroughs with Beijing, according to Bloomberg.
Zhao blamed the US delegation for breaching agreed-upon protocol from the start, which threw things off and led to "wanton attacks" and the failure of acceptable "diplomatic etiquette". Zhao said the US side "exceeded severely the set time limit and wantonly attacked and criticized China's domestic and foreign policies, provoking disagreements." He continued, "These are hardly good host manners or proper diplomatic etiquette. The Chinese side has made a solemn response."
1
You must be a registered user to vote!
You must be a registered user to vote!
0
1
You must be a registered user to vote!
You must be a registered user to vote!
0
What was obvious from that fiasco is that China was eager to bitch slap america in its own backyard and knew there would be no repercussions. It fell close to blatant mockery and the absilute contempt was palpable.
Taking a purple koolaid haired SJW to sit next to the main man was comedy gold.
I'm sure he/she/them is a strong beautiful proud intersectionally politicised woke warrior that really sent a powerful message to the Chinese delegation and lent the american delegation a vast amount of credibility.
1
You must be a registered user to vote!
You must be a registered user to vote!
0
i always loved those girls w/ the bold, trippy hairdo's,, at least when it still looks cute,,, which it does on the china schoolgirls,,,
. but a bit of a shock seeing hairdo at that place,, I figured she was a translator,,, haha
btw,,, what the heck is an SJW?
0
You must be a registered user to vote!
You must be a registered user to vote!
0
https://news.yahoo.com/eu-slaps-sanctions-4-chinese-115844966.html
EU slaps sanctions on 4 Chinese officials over Uyghur abuses
Mon, March 22, 2021, 12:58 PM
BRUSSELS (AP) — The European Union on Monday imposed sanctions on four Chinese officials accused of responsibility for abuses against Uyghur Muslims in a raft of measures targeting alleged human rights offenders around the world, despite warnings that Beijing could retaliate.
The four are senior officials in the northwest region of Xinjiang.
The sanctions involve a freeze on their assets in the EU and a ban on them traveling in the bloc. European citizens and companies are not permitted to provide them with financial assistance.
China at first denied the existence of camps for detaining Uyghurs in Xinjiang but has since described them as centers to provide job training and reeducate those exposed to radical jihadi thinking. Officials deny all charges of human rights abuses there.
Xinjiang had been a hotbed of anti-government violence, but Beijing claims its massive security crackdown brought peace in recent years.
Last week, China's ambassador to the EU, Zhang Ming, suggested that Beijing would retaliate.
"We want dialogue, not confrontation. We ask the EU side to think twice. If some insist on confrontation, we will not back down, as we have no options other than fulfilling our responsibilities to the people in our country," he said.
The new EU sanction system is similar to the Magnitsky Act — Obama-era legislation that authorizes the U.S. government to sanction those it sees as human rights offenders, freeze their assets and ban them from entering the United States.
EU foreign ministers, as part of Monday's move, also imposed sanctions over repression in North Korea, "extrajudicial killings and enforced disappearances in Libya, torture and repression against LGBTI persons and political opponents in Chechnya in Russia, and torture, extrajudicial, summary or arbitrary executions and killings in South Sudan and Eritrea," a statement said.
All the free world is awaiting for Chinese retaliation ...
0
You must be a registered user to vote!
You must be a registered user to vote!
0
0
You must be a registered user to vote!
You must be a registered user to vote!
0
As it looks, Chinese Great Wall might become much taller ...
France Summons Chinese Ambassador After "Small-Time Thug" Insult & Threats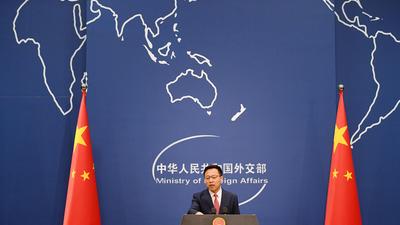 Paris is fuming over "repeated insults and threats aimed at French lawmakers and a researcher..."
Following closely on the heels of joint sanctions slapped on Chinese officials over widespread human rights abuses targeting the county's Uighur Muslim minority by the US, EU, UK and Canada on Monday, France's foreign ministry summoned China's ambassador over "repeated insults and threats aimed at French lawmakers and a researcher," according to Reuters.
Foreign Minister Jean-Yves Le Drian stated of the action, "The words of the Chinese Embassy in France and the actions against European elected officials, researchers and diplomats are inadmissible." He explained, "I requested that the Chinese ambassador be summoned to remind him firmly of these messages."
In particular the "messages" in question center on social media posts, mostly on Twitter, which are seen as unnecessary attacks on French lawmakers and a well-known French researcher in response to Paris' Taiwan stance - on which it is increasingly following the lead of the Untied States, given a French lawmaker and delegation is set to visit the island-republic despite Beijing condemning the move.
As an example, speaking of China's ambassador Lu Shaye, Reuters writes that "His embassy last week warned against French lawmakers meeting officials during an upcoming visit to self-ruled Taiwan, drawing a rebuff from France."
Amid the back-and-forth that ensued the Chinese embassy engaged in a Twitter span with a think tank researcher named Antoine Bondaz, considered a China expert based at the Paris-based Foundation for Strategic Research. The embassy had called him a "small-time thug".
Bondaz had previously addressed the Chinese embassy staff via Twitter offering "a big kiss to you and your trolls". And that's when this happened, as detailed in SCMP...
China's embassy in France released a long screed defending its criticism of a French scholar for "anti-China provocations" and maintaining that its aggressive tactics were necessary to defend Beijing's interests and international image.
The harshly worded statement, published on the embassy's website on Sunday, sought to justify the mission's attack on Antoine Bondaz, a research fellow at the French think tank Foundation for Strategic Research, as a "petite frappe", a derogatory term in French meaning "little thug".
Tensions are especially on edge given the EU was the first out on Monday morning with targeted sanctions against selection Chinese officials for human rights abuses, which includes asset freezes and travel bans within the European Union.
This was followed by similar action by Washington, London, as well as Canada - the latter which has even seen lawmakers call for a complete international boycott of the 2022 Olympics in Beijing.
0
You must be a registered user to vote!
You must be a registered user to vote!
0
Raise the Chinese wall ....
H&M Disappears From China's Internet As Xinjiang Spat Explodes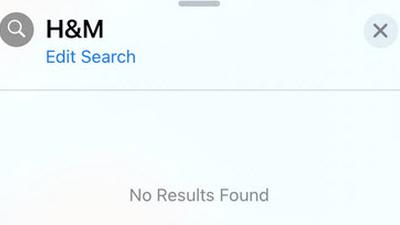 And just like that... it's gone.
H&M Disappears From China's Internet As Xinjiang Spat Explodes
Yesterday we discussed why western Corporations are terrified to confront China, even if it means losing on those all-important virtue signaling brownie points which are all that matter in Western society today: as a reminder, the stock of H&M, Nike and Adidas came under fire on Chinese social media on Thursday after Beijing's propaganda offensive against Swedish fashion brand H&M sparked by the company's expression of concern about labor conditions in Xinjiang. The sportswear companies were the latest to be caught up in a backlash prompted by a government call to stop foreign brands from tainting China's name as internet users found statements they had made in the past on Xinjiang.
On Friday, as the Xinjiang spat escalated, China showed just how easy it is for Western companies to literally disappear when outlets belonging to Sweden's H&M (Hennes & Mauritz AB) - the fashion retailer that found itself at the center of an escalating spat over human rights in Xinjiang - did not to show up on Apple Maps and Baidu Maps searches in China.
As Bloomberg reports, users in Beijing reported that any searches for H&M in either Apple Maps on the iPhone or Baidu Maps returned no results while competing retailers, such as Uniqlo outlets, continued showing as usual. A similar search in Google Maps showed over a dozen H&M locations in the capital or its vicinity, though that service is only accessible to locals via the use of a VPN that skirts a state ban on products from Google.
Apple sources its mapping data in China from AutoNavi Software - owned by Alibaba Group Holding Ltd. - while Baidu collects its own.
The disappearance of H&M's physical stores from online maps came after the retailer was removed from Alibaba's e-co
mmerce platform earlier this week as the controversy escalated, according to Bloomberg.
The company was blasted by China's Communist Youth League and the People's Liberation Army Wednesday after social-media users dug out an undated statement about accusations of forced labor in the region's cotton-picking industry. Realizing that losing one biggest sources of revenue is far more important than empty virtue signaling to impress a handful of teenage liberal snowflakes, the statement has been since removed from H&M's website as of Friday.
According to Bloomberg it's unclear who's driving the removal of H&M stores from mapping apps, which are operated by privately run enterprises that have recently come under increased scrutiny from regulators, although one can have a pretty safe guess of where the order comes from: China has a vast apparatus for censoring online content and its so-called Great Firewall restricts access to websites and apps from global companies like Facebook and Twitter. Social media is policed, with posts about controversial topics blocked or restricted from view.
Realizing that it in its pursuit to become an authoritarian state on par with China, the US has been scrambling to recreate China's success in censoring anything it finds objectionable.
Commenting on China's sudden crackdown on western brands - which comes in the aftermath of last week's disastrous Alaska summit with the Biden admin, this morning Rabobank's Michael Every had this to say:
Yes, we've seen similar Chinese moves against foreign products before. Some Aussie agri exports are currently locked out; South Korean soap operas and Norwegian salmon have been in the past; and back in 2012 there were major anti-Japanese boycotts and protests due to the geopolitical backdrop. Yes, those earlier storms passed: but that was arguably a very different China, at least in the eyes of the West, and according to its own combative rhetoric. Indeed, 'Wolf Warrior' diplomacy --in the past few days alone-- has seen massively growing scepticism about China's direction from Western diplomatic, military, and even businesses elites.
The problem is now on both sides. In China, the 2012 protests were quashed by the government, but this time round the Communist Youth League is actively trolling, and the diplomacy is blaring. The question in the minds of some who have read history is if this a --non-violent-- replay of the anti-foreigner Boxer Rebellion rather than just a Boxer-Shorts Rebellion. In the West, the firms involved face a stark choice: stick to their professed social values and lose the China market, or accept China gets to dictate what they worry about - even when it reaches the alleged level of forced labour and genocide…and then try to explain corporate mottos like "Just Do It".
Could this even escalate to the level of the 2022 Olympics so we see the Para- and Parallel games? Probably not – but if it did, China has stated any boycotting countries will be sanctioned, dragging even more firms in. The risk is that this backdrop could accelerate existing moves towards decoupling of the global economy, which had been expected to be focused on semiconductors, but may now be on Lycra, sneakers, and socks and underwear value-packs too.
In short, yet again we see the underlying dynamic of hard choices having to be made by those who don't want to make them: which we have been flagging as a logically-inevitable risk since 2017.
But we digress: unlike the US, where the middle class is encumbered with massive debt, China's hundreds of millions of consumers are far more desirable to companies like H&M. It's also why - as we said yesterday - the kind of hollow virtue signaling that Americans are bombarded with every day - has no place in China which has zero tolerance for such empty indications of corporate "virtue". It's why foreign brands have, in recent years, had to contend with a more assertive China and its ability to mobilize its 1.4 billion consumers. Lotte Group was among a number of South Korean corporations that took a sales hit or had their stores shut down after China objected to its neighbor's 2016 decision to deploy a U.S missile defense system. Other companies have also run afoul in the market for infractions like identifying Hong Kong and Taiwan as countries rather than Chinese territories, or for perceived insults to China.
Know the answer ?