By continuing you agree to eChinacities's Privacy Policy .
Sign up with Google
Sign up with Facebook
Posts: 17574
0
You must be a registered user to vote!
You must be a registered user to vote!
0
Q:
Raid in HK on Pro-Democracy leaders ...
https://www.zerohedge.com/geopolitical/beijing-arrests-hong-kong-media-t...
Beijing Arrests Hong Kong Media Tycoon & 14 Activists In Sweeping Pro-Democracy Crackdown
We've been watching Hong Kong closely these past few weeks to see if Beijing, having mostly reopened the mainland economy, relieving the pressure for the first time in months, would turn its attention back to its top priority pre-corona: Crushing an insurgent pro-democracy movement in the Special Administrative Region.
Early on Saturday morning in Hong Kong, HK police arrested 15 pro-democracy movement activists, including a high-profile tycoon who was one of the few members of the HK business community to vehemently back the protest movement, according to the SCMP.
The targets included Hong Kong media tycoon Jimmy Lai Chee-ying, and 14 other supporters. The pretext for the arrest was their involvement in last year's protests.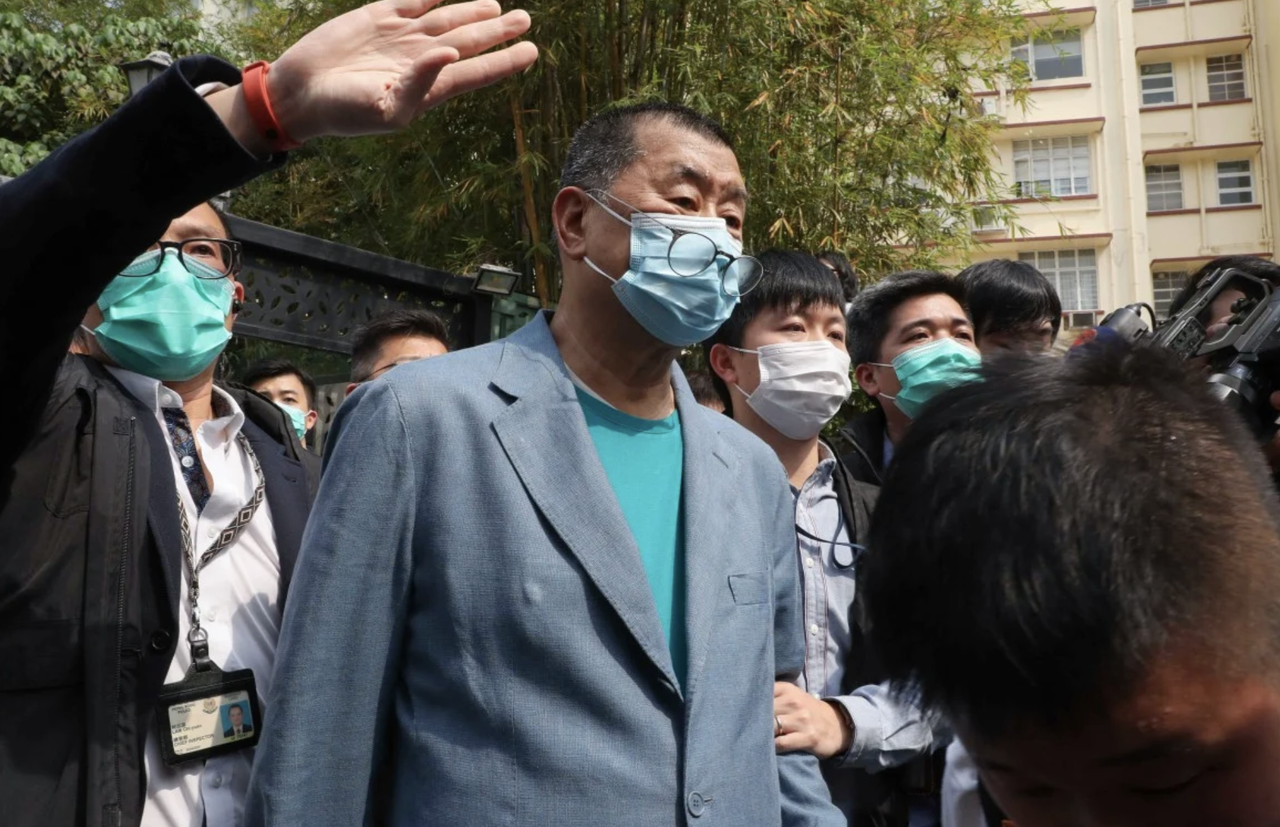 Jimmy Lai
Even if the name isn't widely known in the US, Lai is a major figure in the leaderless and mostly amorphous Hong Kong pro-democracy movement. He has been targeted before, including an attack on his home carried out last fall by thugs likely backed by the Communist Party.
The sweeping crackdown comes more than six months after the last major pro-democracy demonstration in the city, though some protesters took to the streets during the early weeks of the corona outbreak to demand that borders be closed and other heavy handed measures be taken by the city government to prevent a re-run of the SARS outbreak, which killed more than 300 in HK. That movement, of course, was first set in motion last spring in response to an extradition bill being expedited by the government that would have made Hong Kongers subject to prosecution (and, they feared, persecution) in mainland Communist Party-controlled courts.
Details provided by SCMP claimed that police tried to arrest Lai n the middle of the night, but were forced to wait until he returned home (American cops could definitely show their colleagues in Hong Kong a thing or two about how to pull off a 'tactical GPS takedown').
The arrest were reportedly sanctioned by Hong Kong Chief Executive and Beijing puppet Carrie Lam.
Officers earlier showed up at the home of the Apple Daily founder, but he was not in at the time. He returned in the afternoon and was arrested at 2.50pm. He was accused of organising and participating in unlawful marches on August 18 and October 1 from Causeway Bay to Chater Road in Central.
Police also entered and searched his place under a warrant.
Others arrested included former lawmakers Martin Lee Chu-ming, Albert Ho Chun-yan, Lee Cheuk-yan, "Long Hair" Leung Kwok-hung and Au Nok-hin, according to legal sources.
Several former lawmakers were also detained and arrested (Beijing has already pushed out many of the most progressive pro-democracy hardliners from the HK legislature), including those named by the SCMP below:
Also held were former lawmakers Yeung Sum, Sin Chung-kai, Cyd Ho Sau-lan, and activists Raphael Wong Ho-ming, Figo-Chan Ho-wun and Avery Ng Man-yuen.
They were detained over organising and joining unlawful assemblies on August 18, October 1 or October 20 last year. The suspects were taken to several police stations.
Martin Lee was taken to Central Police Station in Sheung Wan, while Leung Kwok-hung was sent to Ngau Tau Kok Police Station.
Police also showed up at the home of former legal sector lawmaker Margaret Ng Ngoi-yee. She later reported to Central Police Station and was arrested there. She was involved in the August 18 rally.
Several of those arrested were charged with additional crimes - that is, appearing at more rallies than the demonstrations cited above, according to a police superintendent. Lam added that the operations are "still ongoing" and that more arrests might follow. The arrested will be arraigned in a Hong Kong court on May 18.
Of course, this crackdown will be seen as nothing less than a brutal outrage and a betrayal by most democracy-minded Hong Kongers (the vast majority of the population). By arresting Lai and targeting other well-known figures in the movement, authorities almost seem like they're trying to bait Hong Kongers into returning to the streets.
Perhaps that's their strategy: If anybody tries to march this time, police can resort to brutally suppressive tactics in the name of safeguarding public health. However, we can't help but notice that it almost seems like Beijing is trying to trigger a return to the massive rallies of last summer.
But why is Beijing even willing to risk the possibility that thousands - potentially hundreds of thousands - of Hong Kongers might react by crowding into the streets in the middle of a resurgence of the virus? Recent reports from Hong Kong suggest the economy is already reopening, and locals are growing more comfortable being back out in the street.
Why did Beijing pick now to rock the boat, and prosecute individuals for crimes that roughly one-third of HK's population engaged in at one time or another?
27 weeks 4 days ago in Health & Safety - China
0
You must be a registered user to vote!
You must be a registered user to vote!
0
Rabobank's assessment: USA vs. China - Game Over
https://www.zerohedge.com/markets/rabobank-game-over-man-game-over
Moreover, we argued "we can expect a further significant deterioration in US-China relations." This looks to be arriving – and yet it is not an area where the market seems willing to play fast-forward…for the moment.
For example, from the US side President Trump openly says he is "not happy" with China and is threatening unspecified "consequences" if evidence emerges that Beijing was complicit in allowing COVID-19 to spread internationally. Even meeker voices such as the UK and Australia are demanding transparency on this front – and bolder ones, like the Henry Jackson Society, have posited that China could be liable for USD trillions in damages. Indeed, as we enter the 2020 US election run-up we also have Trump dubbing his likely Democratic challenger as "Beijing Biden", while Biden is attacking Trump as having been duped by China's leaders in allowing COVID-19 to spread. None of this bodes well for future US-China relations – or what parts of the "Phase One Trade Deal" will remain once the dust settles.
Meanwhile, from the Chinese side we have seen aggressive "Wolf Warrior" rhetoric from Chinese diplomats, which has ruffled feathers globally. There have been widespread reports of discriminatory actions targeting foreigners in China, who are now seen as potential virus carriers: this has led to official protests from some African states, for example. Moreover, last week saw a slew of actions in Hong Kong, which has obviously slipped from global focus this year compared to last.
First, China's liaison office (the de facto embassy) accused opposition law-makers of "malicious filibustering", suggesting they should be dismissed from office for breach of oath; Reuters reported three anonymous senior judges had told them that judicial independence and rule of law are under threat from Beijing interference – a claim rebutted by Hong Kong and Chinese officials; the liaison office then openly lobbied for the rapid passage of new national security legislation to "prevent foreign interference" and prohibit "treason, secession, sedition, and subversion" against Beijing, which Hong Kong CEO Carrie Lam partly echoed; the same office then announced it is not bound by Article 22 of the Basic Law, which states mainland agencies cannot interfere with Hong Kong's autonomy – again Lam demurred; and this weekend saw the arrest of 15 high-profile pro-democracy politicians, advocates, and activists in Hong Kong for partaking in illegal protests last year. This last step has drawn international condemnation and recent developments have worrying potential implications for the annual review the US undertakes on Hong Kong's autonomous status. (And, again, Biden is attacking Trump for being too soft on China in this area.)
One other recent action in China also speaks volumes. Taiwanese media reports that China is to ban online gamers from interacting with foreigners. (Note this is a massive industry where China is the world's largest single market). What is a vast informal channel of communication between China and the outside world is apparently to be severed. Moreover, the report also claims that online games will be monitored at all times and can no longer contain plagues, zombies, map-editing, role-playing, or any in-game group organizations, clans, or unions. Does this all speak to far larger Great Game playing out?
Of course, one can easily be distracted when China slashes its benchmark lending rate 20bp from 4.05% to 3.85% (for 1-year loans), which underlines that it is not recovering as well as it wishes to project, and yet is still far, far less stimulus than we are seeing elsewhere. Equally, one can be dragged aside by reports that the ECB is pushing for the establishment of a 'bad bank' in the Eurozone to suck up non-performing loans – which Brussels apparently does not want to see. Let's also not forget chatter that the US might have to start using yield curve control policies to keep T-bill yields where they want them to be as issuance soars – which would be a further nail in the coffin for capital markets as actual markets rather than political liquidity channels, something we have long suggested would be logically congruent to MMT. Naturally we should also not overlook that West Texas Intermediate oil dipped below USD15 per barrel on Monday morning, a 21-year low.
However, if we really are seeing 'game over' for US-China relations post-COVID then at some point markets are going to go into fast-forward again... and this time they can't bully the Fed into cutting rates to zero because we are already there.
1
You must be a registered user to vote!
You must be a registered user to vote!
1
it's convinient to do this now. I certainly am not watching anything but Covid news
Know the answer ?