By continuing you agree to eChinacities's Privacy Policy .
Sign up with Google
Sign up with Facebook
Posts: 5863
0
You must be a registered user to vote!
You must be a registered user to vote!
0
Q:
So Chinese are never racists, just the west?
Answers (7)
Comments (17)
0
You must be a registered user to vote!
You must be a registered user to vote!
0
China vows ( 'vow' sounds like a dog's bark ... am non-native, I know ... he he) ... they'll never stop plundering Africa's natural ... resources:
https://news.yahoo.com/china-rejects-alleged-mistreatment-africans-09025...
China Vows Equal Treatment for Africans After Abuse Reports
Bloomberg News
,Bloomberg•April 14, 2020
(Bloomberg) -- China pledged to ease health measures on Africans in the southern city of Guangzhou, as the country sought to resolve a dispute that could set back Beijing's diplomatic outreach during the coronavirus pandemic.
The government has treated foreigners equally and attaches great importance to their life and health, Ministry of Foreign Affairs spokesman Zhao Lijian said in a statement posted late Sunday. "We reject differential treatment, and we have zero tolerance for discrimination," Zhao said.
African leaders alleged discrimination against their citizens by city authorities in measures to stem the spread of imported coronavirus cases, saying Africans were mistreated, evicted from hotels, and forcefully tested for the virus. Meanwhile, McDonalds China apologized Monday after one of the chain's Guangzhou restaurants refused to serve black customers.
African Union Commission Chairman Moussa Faki Mahamat expressed "extreme concern" to Chinese Ambassador Liu Yuxi about "allegations of maltreatment of Africans" in Guangzhou. In a tweet Saturday, he said the African Group in Beijing was engaging with the Chinese government.
South Africa, the current African Union chair, separately expressed concern about "alleged ill-treatment of African nationals in China, including the forceful testing, quarantining for COVID-19, and other inhuman treatment." The country called for an investigation into the matter, according to a statement from the South African Department of International Relations and Cooperation.
McDonald's China said that it had closed a restaurant in Guangzhou for a half day of diversity and inclusion training Sunday after an investigation confirmed social media reports that it was barring black customers. "We apologize unreservedly to the individual and our customers. The restaurant has been ordered to stop immediately such actions," McDonald's China said Monday.
The episode underscores the complexity of Beijing's challenge to manage the fallout from a disease first discovered in December in the central Chinese city of Wuhan. China has dispatched medical supplies and shared expert advice to assist Africa, where Beijing's fiscal and infrastructure support has long been a source of both praise and criticism.
Assistant Chinese Foreign Minister Chen Xiaodong told more than 20 ambassadors from African countries Monday that authorities in Guangdong would ease "health management" measures -- an apparent reference to quarantines -- of Africans. The province planned to gradually remove the restrictions, except for confirmed patients, suspected patients and others with close contacts, Chen said, according to a statement posted on the ministry's website late Monday.
Zhao, the foreign ministry spokesman, separately hit back Monday at the U.S. State Department for a statement Saturday saying that the incidents involving Africans in China were "a sad reminder of how hollow" Beijing's ties to the continent were. "The U.S. is immoral and irresponsible to sensationalize the situation and it won't succeed in sabotaging China-Africa relations," Zhao told a regular briefing Monday in Beijing.
Guangzhou has confirmed a total of 119 imported cases of Covid-19, with 25 being foreign nationals, Mayor Wen Guohui told a news conference Sunday. Wen said the Guangzhou government has treated all foreigners equally.
"Guangzhou is an open-minded metropolis," he said. "It's our consistent principle to have zero tolerance for discriminatory comments and behavior."
0
You must be a registered user to vote!
You must be a registered user to vote!
0
Correct. Only that mysterious land of Waiguo can be racist and only towards China where everyone is treated equally. And just to prove it, here is an announcement from official channel:
Guangdong: Foreigners in Guangdong must accept new coronary pneumonia inspection and other measures

A
People's Daily
2 days ago
The Information Office of Guangdong Province held a press conference this afternoon to introduce the import situation of Guangdong's prevention and control of overseas epidemic situations.
Yang Rihua, executive deputy director of the Guangdong Provincial Public Security Department, introduced at the press conference that according to the "Law of the People's Republic of China on the Prevention and Control of Infectious Diseases", foreigners in Guangdong during the epidemic prevention and control period must undergo investigation, inspection, sample collection, and isolation treatment of new coronary pneumonia And other preventive control measures.
Yang Rihua, executive deputy director of the Guangdong Provincial Public Security Department: if foreigners refuse to cooperate with the investigation of new coronary pneumonia, refuse to cooperate with the implementation of centralized isolation medical observation and isolation treatment measures, or hinder the performance of their duties, the public security organ will be based on Article 50 Provisions, such as warning, fines, detention and other penalties. In addition, according to the relevant provisions of the Exit and Entry Administration Law, for foreigners violating Chinese laws and regulations, the public security organ may also make a declaration of invalidation of the illegal act, cancel or confiscate the document, leave the country within a limited time, and deport the country. Suspected criminals shall be investigated for criminal responsibility according to law.
Yang Rihua pointed out that everyone is equal before the law and hopes that all foreigners in Guangdong will strictly abide by relevant laws and regulations, actively cooperate with epidemic prevention work, and maintain the health and safety of themselves and others.
(Source: CCTV News)
0
You must be a registered user to vote!
You must be a registered user to vote!
0
did you not know that only white people can be racist?
Chinese targeting non-Chinese/Caucasians at their boarder is not racist.
Americans/Australian etc targeting anyone off a flight from Wuhan, Shanghai in January/February was racist.
there is no such thing as double standards in China.
the 'foreigner tax' we are all familiar with and have been subject to is nothing more than our imagination.
all Caucasians are bad laowai and the tool of the CIA.
0
You must be a registered user to vote!
You must be a registered user to vote!
0
0
You must be a registered user to vote!
You must be a registered user to vote!
0
Honestly we're also racist. No difference in this department. Like in the movie Crash, anyone can become racist.
0
You must be a registered user to vote!
You must be a registered user to vote!
0
The problem is ... Chinese don't comprehend word 'racism' same as English speaking crowd.
... and the other problem is "Chinese can't and will never go around "TIC" ...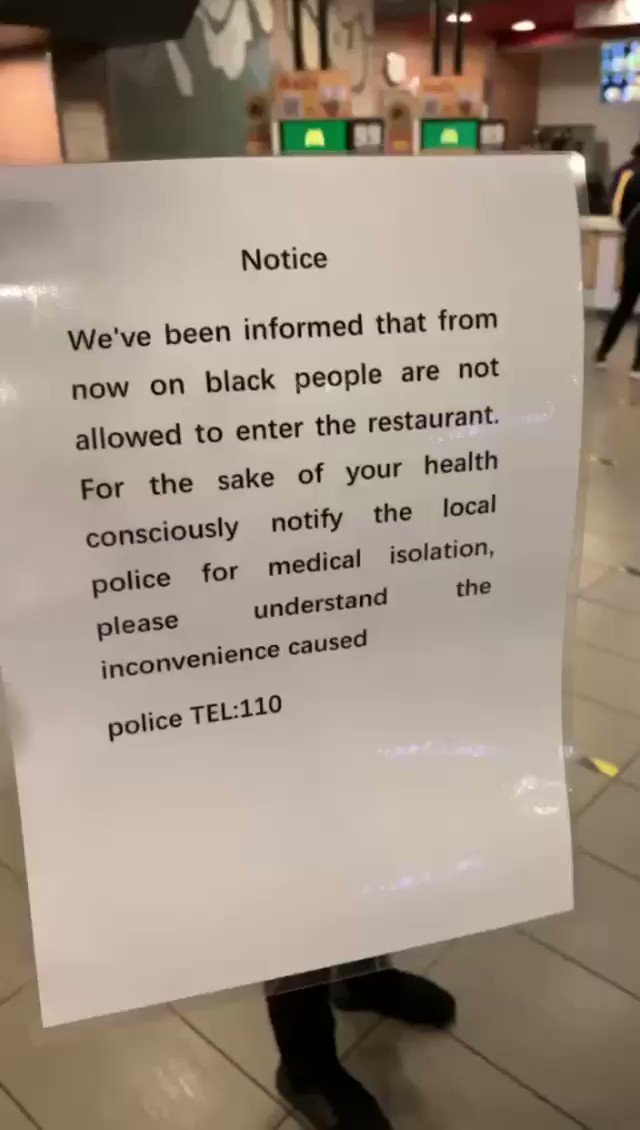 https://www.zerohedge.com/health/black-people-not-allowed-china-denies-r...
BBC Africa business editor Larry Madowo comment on CCP statement ...:
"The Chinese government's statement on racist treatment of Africans in the country because of coronavirus is objectively terrible. It's a word salad that says nothing, offers no apologies and provides air cover for racist officials."
0
You must be a registered user to vote!
You must be a registered user to vote!
0
I heard today on news, China increased no. of Covid fatalities by
FIFTY (50) %.
That can't be classified as ''I didn't know ... how to count" or any other excuse!
That is pure lying manipulation, conducted by China at the outbreak of Ncov pandemic. It's criminal!
Know the answer ?