X
Verify email
Your verification code has been sent to:
Didn`t receive your code? Resend code
By continuing you agree to eChinacities's Privacy Policy .
Sign up with Google
Sign up with Facebook
0
You must be a registered user to vote!
You must be a registered user to vote!
0
Q:
Is there a lack of native English teachers in China?
Relevant details out of yer favorite ...
https://www.zerohedge.com/markets/shocking-overhaul-china-bans-profit-tu...
In Shocking Overhaul China Bans For-Profit Tutoring, Wiping Out Billions In Value
Call it the end of "capitalism with Chinese characteristics" and the beginning of "socialism with socialist characteristics."
One day after Chinese tutoring and techedu stocks cratered the most in history after a report that China was seeking to ban for-profit school tutoring companies in a sweeping overhaul of the education sector, Beijing has done just that and on Saturday China unveiled an unprecedented crackdown on its $100 billion education tech sector, banning companies that teach the school curriculum from making profits, raising capital or going public.
The reason: as we explained yesterday, Beijing is scapegoating the sector for its own failure to reverse the ongoing shrinkage of China's population, and is blaming declining birth rates on "financial burdens from raising a child" as a result of surging tutoring costs. Apparently it never occurred to Beijing that the local housing bubble for example - the biggest in Chinese history - may have a far greater role in making "discretionary" spending - such as more children for example - impossible as the simplest of staples cost an arm and a kidney and apparently a second (and first) child. But of course, Xi would have to take the blame for that particular bubble; in the case of rampant tutoring costs, it's easier just to blame someone else.
And that's precisely what Beijing is doing with the following list of new regulations on the education sector:
*Companies and institutions that teach the school curriculum must go non-profit

*Such institutions cannot pursue IPOs, or take foreign capital

*Listed companies will be prohibited from issuing stock or raising money in capital markets to invest in school-subject tutoring institutions, or acquiring their assets via stock or cash

*Foreign firms are banned from acquiring or holding shares in school curriculum tutoring institutions, or using VIEs (variable interest entities) to do so. Those already in violation need to rectify the situation

*All vacation and holiday cirriculum tutoring is off-limits

*Online tutoring and school-curriculum teaching for kids below six years of age is forbidden

*Agencies cannot teach foreign curriculums
The unprecedented regulatory overhaul published on Saturday, threatens to up-end the sector and jeopardize billions of dollars in foreign investment. As previewed yesterday, tutoring companies that teach school subjects can no longer accept overseas investment, which could include capital from the offshore registered entities of Chinese firms; Companies in violation of that rule must take steps to rectify the situation, the country's most powerful administrative authority said, without elaborating.
Additionally, public tutoring companies will no longer be allowed to raise capital via stock markets to invest in businesses that teach classroom subjects, while outright acquisitions are forbidden; all vacation and weekend tutoring related to the school syllabus is now off-limits. Finally, online tutoring agencies will also be forbidden from accepting pupils under the age of six. To make up for the shortfall, China will improve the quality of state-run online education services and make them free of charge, the State Council said, a good reminder that China is and always will be first and foremost a despotic, communist regime.
"All regions can no longer approve new subject-based off-campus training institutions for students in the compulsory education stage, and existing subject-based training institutions are uniformly registered as non-profit institutions," according to the State Council notice.
1 year 43 weeks ago in Teaching & Learning - China
4
You must be a registered user to vote!
You must be a registered user to vote!
0
My opinion - for what its worth - the direction is good - too bad if all the capitalist money leaves to go promulgate inequalities elsewhere - every child deserves a good education yet at the same time needs to play and have free time to socialize. Globally common sense is in short supply but its refreshing to see good family values once again. The children are our future and as a parent I can say GOOD JOB.
That certainly doesn't happened in China ..., i.e. your described treatment of children as they start with the education.
Granted, Chinese approach to teach kids foreign language at very early age is the best. I mean, learning of the foreign language is the easiest at the earlier age.
But otherwise, kids in China are generally overworked with learning and education, IMO.
Was working in Guizhou at the private High school in 2016/17 and teacher's Board, i.e. owner wanted to terminate the contract because kids were sleeping in the classes.
At my Q "What should I do?", teachers Board demanded I must discipline the kids.
As I explained to them, I am a laowai and don't hold an authority to inflict a penalty to anybody in China and especially not toward the underage Chinese kids, Board didn't agree with me and proceeded with my termination.
After my phone call to Foreign Expert Bureau in Guiyang
, kids were permitted to sleep in my classes, and I completed 1-year contract.
My lessons there usually started with an applause at my entry to the classroom ... I ought to be a movie star in my previous life ... or sumtin'
1 year 42 weeks ago
Report Abuse
Answers (10)
Comments (51)
2
You must be a registered user to vote!
You must be a registered user to vote!
1
I wonder how this will play out. I've been hearing training schools aren't too worried about it, I'd have thought it would be a huge problem for them.
Time will tell I suppose.
As the article states, non-profit requirement will suffocate the education industry in China. That's the market trader's perspective ... and charts don't look good ...
Gov.'s reason for non-profit requirement is ... lowering of the families expenditure and next big thing will apparently be to let Chinese families have 3 kids ...
Time will tell ...
At my time in China, I worked steadily with New Oriental Education Group ... what was the great success since I am a non-native Englisher.
New Oriental and English First/Education First required since ever native English passport holder at their English teaching job applications.
I've worked continuously some 6 or 7-years at their Summer camp in and around Nanjing. Students had to fill up the questionnaire at the end of the camp ...
I was asked in May of every year for the confirmation of my attendance in Nanjing,
I'm guessing, that had to be based on the positive reviews I've received from 7-12 years old students.
Pay for the 30-days camp was above .. around 150 Rmb per hour (50' class) with over 120 classes in a month time, full lodging, food and all ... travelling cost to Nanjing and back to my full-time job city ...
That Summer camp was also the main reason I've always worked full-time only at the Public schools ... 'cause I needed a recess in July and August ..
1 year 43 weeks ago
Report Abuse
This might be connected, i.e. tit-for-the-tit ... I can't remember the name of the banned Chinese org. at most Western universities ... China-something.
It was banned few months ago in USA first 'cause of the influence and promoting China abroad ... Can't find the name through the search, but it is an org., which was settled at most western unis and some western newspapers ....
Haaa, ..."Confucius Institute"... it was banned or limited few months ago ... everywhere in the western countries with the start of the ban/limitations in USA ...
1 year 43 weeks ago
Report Abuse
1
You must be a registered user to vote!
You must be a registered user to vote!
1
Now you mention it.. the company I work for has less native English teachers recently. They operate in two campuses of the university and there has been huge fall in teaching staff for the past year. Not sure if the company will hire more new ones or not. Even the HR and the Director of Studies are worried about this.
And Stiggs is right "I wonder how this will play out" and "Time will tell".
1
You must be a registered user to vote!
You must be a registered user to vote!
1
Only party members should be able to receive an education
It's called 'guanxi' ...
My Chinese is good ...
I'll never forget 'im-bi', 'niu-bi' und 'sha-bi' 'cause once I had to get coins for the bus and had to reenter the same bank 3 times while holding Mao Tse-Tung 100 RMB note, to yell the right one, and get the change ...
1 year 43 weeks ago
Report Abuse
0
You must be a registered user to vote!
You must be a registered user to vote!
0
Crackdown in China all over the business place ... not only at the Education sector ...
https://www.zerohedge.com/markets/everyone-crosshairs-china-sees-panic-s...
After China implemented a highly publicized crackdown on tutoring and techedu companies, wiping out tens of billions in value as Beijing confirmed it ordered the "for profit" publicly traded sector to, well, no longer be "for profit" while banning them from raising capital or going public - a move which has been viewed as the government's most extreme step yet to rein in private businesses that regulators blame for exacerbating inequality, increasing financial risk and in the case of some tech titans challenging Beijing's authority - Beijing has extended its unprecedented crackdown to various other sectors to extend to housing, tech and even food companies.
So after plunging on Friday when the news of the crackdown first hit, on Monday shares of Chinese education stocks listed in the US plunged some more: among the casualties, TAL Education Group tumbled -36%, New Oriental Education & Technology Group was down -32%; Gaotu Techedu - the stock popularized by Archegos whose total return swaps pushed it as high as $149 in January wiping out all the shorts, slumped another -36% and dropped as low as $1,70 this morning while China Online Education Group -11%.
To understand just how unexpected Beijing's crackdown was, consider the following: New Oriental Education & Technology's Hong Kong shares still had 15 analyst buy ratings and just one "underweight" as of Monday, according to data compiled by Bloomberg, after plunging more than 40% for a second straight session.
Other major tech and education-linked names were also hit: Alibaba, a Chinese tech conglomerate listed in the U.S. which among other things, invests in education companies, fell -4.9%; Didi Global continued its plunge, down 13% and dropping as low as $7, or half its IPO price of $14; JD.com -6.3%; Baidu -7%; Pinduoduo -13%; NetEase -7.2%; Nio -6.7%; Xpeng -6.4%; Li Auto -4.2% and so on. Today's rout means that the Nasdaq Golden Dragon China Index, which slumped last week posting its longest losing streak since 2019 over the risks posed by a potentially widening regulatory crackdown in the nation's technology industry, is set for even more pain.
... more ...
https://www.rt.com/op-ed/530256-china-private-education-non-profit/
China's hammer blow to private education shows it will do whatever it takes to meet its goals
In a spectacular display of government authority, China has, with the stroke of a pen demolished its $120-billion private education industry by forcing it to reform into a non-profit initiative. The move has cost at least one billionaire his markets fortune.
It follows a number of crackdowns waged by Beijing against various sectors of the economy which were deemed to contravene the national interest. The ruthlessness of such sudden decision-making has undoubtedly shocked Western observers and capitalist advocates, yet its purpose appears to be twofold.
As highlighted by, Beijing is dismantling a sector which is not only exacerbating the inequality of education among rich and poor, but is also increasingly perceived as an obstacle to the country's fertility rates. So now the hammer has come down on it as a social disruption. It shows that Beijing is prepared to do whatever it takes to meet its national goals, and is another example of how the Chinese Communist Party's authority has stiffened against the creeping liberalization which the West once welcomed.
Education is of exceptional importance in east Asian societies, and is often considered a determining factor in a family's status. Parents invest heavily in their children's future, and as a result the systems in these countries often turn out to be extremely competitive, resulting in an intense commitment towards extra-curricular and out-of-school private study.
... more ...
1 year 43 weeks ago
Report Abuse
https://www.zerohedge.com/markets/chinese-massacre-spreads-bonds-fx-amid-rumors-foreign-liquidations
The rout in Chinese shares, which has demolished the country's tech giants following Beijing's regulatory crackdown on various sectors, extended into the bond and currency markets Tuesday amid unverified rumors swirled that U.S. funds are offloading China and Hong Kong assets.
1 year 43 weeks ago
Report Abuse
More restrictions applied in China ... 'Privacy Law' this time ..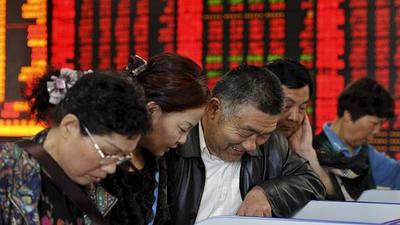 1 year 39 weeks ago
Report Abuse
1
You must be a registered user to vote!
You must be a registered user to vote!
0
2-years old article I came across ...
https://www.studyinternational.com/news/precarious-times-foreign-teacher...
Precarious times for foreign teachers in China
" ... This combination of factors has led to warnings that foreigners must be cautious about moving to live and work in China. As Dan Harris, a Seattle-based lawyer whose firm represents foreign companies who do business in China, explains, "The risks of going to China to teach far outweigh the rewards ..."
Thread's article reposted on Yahoo Finance from Bloomberg ...
https://finance.yahoo.com/news/china-bans-school-curriculum-tutoring-114147251.html
The regulations threaten to obliterate the outsized growth that made stock market darlings of TAL Education Group, New Oriental Education & Technology Group and Gaotu Techedu Inc. They could also put the market largely out of reach of global investors. Education technology had emerged as one of the hottest investment plays in China in recent years, attracting billions from the likes of Tiger Global Management, Temasek Holdings Pte and SoftBank Group Corp.
What Bloomberg Intelligence Says
"Operating losses at New Oriental and TAL can only worsen over the next several years as China overhauls its tutorial industry. Cost cuts won't keep pace with revenue declines in the short term as the government, with the stated goal of lightening students' workload, banned for-profit school tutoring as well as holiday and weekend lessons."
-- Catherine Lim, Bloomberg Intelligence
1 year 43 weeks ago
Report Abuse