By continuing you agree to eChinacities's Privacy Policy .
Sign up with Google
Sign up with Facebook
Posts: 718
2
You must be a registered user to vote!
You must be a registered user to vote!
0
Q:
What does the end of freedom of expression mean?
Since various almost monopolistic companies haved decided who can say what on their platforms and been banning 'wrong thinkers' I was secretly delighted to see that Iran and America have chosen what has ironically become the cornerstone of free speech to have an online spat.
Who'd a thunk that Chinese internet would be the go to for free speech. 2021 is sure going to be interesting.
Iran and the US are now trading barbs on China's Weibo amid censorship on other platforms https://www.abc.net.au/news/2020-01-14/iran-us-embassy-weibo-diplomatic-fight-china-soleimani/11865476
45 weeks 2 days ago in Web & Technology - China
0
You must be a registered user to vote!
You must be a registered user to vote!
0
It means, ... you were walking through the desert for long time ... and now it's time to dust yer nose.
I just changed the handle on my front doors and am still into handles today ...
0
You must be a registered user to vote!
You must be a registered user to vote!
0
Some "temporarily end of freedom of expression" from supermarket in N. China in .gif ...
Chinese Lockdowns Trigger "Chaos And Panic" At Grocery Stores As Prices Soar 50%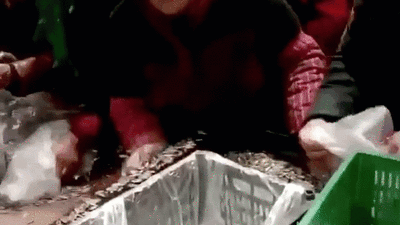 "People are hoarding food in the wake of the forced lockdowns all over China."
Hebei & Heilongjiang ...
China's battle with increasing coronavirus caseloads hitting ten-month highs has undoubtedly clouded the economic recovery while officials have lockdown more than 28 million people across multiple municipalities, reported Reuters.
Hebei officials have put three cities - Shijiazhuang, Xingtai, and Langfang - into lockdowns last week to mitigate the virus from spreading further. Beijing authorities expanded screening and prevention measures as cases continue to rise.
Last Wednesday, Heilongjiang province declared a virus pandemic emergency. Also, the city of Suihua, in west-central Heilongjiang province, has put 5.2 million people under lockdown.
"The worsening coronavirus situation will impact economic activity, and markets may need to temper their expectations for strong pent-up consumption demand in the coming LNY holidays," Nomura wrote last week.
One possible reason behind increasing caseloads in China could be due to frigid temperatures as the polar vortex splits into two and dumps Arctic air into certain parts of the country. Goldman Sachs recently told clients that when temperatures dip, expect virus outbreaks to accelerate - and that is exactly what is happening in China.
Last week, an alleged video published on Twitter handle @TruthAbtChina shows the Chinese Communist Party (CCP) law enforcement or health officials or some governmental agency placing "seals" on apartment doors to make sure people abide by new lockdown orders.
People have been escaping quarantined communities in the recent lockdowns in China. In response, the CCP is putting a seal on the door of each apartment. The stickers say: If the seal is broken, there will be legal consequences.
Dec 31, 2020 thru Jan 7, 2021 pic.twitter.com/SkxSEbuFi7
... more ...
Know the answer ?