By continuing you agree to eChinacities's Privacy Policy .
Sign up with Google
Sign up with Facebook
0
You must be a registered user to vote!
You must be a registered user to vote!
0
Q:
Why are there so many residents in China? ... comparable to Sahara ...
You guessed it right! Everywhere you look in China there's a water stream, river, many artficial lakes and dams ... Anybody in Inner Mongolia ...?
https://www.zerohedge.com/weather/watch-two-dams-chinas-inner-mongolia-c...
Watch: Two Dams In China's Inner Mongolia Collapse After Heavy Rain
Two dams collapsed in China's northwestern region of Inner Mongolia after heavy rains, Reuters reports, citing a statement from the water ministry on Monday.
Both dams were located in the Inner Mongolian city of Hulunbuir and collapsed on Sunday. There were more than 1.6 trillion cubic feet of water capacity between both dams.
On July 18, the dams on the open spillway of Yong'an Reservoir and Xinfa Reservoir in the Daur Autonomous Banner of Morin Dawa, were breached and collapsed as the water level of the Nuomin River continued to rise because of heavy rain, according to People's Daily.
The dam collapse reportedly affected 16,660 people, flooded 325,622 mu (21708.1 hectares) of farmland, and destroyed 22 bridges, 124 culverts, and 15.6 kilometers of highways.
At 8 pm on Sunday, the national flood control administration issued a third-level emergency response and sent a working group to the scene to guide and assist local emergency management.
Local citizens were evacuated to safe places before the collapse, and no casualties have been reported as of press time. -Global Times
Footage posted on social media shows the collapse and subsequent flooding downstream.
Vids on dam breach in Chinese on the weblink ...
1 week 6 days ago in Health & Safety - China
Answers (4)
Comments (16)
0
You must be a registered user to vote!
You must be a registered user to vote!
0
Henan ...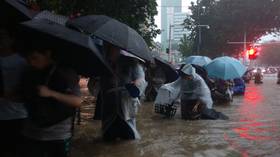 Chinese subway passengers trapped by rising floodwaters as torrential rain pounds Henan province (VIDEOS)
Subway riders in Zhengzhou in China's Henan province found themselves trapped by rising floodwaters on Tuesday as rivers burst their banks, pouring into streets and disrupting train services after 200mm of rain fell in one hour.
Jul 20, 2021 15:09
Vids with passengers standing in belly high water waiting for the next ... t-rain ..
0
You must be a registered user to vote!
You must be a registered user to vote!
0
Hundreds of thousands evacuated from areas devastated by floods as China death toll rises to 33 and more rain forecast (VIDEO)
Thousands of people are being evacuated from their homes in Henan province by a 76,000-strong relief force, as the meteorological office warns that storms and heavy rain is set to continue.
Jul 22, 2021 09:06
0
You must be a registered user to vote!
You must be a registered user to vote!
0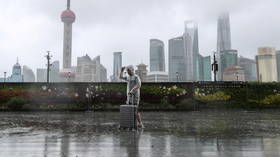 Shanghai evacuates HUNDREDS OF THOUSANDS, cancels flights & suspends train services as Typhoon In-Fa hits China's coast (VIDEO)
Hundreds of thousands of people have been evacuated from the coastal areas of the Chinese city of Shanghai as Typhoon In-Fa hits the coast to its south. All flights to the city and high-speed train services have been suspended.
Jul 25, 2021 15:04
https://www.zerohedge.com/weather/typhoon-fa-hits-hits-chinas-east-coast-forcing-container-ports-close
Typhoon In-Fa made landfall in eastern China with high wind and torrential rains as other parts of the country were cleaning up from last week's historic flooding.
In-Fa came ashore Sunday on China's east coast south of Shanghai. Hundreds of thousands of people were evacuated, airline flights and trains were canceled, seaports were shuttered, and the public was advised to remain indoors.
The national weather agency said the typhoon made landfall in Zhoushan in Zhejiang province and is expected to dump 10-14 inches.
1 week 23 hours ago
Report Abuse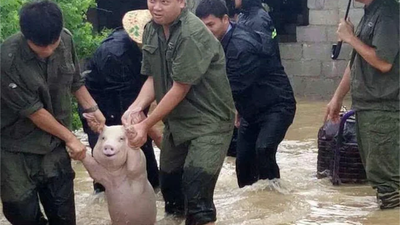 A week later, after heavy rains hammered Henan province in central China, hog farmers in the pork-producing region are reeling over their herds drowning in floodwaters. There's also a risk of the deadly pig disease African swine fever returning.
Small to medium-sized farmers have been severely impacted by floodwaters.
Reuters spoke with Chinese farmers who expressed despair after their pig herds drowned.
6 days 21 hours ago
Report Abuse
0
You must be a registered user to vote!
You must be a registered user to vote!
0
Have you ever seen an Italian hail?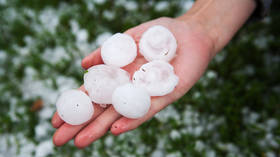 Apocalyptic hailstorm batters northern Italy; traffic halted, people injured & crops destroyed (VIDEOS)
Hundreds of cars piled up on a major Italian highway on Monday after being damaged by a massive hailstorm which left several people injured, brought down trees, and caused damage in several regions.
Jul 27, 2021 08:04
There's crazy weather stuff going on all over the place. Record breaking heat waves, thousand year floods, melting permafrost and ice caps, we just had the warmest June on record here in NZ ( globally actually) and I have spring flowers popping up in the backyard in the middle of winter.
6 days 10 hours ago
Report Abuse
I am expecting UFO's landing ... next.
But that Italian hail was huge. Have a look at RT ... better pics and vids than what I c&p.
6 days 10 hours ago
Report Abuse
Know the answer ?