By continuing you agree to eChinacities's Privacy Policy .
Sign up with Google
Sign up with Facebook
anonymous
0
You must be a registered user to vote!
You must be a registered user to vote!
0
Q:
Are there any beaches in Shanghai?
7 years 46 weeks ago in Transport & Travel - Shanghai
0
You must be a registered user to vote!
You must be a registered user to vote!
0
Sunny Beach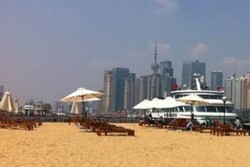 Location: Waima Road, close to Maojiayuan RoadEntrance Fee: 20 yuan
Right in the heart of the Bund, Shanghai's colonial-era district, lies a modest, but sufficient stretch of sand for residents and visitors of the city. With its unique view of the Huangpu River, as well as the Pudong skyline, Sunny Beach is the perfect warm weekend getaway. Swimming isn't allowed here, but sunbathing, beach activities and chair and umbrella rentals make this city getaway a perfect spot for family picnics and riverfront parties.
Jinshan Beach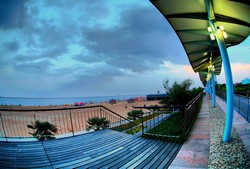 Location: Take the bus from Jinjiang Park in Shanghai to Jinshan, which is about an hour ride. From there, walk 20 minutes to the beach following the many signs leading the way.Entrance Fee: Free between Oct – Jun, 30 yuan weekdays and 50 yuan weekends July – September.
Only an hour away from Shanghai's downtown area, Jinshan Beach is a sandy stretch of ocean water perfect for a day or weekend retreat. Imported powdery white sand from the Hainan Province makes the strand glisten in the hot summer months. Unlike other bodies of water in the area, the ocean water here is surprisingly blue and clean and open for swimming. Sand volleyball, Frisbee and activities for children of all ages are popular on the beach's west end.
Fengxian Beach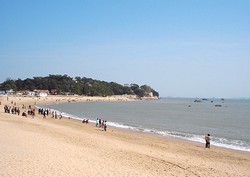 Location: Buses from Shanghai South Railway Station to Nanqiao are available, as well as public buses from Jingjiang ParkEntrance Fee: 50 yuan on weekdays, 80 yuan on weekends.
Another beach within an hour of Shanghai's city center is Fengxian Beach. Soft, golden sand, fresh air and multiple recreational activities make for an excellent escape from the often smoggy city. Fengxian Beach is just the beginnings of a project titled "Haiwan Tourism Zone", an effort to bring more tourists to this beautiful suburban area. The beach offers more than just sand-filled activities. A rock climbing wall, canoe rentals, mini amusement park and even a 4-D movie theater are all within the beach's vicinity.
Songlanshan Beach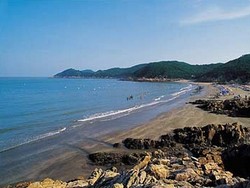 Location: Buses run from the Shanghai Bus Station to Ningbo Bus Station. Then catch a quick bus from Ningbo South Bus Station to Xiangshan County. And once more from Dancheng to Songlan Mountain. Total trip can take up to 5 hours.Entrance Fee: 10 yuan
A bit further out than other beaches listed, Songlanshan's beauty is worth every minute of the journey. Located near Ningbo, it is one of the biggest beaches in the area. Along its 25 square kilometer expanse, the park encompasses caves for exploring, protected reefs for diving and, of course, smooth and soft sand, perfect for a stroll along the water. Recreational fishing is allowed here, and rental tents for gear dot the beach. This area is quieter than other areas and makes for a relaxing escape from the stresses of the big city.
Putuoshan Beach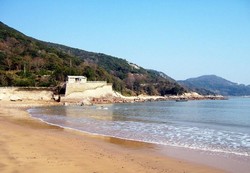 Location: From Shanghai Harbor, take a bus to the beach (2 hours). Or buses from the Shanghai Bus Station to Luchao are available. From there, transfer to ferry heading to Putuoshan Beach (4+ hours total).Entrance Fee: Free
Putuoshan Beach, like Songlanshan, is a bit further out of the city and perfect for a long weekend holiday. Serene, secluded and by far the least crowded out of these 5 beaches, Putuoshan is the ideal place to unwind. The famous 100 Steps Beach and 1,000 Steps Beach are worth the decent from the hills surrounding the area. In addition to the peaceful strand, various temples were built along the shoreline. The Puji Temple and the Fayuchan Temple can be reached from the beach area by a number of stairs. From here, the entire view of the bay is breathtaking!
Know the answer ?