By continuing you agree to eChinacities's Privacy Policy .
Sign up with Google
Sign up with Facebook
Posts: 415
0
You must be a registered user to vote!
You must be a registered user to vote!
0
Q:
How's the weather in your "Neck of the Woods"?
A week or so ago we were all sweating like pigs, what is it doing now in your city? It is raining and about 17 degrees here now. On my Ebike with a short sleeved shirt it is a bit brisk!
10 years 9 weeks ago in Health & Safety - Hangzhou
1
You must be a registered user to vote!
You must be a registered user to vote!
0
Answers (11)
Comments (4)
In in Dalian and we also got a sudden cold snap here as well. Oddly enough, the northwest of the US (Oregon and Washington) just got that EXACT same cold snap a freakin long way away. They were having a crazy warm fall that suddenly became very cold just about as it changed for me here on the east cost of China (Dalian).
I am in Ankang city, Shaanxi province and the weather is EXTREMELY dismal and gray. It has rained 18 of the last 22-days here.
In Daqing, the oil capital of China, and it's getting pretty cold. It was -1 last night and it rose to a glorious but useless 11. I hate winter which is a crazy thing to say when we get temps of -30 to -35 here. Any teaching vacancies down south? I mean like almost Thailand south?

Okay all, sounds like the autumn Tiger is going away!
I will be there in Nth China within two weeks so I hope the weather stays a little warmer for a while.
Unusually cold for this time of year in Australia as well.
Hot! It's so damn hot I saw this little guy in an orange robe burst into flames!!
Well this week its cold and rainy, but last week it was hot enough I needed to build a fire to cool down.
1
You must be a registered user to vote!
You must be a registered user to vote!
0
"Man-Made Catastrophe" - China Race Organizer Blamed After 21 Ultrarunners "Froze To Death" In Extreme Weather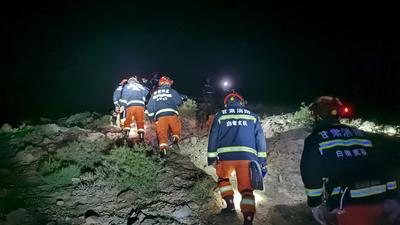 "All elite ultramarathon runners died,"
How's the weather in yer neck ...
Foreword:
Lithuania is a small Baltic country of population 2.8 million and land area 65,300 square kilometers. Compare that to China's 1.4 billion population and 9.6 million square kilometers. Yet, Lithuania has taken a series of steps against the Chinese Communist Party in recent months that would at times have struck fear into the hearts of larger nations such as the United States, Japan, Germany, and France.
Apparently precipitated by a recognition of the genocide in China's Xinjiang region, Lithuania blocked Chinese investment, started a trade office in Taiwan, and most recently on May 22, pulled out of a Beijing-led forum for economic cooperation in central and eastern Europe. Lithuania's actions are indicative of a worsening relationship between the European Union, of which it is a member, and China. Agence France-Presse reports that Lithuania's actions are angering Beijing.
https://www.zerohedge.com/geopolitical/lithuanias-heroic-stand-against-c...
Know the answer ?