By continuing you agree to eChinacities's Privacy Policy .
Sign up with Google
Sign up with Facebook
Posts: 13
0
You must be a registered user to vote!
You must be a registered user to vote!
2
Q:
Is it true that a black hole isn't a hole at all?
Watch a TV show on this fact.
23 weeks 16 hours ago in Teaching & Learning - Other cities
3
You must be a registered user to vote!
You must be a registered user to vote!
2
Why you asking people on here for? People on here can barely figure how to get a visa for china let alone how a black hole works.
Answers (26 - 34 of 34)
Comments (36)
0
You must be a registered user to vote!
You must be a registered user to vote!
0
Did you know ''1 billion ..." is 1000 millions ... by using short scale? There are two scales ...
https://en.wikipedia.org/wiki/Billion
Next, ... we must count the distance of three (3) billion light years ...
'One light year' is the distance light travels through the universe ... Light travels fast-er measured by Earth's measures ..
"Light travels at a speed of 299.792 km per second; 186,287 miles per second ...", so one light year would come exactly to :
"365 days X 24 hours X 60 minutes X 60 seconds" ... equals to
"31,536,000 seconds, i.e. one year seconds X 299,792 km =
"9,354,240,512 km" .. or in other English words, light travels more than 9 billion km in one light year ...
Now, c&p ...
Please pay attention, so you won't confuse different numbers:
"million' & 'billion' & 'brazillion"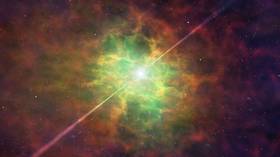 Unexplained fast radio burst just 'woke up' exactly as scientists predicted
Aug 24, 2020 10:35
Astronomers researching the mysterious Fast Radio Burst (FRB) 121102 have confirmed that the powerful phenomenon has a predictable cycle, which may allow us to find out what exactly is causing it once and for all.
First discovered in 2012, the FRB is located in a dwarf galaxy ...
3 billion light-years
... away making it very difficult to monitor, requiring some of Earth's most powerful instruments.
FRBs are intense blasts of radio waves which can release as much power as hundreds of millions of suns in mere milliseconds, but the majority of them that we have observed have flared once only to disappear, never to be heard from again.
This makes it extremely difficult to discover their composition, monitor their behavior and determine their source. In other words, they are extraordinarily difficult to study let alone predict as scientists have just managed.
A team led by Marilyn Cruces of the Max Planck Institute for Radio Astronomy, in conjunction with other research carried out at the University of Manchester by astronomer Kaustubh Rajwade, has unveiled their model for the FRB's cycle.
For 67 days, FRB 121102 goes dark, not making any noise and effectively disappearing only to 'wake up' again for 90 days, producing these breathtaking millisecond radio flares that are so powerful we can see them billions of light-years away here on Earth.
According to Cruces' prediction for the FRB's repeating and predictable 157-day cycle, it's current flaring phase will last from July 9 and October 14, 2020 before it hibernates once more.
Multiple international teams, including the National Astronomy Observatory of China which uses the Five-hundred-meter Aperture Spherical radio Telescope (FAST), will continue to monitor FRB 121102 to try and figure out what's behind these bursts.
Now researchers all over the world have a specific timeframe in which to gather data before having a predetermined period for intense study without worrying they might miss some key detail or event.
Just a tiny few FRBs have been detected repeating and they will likely hold the key to unravelling the mystery once and for all and allow us to determine what's really behind these phenomenally powerful blasts. The leading theory suggests that a certain kind of neutron star called a magnetar is responsible, but the mystery remains for the time being at least.
It says on the bottom:
Think your friends would be
interested? Share this story!
Since, your knowledge of blaack hol-ines is mucho wider, I feel content of releasing my latest 'discovery' ...
https://www.rt.com/news/501196-primordial-black-holes-dark-matter-mystery/
Monstrous black holes, the size of 100 billion suns, could help shed light on dark matter mystery
A new study has suggested that "stupendously large" black holes may exist, which harbor the mass of 100 billion suns. The discovery of such an enormous region of spacetime could shed light on the mystery of dark matter.
In the center of most galaxies, there are supermassive black holes with masses that are millions to billions of times that of Earth's sun. In the heart of our own Milky Way lies Sagittarius A*, which weighs in at about 4.5 million solar masses. The largest black hole ever discovered is TON 618 and it has an incredible mass of 66 billion solar masses.
But what if even bigger black holes are out there? A new study has posited the possible existence of "stupendously large black holes," or SLABs, which could be the size of 100 billion suns, or bigger.
One burning question about SLABs is how would such a staggeringly enormous region of spacetime ever form? The theory of multiple black holes merging has already been discounted by previous research as they could not have reached supermassive size because the universe simply isn't old enough.
However, one possible explanation is that the black holes could have primordial origins, dating back to the aftermath of the Big Bang that created the universe. The theory proposes that random fluctuations in density could have pooled enough matter to collapse into black holes, which then served as "seeds" for gigantic SLABs.
The researchers say that the possibility of such massive black holes existing has been the focus of surprisingly little research despite the fact that they could exist in principle and they could help unravel some of the questions about dark matter that have dogged physics for decades.
Dark matter is believed to account for around 80 percent of the matter in the universe, but it has yet to be detected directly. Finding it would finally solve one of science's most head-scratching mysteries, but for now researchers have had to rely only on studying its gravitational effects on normal matter.
"Some people may be skeptical about the existence of SLABs on the grounds that they would be hard to form," study co-author Bernard Carr, a theoretical cosmologist at Queen Mary University of London, explained to Space.com.
"However, people were also skeptical about intermediate-mass and supermassive black holes until they were found. We do not know if SLABs exist, but we hope our paper will motivate discussion among the community."
... you slabs ...
'No earthly fireworks display can compete': Hubble beams back unreal footage of supernova explosion 70mn light years away
NASA's Hubble Space Telescope has captured the spectacular death of a star 70 million light-years away in incredible detail, which will help measure the elusive expansion rate of the universe.
Oct 2, 2020 08:50
NASA's Hubble Space Telescope has captured the spectacular death of a star 70 million light-years away in incredible detail, which will help measure the elusive expansion rate of the universe.
Hubble began observing the star, designated SN 2018gv, in February 2018, after an incredibly bright explosion was spotted in the area in January. In fact, the explosion was so bright it actually released as much as energy in a matter of days as our star does in a few billion years.
"No earthly fireworks display can compete with this supernova, captured in its fading glory by the Hubble Space Telescope," said Nobel laureate Adam Riess, of the Space Telescope Science Institute (STScI) and Johns Hopkins University in Baltimore.
Hubble took snapshots of the spectacular scene, which have been painstakingly turned into a video.
1
You must be a registered user to vote!
You must be a registered user to vote!
0
ARSE - Australia Research and Space Exploration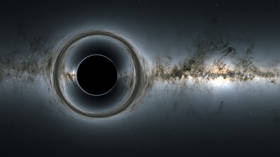 Nobel Prize awarded to trio of BLACK HOLE scientists who discovered supermassive object and proved Einstein right
A trio of scientists have been awarded the 2020 Nobel Prize for Physics for their discoveries which deepened humanity's understanding of black holes.
Oct 6, 2020 10:39
Roger Penrose, Reinhard Genzel and Andrea Ghez were unveiled as the newest Nobel winners on Tuesday. "The discoveries of this year's Laureates have broken new ground in the study of compact and supermassive objects," said David Haviland, chair of the Nobel Committee for Physics.
https://theconversation.com/nobel-prize-how-penrose-genzel-and-ghez-help...
Nobel prize: how Penrose, Genzel and Ghez helped put black holes at the centre of modern astrophysics
The award of this year's Nobel prize in physics to Roger Penrose, Reinhard Genzel and Andrea Ghez will be greeted with enormous pleasure by physicists and astronomers worldwide. It recognises the central importance of black holes in modern astrophysics, and the unique contributions of these three scientists in establishing this.
The physics that describes black holes comes from Einstein's general theory of relativity (usually abbreviated to GR). GR is a little over a century old, and was from the start seen as a theory of unprecedented mathematical complication.
After some early successes, such as the observation that the paths of starlight bent under gravity as they passed near the Sun, the huge algebraic complexity of GR rapidly made it a backwater of physics. Laboriously derived solutions of Einstein's equations found no practical application for experiments to test the theory.
Although one of these solutions hinted at properties we now know were characteristic of black holes, these were not understood at the time. And, in any case, they were often dismissed as artificial products of assumptions made for mathematical convenience. There seemed little hope of experimental tests that would reveal large and fundamentally new effects of GR.
Penrose is the theoretical physicist who made the crucial discovery that began the resurrection of GR theory from this apparent impasse to its dynamic state today, where its predictions – particularly about black holes – are constantly tested and verified.
Genzel and Ghez are the two astronomers whose observing teams independently verified the most extravagant prediction of GR by showing that our own galaxy, the Milky Way, has at its heart an enormously massive black hole described in intricate detail by the theory.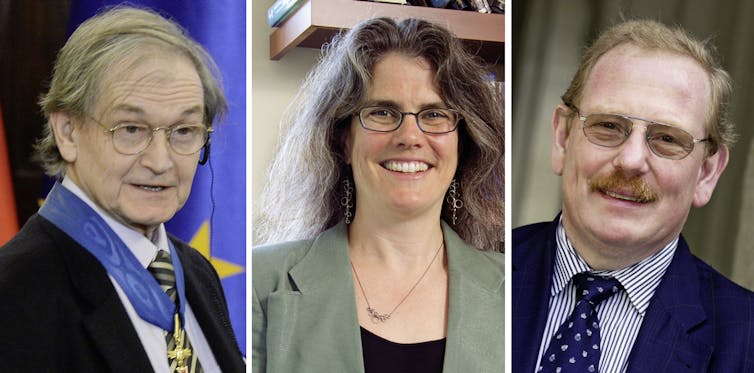 Penrose's fundamental insight was that GR specifies physical causality: no physical effect can travel faster than light, and gravity bends light and determines how it moves. And in particular, gravity always attracts and never repels. In 1965, he showed that these properties alone make the objects we now call black holes an inescapable consequence of GR.
A crucial feature of this fundamental result is that it does not assume any geometrical symmetries in the matter that will eventually collapse under its own gravity to form a black hole. It need not be perfectly spherical, for example. Any misshapen collection of matter will end as a black hole if it has passed what Penrose identified as its point of no return, as it first traps light around itself.
In later years, he recalled implicitly recognising this crucial point while crossing a London street in the company of the engaging fellow physicist Ivor Robinson, and being so taken by their conversation that he could not at first recall just what had made him feel so happy on crossing the street.
I can well remember the shock of realising how utterly new this approach was as a young PhD student of GR a few years later. It bypassed the complexity of solving the GR equations, and its completely general methods forced astrophysicists to take seriously the idea of black holes as potentially observable objects.
We now know, for example, of many stellar binary systems where one of the stars has collapsed to form a black hole, a discovery that led to a share of the 2002 Nobel Prize for Riccardo Giacconi.
Supermassive discovery
Genzel and Ghez lead research groups that have independently shown that there is a much more massive black hole at the centre of the Milky Way. They did this by observing the motions of stars around this invisible object.
Years of painstaking observation by both groups reveal a rich pattern of about 40 stars orbiting with different periods, eccentricities and inclinations on the sky. Each of these orbits tells us the mass of the object whose gravity pulls on them, and all of them agree on a single huge value about 4 million times that of the Sun. But evidence from radio waves emitted near the object indicates that it is remarkably small, strongly suggesting that it must be a black hole.
Recent observations reveal that the orbits of the closest stars to the galactic centre are not quite perfect ellipses, but slowly move to trace out rosettes on the sky. This is precisely what GR predicts for very close orbits around a black hole. The independent but almost identical results of the two groups leave very little room for doubt that this is our own local supermassive black hole.
The consequences are profound, and I am just one of many astrophysicists studying them. Observations strongly suggest that the centre of almost every galaxy has its own supermassive black hole – many of them far more massive than in the Milky Way – and that these masses are closely related to detailed properties of the host galaxies. These supermassive black holes evidently play a major role in making galaxies as they are, creating the architecture of the universe we live in.
0
You must be a registered user to vote!
You must be a registered user to vote!
0
Through my constant vigilance ..
.. and some good fortune cookies, butT .. you knew that ...
Astronomers capture exact moment supermassive black hole DEVOURED entire star
Through constant vigilance and some good fortune, astronomers have managed to capture the moment a supermassive black hole in a galaxy 215 million light-years away tore a star apart.
The so-called 'tidal disruption event' (TDE) is the closest such death of a star humanity has ever witnessed.
Astronomers were alerted by the intense flash of light, visible hundreds of millions of light years away, just before parts of the star disappeared into the black hole's event horizon after being 'spaghettified' by the immense gravity.
... more with short vid ...
Have you ever had a thorn? ... like me ...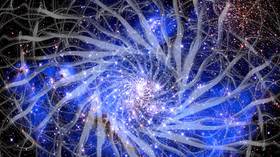 Astronomers solve riddle of 'impossible' galaxy made of 99.99% dark matter
The Dragonfly 44 galaxy has been a thorn in the scientific community's side ever since it was found to consist almost entirely of dark matter in 2016. New research has allowed for a collective sigh of relief, however.
Oct 14, 2020 11:09
The galaxy, located some 330 million light-years away in the Coma Cluster, contains 1,000 times fewer stars than the Milky Way, making it extremely dim.
Four years ago, astronomer Pieter van Dokkum of Yale University counted the number of clusters around the galaxy and, using the standard technique for determining the quantity of dark matter in an area of space, was startled by what he found.
Dragonfly 44 was apparently made up of 99.99 percent dark matter, a finding which, if confirmed, would have forced a massive overhaul of our physics, cosmological models and our entire understanding of the universe.
Dark matter cannot be observed directly, instead we can only observe its impacts on the universe around it, much like we can only see the wind rustling through the leaves or blowing debris about the streets.
In the case of dark matter, we can infer its presence by observing phenomena such as gravitational lensing, in which light bends around massive objects thanks to their immense gravity. The degree to which the light bends allows us to determine the mass of an object, for instance a galaxy.
Scientists then examine the galaxy and tally up all of the matter we can detect directly (on all electromagnetic wavelengths) including stars, planets, nebulae etc. This is then subtracted from the initial figure implied by the gravitational lensing, and voila, the amount of dark matter in a given area is determined.
A recount conducted by astronomer Teymoor Saifollahi of the Kapteyn Astronomical Institute in the Netherlands using the same Hubble Space telescope data as the initial study, but using far stricter criteria, found far less matter, and thus far less dark matter in Dragonfly 44.
"Dragonfly 44 (DF44) has been an anomaly all these years that could not be explained with the existing galaxy formation models," said Saifollahi.
"Now we know that the previous results were wrong and that DF44 is not extraordinary. It is time to move on."
These kinds of revisions help us refine our research into one of the most elusive, enigmatic but arguably most important aspects of our universe.
Using this technique, the scientific community's best guess places average dark matter concentrations across the universe at around 85 percent (though this figure varies depending on galaxy type) – a good deal short of the 99.99 percent originally suspected to inhabit Dragonfly 44.
Don't tell me you knew this ..
... or you didn't?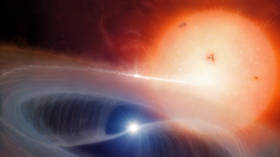 Closest to Earth 'black hole' turns out to be rare kind of star, after all
A growing body of research posits that the star system HR 6819 does not contain a black hole, contrary to earlier findings. It may instead boast a unique pair of stars.
Oct 20, 2020 11:58
The object located some 1,120 light-years from Earth has been preliminarily demoted from a bewildering black hole to a binary star system with a rather unusual orbit.
The system consists of a very hot Be spectral type star which spins at approximately 200km per second, shooting out a disc of hydrogen gas which surrounds it.
Previously, it was found to be accompanied by a B3 III star, measuring approximately six solar masses, with a roughly 40-day orbit. The Be star, also measuring in at about six solar masses, seemed to be spinning on the spot, which made no sense as two objects of similar mass should spin about a mutual center of gravity.
Following a serious amount of number crunching, researchers earlier this year concluded that the pair must be orbiting a third, massive object that wasn't visible which would explain why the spinning top star was essentially locked in place – a black hole.
...more ..
Know the answer ?