By continuing you agree to eChinacities's Privacy Policy .
Sign up with Google
Sign up with Facebook
Posts: 453
0
You must be a registered user to vote!
You must be a registered user to vote!
0
Q:
What do you think 2021 will be like? Similar to 2020, or gets better/worse as the year goes on?
I am an optomist, but so far 2021 looks like a repeat of last year. With Biden in the USA, China should do very well. For the rest of the world, well, we have seen it all before in history.
"2021 will be much, much better, i.e. more profitable
... looking at the BTC/USD long-term chart ...
...".
We have had over +300% run in 2020 ...
I know, reading of trading charts isn't favorite venue for the most normal people, butT ... that's what I do at the moment.
Politic has never been part of my interest ...
Biden To 'Immediately' Send Congress Bill That Would Offer Citizenship To 11 Million Illegals
That's roughly over 40-years of POTUS'es try to legalize illegals living in the country ...
Hence, my conclusion is " ... 'nada' will come out of it ...!".
0
You must be a registered user to vote!
You must be a registered user to vote!
0
Hopefully it'll be the year the ET's show up! Damn I'd like to be here for that! I figure I have 50 more good yrs,,, so get on the ball guys!
*hoping for sth like out of 'Close Encounters...'
but as for what the humanoids do with 2021? I'm betting on a real clusterfk,,, ol' Joe just doesn't seem to be on the ball,,, so, the other 'powers' are gonna do as they like,,, didn't Iran just shoot a missile at a US warship? so, if they are acting-up I guess everyone else will too.... maybe chiner gets a bit more pushy about that bothersome island off their East coast?
To be honest, 2020 wasn't a bad year for me. Got to read some books, play some music and not have to attend obligatory functions with people I don't give a crap about.
American politics dominated almost as much as the couf and was a much more toxic dumpster fire of hypocrisy, stupidity, and pathetic vengefulness.
On the upside, I deleted all bookmarks for news so I now live in blissful ignorance while the world burns.
0
You must be a registered user to vote!
You must be a registered user to vote!
0
I'm ready for Biden to spend like crazy, tax like crazy and put my money in commodities and prepare for the Carter years of inflation. The infrastructure has to be rebuilt and the electric grids and there is no money to pay and no one to shake down to get the money. The backlash after he leaves is what I'm really worried about.
0
You must be a registered user to vote!
You must be a registered user to vote!
0
2021 will remain challenging, i think the situation will only ease gradually by year end.
0
You must be a registered user to vote!
You must be a registered user to vote!
0
Russia Warns NATO Against Sending Any Troops To Ukraine As "Frightening" Escalation Looms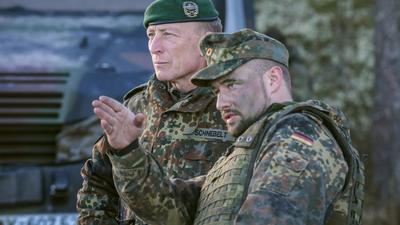 "We cannot exclude that Biden's presidency is part of the Russian calculus, that it's time for Moscow to show a bit of muscle," an EU diplomat observed.
The Kremlin's latest statements out Friday amid the potential new Ukraine crisis which has seen a serious flare-up in fighting in the Donbass region, along with what appears to be far bigger-than-usual troop movements on Russia's side of the border, has raised the stakes further.
Russia has vowed it will take "extra measures to ensure its own security" should it observe any deployment of NATO troops inside Ukraine, the Kremlin statement said Friday according to Reuters.
It firmly warned against any potential looming NATO troop movements following Brussels voicing concern the day prior over the widespread reports and videos purporting to show a significant Russian build-up of forces along Ukraine's eastern border.
Russian Foreign Minister Sergei Lavrov said that most of Ukraine's military appeared to understand the danger of a "hot conflict" in Donbass.
"I very much hope that they will not be 'incited' by politicians, who in turn will be 'incited' by the West, led by the United States," said Lavrov.
Lavrov further issued an ominous warning: "Russian President Putin said (this) not long ago, but this statement is still relevant today, that those who would try to start a new war in Donbass - will destroy Ukraine."
Know the answer ?