By continuing you agree to eChinacities's Privacy Policy .
Sign up with Google
Sign up with Facebook
Posts: 19
1
You must be a registered user to vote!
You must be a registered user to vote!
1
Q:
Is ice cream tastier in Shanghai or Beijing?
Shanghai is slightly warmer than Beijing, so the flavor is more available in my opinion. What do you think?
1
You must be a registered user to vote!
You must be a registered user to vote!
0
depending on if you lick or suck
Its not the location determine the taste. It is how we taste it will give a different flavour.
To all Ortodox joos, the 'kosher' is an issue ...
I think, the best ice-cream for religious joos would be in Heiliongjiang 'cause of the weather conditions. Never forget you are required to pray before every lick ...
If the outside temp. is higher than +5*C, your ice will turn into the liquid cream rather quickly ...
I read about that 'recipe' in kosher-cooking-book ...
I've got so many pints ...
1
You must be a registered user to vote!
You must be a registered user to vote!
0
depending on if you lick or suck
It depends upon the temperature and what he's been eating.
0
You must be a registered user to vote!
You must be a registered user to vote!
0
"Allan's-Snack-Bar ..."
At Least 2 Civilians, 1 Attacker Killed In Vienna As Police Launch Manhunt

15 people were injured in the attack, 7 critically.
... by multiple attackers ...
Update (1540ET): Austrian media now reporting seven dead, including one police officer, in Monday evening's attack near a synagogue in Vienna.
Media reports also said gunmen took hostages during the first shooting.
Another ahooting is reportedly underway at a Hilton hotel in Vienna, and hostages have reportedly been taken by terrorists at a third location.
All of this has the hint of coordination, though information is limited so far.
A potential terror attack is currently underway in Vienna, where gunshots have been reported at a synagogue that stands as the epicenter of what remains of the city's Jewish population.
The attack occurred near Schwedenplatz, a main square near the synagogue where a large police deployment was underway.
The attacker has reportedly blown himself up with an explosive belt. Additional "perpetrators" are said to be on the run according to reports in a local newspaper. The number of suspects wasn't immediately clear. Police have asked Austrians to avoid the area in the city's First District where the attack took place.
Police were cordoning off the area around the Rotensturmstrasse. According to reports, one officer was shot and is in serious condition.
The total number of casualties and deaths remains unclear, though one police officer is said to have been seriously wounded.
"It sounded like a blast," one eyewitness told the local press.
"Then you noticed that these were shots. Then you saw a person running down the Seitenstetten (who shot) wildly with an automatic weapon. He then turned down, at the (local) 'Roter Engel' from there in the direction of Schwedenplatz. He continued to shoot wildly there. Then the police came and fired. "
Eyewitnesses reported "at least 50 shots." There were pictures of at least one injured person who was bleeding on the floor in front of a bar and was being cared for.
0
You must be a registered user to vote!
You must be a registered user to vote!
0
Where're all "Allan's Snack Bar"-s ...?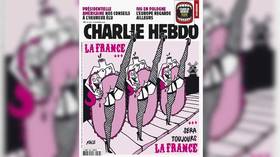 Charlie Hebdo publishes provocative cover of beheaded cancan dancers in response to recent terror attacks in France
French satirical magazine Charlie Hebdo has featured a caricature of three beheaded dancers alongside the words "France will always be France" in response to a series of terrorist attacks in the country.
The new cartoon is a reaction to the acts of Islamic extremism that have struck Europe in recent weeks. On 16th October, after he displayed caricatures of the Prophet Mohammad during a free speech lesson, teacher Samuel Paty was beheaded near Paris. Just over a week later, four people were killed in an attack outside a church in Nice. Days after France was rocked by the second terrorist attack, Austria was hit by a mass shooting that killed 4 and injured 23, a gunman also died in the attack.
Following Paty's murder, Paris vowed to fight Islamist extremism in the country.
The magazine cover is the latest in a series of controversial caricatures from the publication that has mockingly responded to Islamic extremism. Despite condemnation from across the Muslim world, Charlie Hebdo's Editor stated that the outlet will continue its work to challenge those who want to harm the republic.
While Charlie Hebdo's circulation is small and many in France do not condone its satirical content, the country's government has defended its right to exist.
President Emmanuel Macron refused to condemn the publication, as he defended freedom of the press, saying it's not the place of politicians to "pass judgment on the editorial choice of a journalist or newsroom."
In January 2015, Islamist gunmen forced their way into the offices of Charlie Hebdo, killing 12 people and injuring 11 others, in response to the magazine's publication of cartoons of the Prophet Mohammad.
Know the answer ?