Posts: 4032
1
You must be a registered user to vote!
You must be a registered user to vote!
1
Q:
Who uses bitcoin or has used it?
Bitcoin
Who has used Bitcoin in China? what would be the benefits of using it in China?
21 weeks 21 hours ago in Money & Banking - China
Answers (12)
Comments (7)
1
You must be a registered user to vote!
You must be a registered user to vote!
1
wud nevr use it fr 2 reasons
1. highly volatile
2. legality issues
https://cointelegraph.com/news/bitcoin-to-become-just-like-money-in-australia-july-1
By
William SubergBitcoin To Become 'Just Like Money' In Australia July 1
Australia has officially confirmed it will treat Bitcoin "just like money" from this year and it will no longer be subject to double taxation.
In its budget summary for 2017-18, the government states that as part of its plan to "make it easier" for digital currency businesses to operate in the country. It will ensure that nowhere in the supply chain is general sales tax (GST) paid more than once.
"The Government will make it easier for new innovative digital currency businesses to operate in Australia," the summary reads.
"From 1 July 2017, purchases of digital currency will no longer be subject to the GST, allowing digital currencies to be treated just like money for GST purposes. Currently, consumers who use digital currencies can effectively bear GST twice: once on the purchase of the digital currency and once again on its use in exchange for other goods and services subject to the GST."
Australia has had a troubled relationship with cryptocurrency regulation until recently. The decision to allow double taxation originally caused several well-known operators to quit the country back in 2014, while innovation has subsequently lagged behind markets in which businesses have enjoyed greater freedom.
Innovative fintech deals involving Blockchain have surfaced this year, however, and the tone of the budget extract points to a desire to change Australia's environment.
"Innovation will drive productivity growth in Australia," it continues.
"The Government is committed to establishing Australia as a leading global financial technology (FinTech) hub and is announcing a new package that aims to position our local fintech industry as a world leader."
Meanwhile, local business optimism is also increasing.
0
You must be a registered user to vote!
You must be a registered user to vote!
0
Ransomware virus plagues 75k computers across 99 countries
A ransomware virus is spreading aggressively around the globe, with over 75,000 computers in 99 countries having been targeted, according to the latest data. The virus infects computer files and then demands bitcoins to unblock them.
1
You must be a registered user to vote!
You must be a registered user to vote!
1
Bitcoin is a way for rotten and corrupt kleptocratic asset stripping oxygen thieves from third world shit holes to launder their ill-gotten gains into civilized countries' housing markets to inflate the cost of living of people who're exponentially more valuable and whose work has actual social utility which is the whole purpose behind getting out of bed and going out into the community on a daily basis.
In China the former class are called the "successful people" and the latter are called losers. This outlook results in the gentrification of communities which were once wonderful places to live due to the social mobility and quality of life they had before the dirty money came pissing in and drove up all the accommodation costs and drove down the quality of the universities in order to profit from selling degrees to people who have the English skills of a nine year old.
The solution to this is quite simple: people who work in productive areas such as nurses, teachers, sanitation workers, engineers, mechanics, plumbers, gas-fitters, police officers, firefighters and paramedics can all move to a cheaper and smaller community and leave the tax lawyers, accountants, bank clerks, HR and marketing people behind and see how long the city holds up. My guess is that they'll be bartering acorns for handjobs in a big pile of effluent and fish heads within two weeks.
https://www.rt.com/business/387966-china-bitcoin-rules-trading/
Beijing is expected to issue new rules for bitcoin trading in China next month as the cryptocurrency's price on the country's trading platforms keeps hitting new highs.
Read more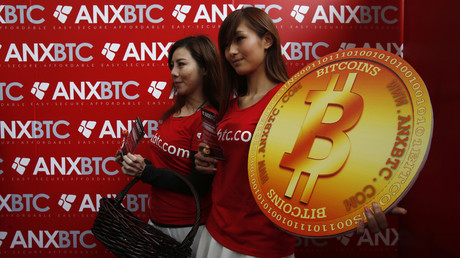 Beijing threatens to shut down bitcoin exchanges
According to a Beijing-based media company Caixin citing anonymous sources; the People's Bank of China (PBOC) is considering two regulations on the management of bitcoin trading platforms to prevent them from becoming money laundering sites.
Analysts say the new measures may apply to foreign exchange and financing activities. Bitcoin traders may also be required to register with their real names.
The regulator recently inspected domestic trading platforms after warning they risk being closed if found violating the country's currency regulations. It is attempting to curb capital outflow following fears of continued weakness in the domestic currency.
"There needs to be a clear bottom line for the management of bitcoin trading platforms and websites. A blacklist should also be set up. Activities such as trading or financing on margin and market measures such as commission-free trading must be banned," said Zhou Xuedong, Operations Director at the PBOC.
China accounts for about 90 percent of all bitcoin trading on exchanges. The country has strict capital controls, which makes it difficult for Chinese citizens to convert the yuan into foreign currency and limits the amount of cash investors can move abroad.
0
You must be a registered user to vote!
You must be a registered user to vote!
0
Does anybody trading Bit ....?
Bitcoin Soars Above $1950 (Despite Losing Crypto Dominance)
Despite Bitcoin dropping below 50% of total cryptocurrency market cap for the first time, the dominant virtual currency has continued to soar this week, breaking above $1950 this morning (as the dollar drifts lower).
0
You must be a registered user to vote!
You must be a registered user to vote!
0
I like all your comments above, buTT ....
Bitcoin Explodes Above $2400 After China Downgrade, Scaling Agreement Reached
Following comments from DoubleLine's Jeff Gundlach tieing the surge in virtual currencies to the demise of China (right before that nation is downgraded), Bitcoin surged overnight, breaking above $2400 for the first time. It is now up over 150% year-to-date.
0
You must be a registered user to vote!
You must be a registered user to vote!
0
Bitcoin is created by the governments to threaten people and get ransoms anonymously ! NEVER TRUST it!
It's tempting, quite a lot. It's the trend and many follows it. Nevertheless, I find it dangerous. I will never use it.
0
You must be a registered user to vote!
You must be a registered user to vote!
1
Dangerous?
Bitcoin Spikes Above $2800 For First Time As "Japanese Buying Frenzy" Continues
It appears the Japanese bought the f**king dip in Bitcoin last week, as tonight's session has seen s sudden surge in the price of the virtual currency, taking out prior record highs and topping $2800. Additionally, Bloomberg reports, the speculative frenzy in bitcoin is spilling over into several small cryto-currency-related stocks on the Tokyo Stock Exchange.
Know the answer ?